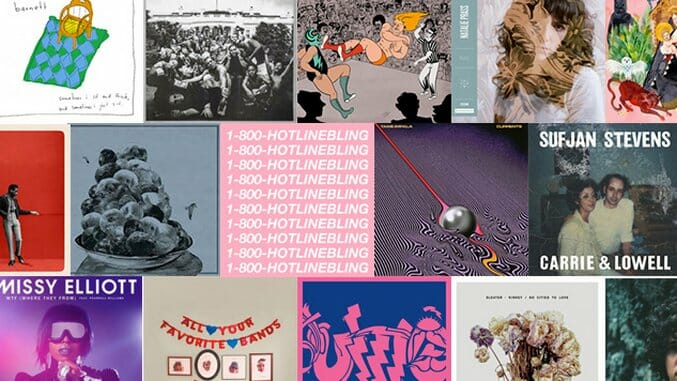 As with our 50 best albums of 2015, arriving at a consensus for the 50 best songs is a long, demanding process. A ridiculous 302 songs were nominated by Paste editors, writers, freelancers and interns, exactly one more than last year's 301, which feels like progress. We limited the final results to one song per artist, which made for some interesting statistics—in particular it affected Father John Misty, who had no fewer than 8 different songs from I Love You, Honeybear nominated, which makes sense for our album of the year.
As with the albums list, we hope this list of songs will be a jumping-off point for your own musical exploration and spark a healthy conversation about the best music of 2015.
Without further ado, here are the best songs of 2015.
50. Jason Isbell – "If It Takes A Lifetime"
As Eric R. Danton wrote in his review of Jason Isbell's Something More Than Free, "Isbell has over the years become a more patient lyricist, carefully honing his words into needle-sharp points that penetrate without making a visible mark. That's not to say his songs leave no trace. Isbell's increasing skill as a storyteller, and the natural affinity he has for melody, combine to make Something More Than Free a masterful piece of work." That mastery is evident on "If It Takes a Lifetime," an easy-sounding encouragement that things will all work out in the end, no matter how long it takes. "I thought the highway loved me, but she beat me like a drum," Isbell sings. "My day will come, if it takes a lifetime." – Bonnie Stiernberg
49. King Khan & BBQ Show – "Alone Again"
Bad News Boys, Mark Sultan and King Khan's first full-length effort since 2009's Invisible Girl, was a long time coming, but it was exactly what we hoped for from the garage-rock duo, and there's no better evidence of that than the excellent, doo-wop-heavy "Alone Again." Let's just hope we don't have to wait another six years to hear more like this. – Bonnie Stiernberg
48. Broncho – "Class Historian"
Every year has its "is this annoying, or awesome?" indie pop hit, and Broncho's "Class Historian" is undoubtedly that song for 2015. Despite (or, let's be honest, because) it consists of primarily "duh duh duh duh duhs," you'd be forgiven for just passing on, but it's an earworm that grabs hold and refuses to let go, even after multiple listens—and there's been no shortage of listens in the Paste office, complete with singalong lyrics. Sometimes that, and a bit of fuzzy guitar, is all you need to make one of the most memorable indie pop songs of the year. – Jim Vorel
47. Palehound – "Molly"
"Molly" begins with a tight guitar riff that wouldn't sound out of place on Sleater-Kinney's No Cities to Love, but it quickly becomes clear that this brand of rock 'n roll is a little bit dirtier and more raw. Ellen Kempner's delivery is acerbic and never lacking in conviction as she verbally abuses the song's "selfish" title character and her various flaws, and implores you to take her side: "Cause she only knows how to love all alone, in a bed stained by old friends / I swear, you better stick with me." One gets the feeling that she may not be telling the whole truth, but you want to believe her, because the takedown is just too fun. After all, in the end, history is written by those who craft the most persuasive songs. – Jim Vorel
46. Hot Chip – "Huarache Lights"
Written by Alexis Taylor and Joe Goddard as they geared up to spin records at London nightclub Plastic People, "Huarache Lights" is exactly what you'd want from an album opener, or the first song of Hot Chip's recent tour dates. It was a reminder that you are in the capable hands of the best dance pop band around. And, like all of this group's best work, it captured that scintillating thrill of when you've reached the peak of your high and the music you're hearing as you crest that wave is the absolute best in the world. – Robert Ham
45. Joanna Newsom – "Divers"
If Joanna Newsom's voice and harp often sound ethereal, on "Divers" they threaten to float away. But the song is balanced by a countering piano, one of the details that often feel perfectly executed on her album of the same name. The story of a woman in love with a pearl diver feels like an old English folk tale with details that almost allow you to taste the salt water in the air. It's unlike anything else you'll hear this year. – Josh Jackson
44. Wolf Alice – "Bros"
Wolf Alice doesn't just split the difference between rock and pop with their heady single "Bros,"—they capture the intensity of childhood friendships and adult wistfulness that maybe (just maybe) we can do it all over again. Like the Cranberries giving into their feral side, frontwoman Ellie Rowsell raises her cotton candy soprano to a shout, imploring, "Are you wild like me?/Raised by wolves and other beasts?" A wild anthem for unburdened times; we should all be as lucky to have bros like this. – Laura Studarus
43. Purity Ring — "Flood on the Floor"
Purity Ring's "flood on the floor" is the stuff of which mortal sin is made. Deep in the heart of some godforsaken den of iniquity, stowed away within the seediest bowels of an urban hellscape, "flood on the floor" must bleat away, dripping as it does with the ragga-bomb residue of EDM, of dorm room dubstep, of the deluge of feeling designer drugs can give you when waiting for that coveted "drop." It's seemingly a far cry from the pop the band's put out before, if only because of that aforementioned "drop," otherwise sumptuous with the kind of eviscerating imagery which singer Megan James so lovingly details in practically every song she touches. "Don't forget the way she pushed the water inside," James reminds, then later: "Knitting lace out of lashes powdered with ashes." In her mouth, seduction isn't all that far from violation—and in "flood on the floor," there is no better way to represent that than with the "drop," the secret weapon of all college-friendly dance pop. And the drop comes, of course. It comes hard: When at each chorus the metaphorical floor falls out of the song, a flood follows. And instead of validating the worn-out tenets of brostep, the song goes full Noah—at each chorus, the world is wiped clean, ready to be flooded, and then cleansed, again and again. —Dom Sinacola
42. Deerhunter – "Living My Life"
Does anyone really know what's going on in Bradford Cox's brain? With more blurred lines to his name than Thicke, the Deerhunter frontman's genre-gobbling career has seen the musician hopscotch from punk, to folk, to rock, to genres us mere mortals have yet to invent proper names for. His band's newest album Fading Frontier ranks among the raconteur's most accessible works, Cox exorcizing a year's worth of anxiety ("Will you tell me when you find out how to conquer all this fear/"I've been spending too much time out on the fading frontier") against beds of acoustic guitars and drum machines. Given his particular string of challenges (he was in a near-fatal car accident last year), the titular refrain plays heavy not just with emotional resonance, but rather emotional release. – Laura Studarus
41. Madisen Ward and the Mama Bear – "Silent Movies"
Madisen Ward absolutely radiates sincerity, and not just because he has his watchful mother on stage next to him every time he's performing. "Silent Movies," the immediately arresting stand-out track from the duo's excellent debut album Skeleton Crew, sets your toes to tapping even as it states a case for the questionable notion that "silent movies make more money." It's an ebullient jam that, at its heart, seems to encourage the listener to stop caring about what others think and simply live, live, live. You'd be heartless to not want to take them up on the suggestion: "When you dance they call you funny, so how 'bout we get real funny, girl?" Ward's booming vibrato and finger-picked guitar melody couldn't merge any more perfectly with the steady, driving rhythm of his mom's well-worn acoustic. – Jim Vorel
40. Jamie XX – "I Know There's Gonna Be (Good Times)"
This might very well have been the song of the summer for many of us. The biggest single off Jamie XX's explosive debut LP, In Colour, saw Jamie hand-picking one of hip-hop's most gregarious MC's in Young Thug and looping him into a Caribbean-leaning xylophonic composition. "Good Times" has a certain shine to it that is positively Jamie XX at his brightest. Dancehall singer Popcaan brings an island club bravado to pair with Thug's bouncy swagger, that made "Good Times" a purveyor of trans-oceanic vibes. It's success is ultimately in Jamie's ability to elevate UK club memes in America and beyond, and the mission is fully realized with a distinct accessibility on the strength of Thug's Southern swag. – Adrian Spinelli
39. David Bowie – "?" ("Blackstar")
David Bowie's new album doesn't drop until next year, but the single, the appropriately enigmatic "?" (pronounced "Blackstar"), is already here, and it's a doozy. It's a nearly 10-minute opus, full of spooky sax and weird chants that eventually evolve into a rocking midsection where Bowie sneers "you're a flash in the pan, I'm the great I am"—and he's right. This is a return to form, the best he's sounded in years. It's bizarre, melodramatic at times, and almost totally inscrutable lyrically, but we wouldn't have it any other way. This is classic Bowie. – Bonnie Stiernberg
38. JR JR – "Gone"
Arguably the happiest song of the year, "Gone" was JR JR's first single off of their latest album, JR JR. With an infectious whistle melody, vocal harmonies and a bass line straight out of the disco era, it's hard to keep still while listening to this track. The song is about letting go of the pressure of what others want for you, with the chorus "I can't be everything you want me to be/ Finally, I can see the light through the leaves/ But it's all gone." The music video for this track (which we premiered at Paste a couple of months back) showcased the ideology behind the song, with people abandoning the pressures of others and dancing to break free. Unlike other tracks with the same message, this one comes across as fun, never phoney. – Annie Black
37. Beirut – "No No No"
The Zach Condon of 2015 still has the voice of a troubadour, but that voice is much less likely to be applied in a wordless wail of pure emotion, to the beat of a gypsy-flecked Balkan folk tune, than in his Gulag Orkestar days. His slurred vocals now channel their pathos toward more refined pieces of pop music, a stylistic evolution that divides his fanbase somewhat but represents a logical progression from the esoteric toward the universal. "No No No" is quite lyrically simple—it basically has only one verse—but like so many Beirut songs, it's less the content of the words and instead Condon's wonderful instrumental arrangements that carry it forward and make it memorable. In that dimension, the virtuoso has skillfully merged more sounds of synth and keys into the horns and strings he once favored to create a crossover success that was an obvious choice to lead his first LP in four years. – Jim Vorel
36. Gin Wigmore – "Written in the Water"
"Written in the Water" picks up sonically where the best songs off the Kiwi singer's 2011 album Gravel & Wine left off, with a rollicking, dangerous swagger that screams she's a girl not to be trusted, although you'd be likely to forget that the moment you stared into her eyes and fell into those deep, dark wells—or at least the ocean of eye shadow around them. Wigmore possesses a voice that is unique in pop-rock/neo-soul today, a gravelly shout that immediately set her apart and made her a force to be reckoned with. The lyrical content of "Written in the Water" is as dark as most of her songs tend to be, but as with the other great Gin Wigmore tunes, its macabre nature compels not introspection but an irresistible urge to dance until you drop. – Jim Vorel
35. Majical Cloudz — "Control"
In "Control," Devon Welsh politely asks if he can for a moment show you something very important. "I want to move really slow … and while I dance can I tell you about control?" Welsh speaks in the language of permission, carefully and clearly, because this act is weirdly private: If you let him, he can tell you everything you'll ever need to know about his body—how closely he regulates himself, guards himself, how strictly he holds his muscles to task for their every single twitch. Why he's naked. Because he sounds naked, or at least as vulnerable as he would be without any clothes on, gyrating in front of you, attempting to keep his shit together as he bends his (incredible) voice around social queues and spiritual dilemmas with the quiet fervency of a man who maybe feels a little too much. Which is how "Control" moves: It bares itself slowly, deliberately, and then, with a long, rich sigh, quietly wraps in on itself as it loses steam. Like an animal who's failed to find a decent mate, it curls up to wait—next year it'll wake, and try to live all over again. —Dom Sinacola
34. Josh Ritter – "Birds of the Meadow"
Josh Ritter rolls in out of the wasteland like a doomsday preacher in "Birds of the Meadow," 100 percent sure of his convictions but bitingly cynical when he says "I didn't come to ask you how you're doing these days / I didn't come to roll no stones away / I come to tell you that the end is nigh / I come to prophesy." Building off a strong chorus, the song fractures off into a chugging guitar breakdown as it closes, overlayed by a rogue drum beat that infuses a sense of chaos and unpredictability. – Jim Vorel
33. Kacey Musgraves – "Biscuits"
As country music's peppiest outsider, Kacey Musgraves' infectious message of individuality and acceptance is irresistible. The metaphor in "Biscuits" is simple—"mind your own biscuits/and life will be gravy"—but it is one that we would all do well to pay much more attention to. As part of Musgraves' June release Pageant Material, "Biscuits" is an infectious, feel-good tune with plenty of important life lessons. Even if you don't like country music, this song is a must for that playlist that you listen to on gloomy days. — Amy McCarthy
32. Braids – "Miniskirt"
Although "Blondie" might very well be the most explosive track on Braids' brilliant Deep In The Iris, the neo-feminist message within "Miniskirt"'s melancholy keys-into-core-rattling drums and bass rhythms make it one of the most important songs of the year. Raphaelle Standell-Preston tackles the subject of slut-shaming with such eloquence and fierce confidence as she riffs on the double-standard that exists between the glorification of promiscuous men, versus the quick-to-judge negativity imposed upon women based on the way they look. "For us, it's just a stamp to the head/ For them another notch in the bed," she sings before the song takes an electrifying turn into its sonic crest. It's the genuine emotion that Standell-Preston conveys in her ranging vocals that drive home the heavy themes of a powerfully anthemic track. She's truly come into her own as proud and powerful songwriter and "Miniskirt" is the crowning moment on one of the year's best albums. – Adrian Spinelli
31. Belle and Sebastian – "Nobody's Empire"
The most personal track of Girls in Peacetime Want to Dance, "Nobody's Empire" sees frontman Stuart Murdoch ruminating on his struggles with chronic fatigue syndrome. Thankfully, the perennially thoughtful lyricist's observations are more Woody Allen than Lifetime Channel. "If I had a camera I'd snap you now, because there's beauty in every stumble," he sings. Even when building to the climatic, piano and drum-driven chorus, the song never dips into cheap sentimentality, making it one of the most relatable festival anthems of the summer. – Laura Studarus
30. Sharon Van Etten – "I Don't Want to Let You Down"
With 2014's excellent Are We There under her belt, Sharon Van Etten was due for a well-deserved victory lap. Cue I Don't Want to Let You Down EP, whose title track takes a decidedly sunnier approach to Van Etten's exploration of self-imploding relationships. Music-wise, her vocal work is in top form, lilting and leaning in and out of the catchy-as-hell chorus, but this isn't one of the minimalist, smoldering compositions she's become so cherished for. Instead, the track teems with swarms of acoustic and electric guitars, a full drum kit and bright organ accompaniment. It's the sound of looking at the same situation but in a new light—one that's almost too painful by how much light is actually shed. Van Etten has never had a problem composing heart-wrenching songs, but "I Don't Want to Let You Down" is one of her most emotionally agonizing offerings to date—and that's saying something. – Michael Danaher
29. Wilco – "Random Name Generator"
Wilco was full of surprises this year: they released an album over the summer without notice, named it Star Wars and gave it away for free, just for the hell of it. Nice. They also staked a persuasive claim on a permanent spot in your cerebral cortex with "Random Name Generator," a song so relentlessly catchy that it may never stop bouncing around in there. Layers of fuzzed-over guitar tumble through the riff while singer Jeff Tweedy plays with the feel of the words in the title, chanting them, stretching them and rolling them around in his mouth like he's savoring every syllable. And why wouldn't he? It's the standout track on an album built for fun. "What's more fun than a surprise?" Tweedy asked in July. Not much, when it's a surprise this good. – Eric R. Danton
28. Alabama Shakes "Don't Wanna Fight"
The stormy funk of "Don't Wanna Fight" is the strongest track on Alabama Shakes' expansive, shape-shifting second album, Sound & Color. The rhythm section stomps and the intertwining guitars are all sharp edges, but it's Brittany Howard's impassioned, powerhouse vocals that put the song over the top and sends it into the funk-rock stratosphere. – Eric Swedlund
27. Miguel – "FLESH"
Look, it's difficult to stand out as the sexiest song on an album full of bonerjamz, but that's exactly what "FLESH" does; you're definitely going to want to make sure you're not in mixed company the first time you hear Miguel's sweet falsetto purring "I'm a slave to your flesh" before he groans "woman, put me right where I belong." But on top of all the heavy breathing on this Wildheart highlight, there's humor, like when our hero asks us to "surrender to friction/this is body language and deep diction." – Bonnie Stiernberg
26. Car Seat Headrest – "Something Soon"
What did you do with your college education? Will Toledo majored in indie rock, recorded a handful of albums in his dorm room, and built up enough buzz that he had a job waiting for him after graduation. For his debut album on Matador Records—home to pretty much every one of his influences—he remade some of those old tunes into a statement album about millennial angst, on which "Something Soon" is the angstiest stand-out: an anthem to mind loss and head-fuckery that sounds like Guided By Voices covering Pet Sounds in some Dayton garage. Toledo knows that lo-fi shouldn't get in the way of ambition, and the song is so perfectly arranged and recorded that you almost don't believe the lyrics. By not getting his shit together, Car Seat Headrest sounds like he's got his shit together. – Stephen Deusner
25. Twerps – "Back to You"
The first single off the Australians' February record titled Range Anxiety, "Back to You" has the beat of a nail-biting teenager and the lyrical humility of a 20-something shy guy. The vocals are neither assertive nor punchy, but just happy to be here. And the whistling synth and breezy strumming are sunny enough for a picnic. Yeah, Marty Frawley might be jealous of the other guy out there sitting on his patio "sipping an iced tea," but by the end of the first verse, "Don't mind me," Frawley sings, "I'm hanging in the trees and singing out at the leaves." Despite the thin veil of anxiety cloaking the record, it doesn't seem to get any more pleasant than that. — Meagan Flynn
24. JD McPherson – "Head Over Heels"
Sure, JD McPherson can play vintage rock 'n' roll like it's 1955, but what happens when he broadens his palette on new album Let the Good Times Roll? Easy: He delivers scorching tracks like "Head Over Heels," leavening his old-school sensibility with subtle modern touches—that massive, perfectly dialed-in echo effect on McPherson's guitar, for example—that supercharge the tune in a way that skirts the edges of your conscious mind. Turn it up loud and let the adrenaline flow. — Eric R. Danton
23. Grimes – "Flesh Without Blood"
Given that "Flesh Without Blood" is a radio-ready single buffed to a sheen so intense you can almost see your face in its reflection, it might be easy to miss the tune's bitter kiss-offs. "It's nice that you say you like me/but only conditionally," Grimes sings in a sugar-sweet lilt. Biting drum clatter and punk guitar riffs only serve to further underscore the song's inherit girl-power/whateverness. Heavy may be the head that wears the crown, but Claire Boucher seems rightfully at ease with her role as this year's reigning art pop princess. – Laura Studarus
22. Nathaniel Rateliff & The Night Sweats – "SOB"
It's hard to not immediately chuckle at the music video for Nathaniel Rateliff's "SOB," as the bleary-eyed singer wearily grunts, fights off what looks like a massive headache and declares "Goddamn … I need a drink." It's a song clearly designed for a raucous live performance and subsequent singalong, a high energy and rollicking number that would fit in well, if anyone ever had the gall to remake The Blues Brothers in some modern fashion. Delta blues-style call and response segments play in the background of Rateliff's hoarse shouting, but the best segments are the full-band interludes, with blaring horns and pounding electric piano joining the guitar and drums. It's the slam-dunk breakout hit from the band's self-titled album, and really, you'd have to be just a little bit dead inside to resist the urge to move your feet when it comes on during a party mix. – Jim Vorel
21. Adele – "Hello"
You can't deny a cultural moment when it arrives, and it would be silly to deny the immediate impact of "Hello" in 2015. Adele is the modern King Midas. Everything she touches turns to gold, and "Hello" is no exception. As usual, Adele leaves us with lyrics that are stuck in our heads forever. "Hello from the other side" is the new "Nevermind I'll find someone like you" for us to attempt (and fail) in karaoke. "Hello" is one of the best songs of 2015 not just because it's truly a great performance, but because it demonstrates that Adele, who has been pretty silent over the last couple of years, has returned in full force and hasn't lost any of that power we know and love. To unironically quote LL Cool J, don't call it a comeback, Adele's been here for years. It doesn't look like she's going anywhere anytime soon. – Annie Black
20. Earl Sweatshirt – "Grief"
Like its ghostly, thermal-imaged music video, "Grief" is a song that's uncomfortably vivid. His own production is dark, hazy and claustrophobic, a tunnel in which he's laid down bracing and introspective lyrics. Written from the edge of exhaustion and confinement, the message is about picking yourself back up: "I just want my time and my mind intact / When they're both gone you can't buy 'em back." – Eric Swedlund
19. The Lone Bellow – "Then Came the Morning"
The first song and title track of The Lone Bellow's sophomore album wastes no time in announcing a more soulful direction for the Brooklyn band. Produced by The National's Aaron Dessner, there's an urgency to Zach Williams' voice, singing about the first stirrings of hopefulness after a difficult break-up. It's an ode to "It'll get better," a kiss-off song calling out a former lover for all the wrongs they've done, but backed by harmonies from Kanene Pipkin and Brian Elmquist, it sounds like gospel music—salvation coming in the form of the morning light after the darkness of an unhealthy relationship. Preach it, brother. – Josh Jackson
18. Chvrches – "Leave a Trace"
The lead single from Chvrches' sophomore album Every Open Eye, "Leave a Trace" encapsulates all that makes the album whole. A steady, syncopated beat and vocal samplers ease in the intro and slowly build into an intensely catchy chorus. Lauren Mayberry has penned a much more personal and introspective album with Every Open Eye, and it shows in the passion of the lyrics as she soars into the chorus, singing "And I know you'll never fold/But I believe nothing that I'm told." An intense fight where both parties admit they're both right and wrong sets the stage for a catchy electro-pop single that lets on a little more with each play, and you know it'll be on repeat long into the new year. – Eric Van Allen
17. Florence + The Machine – "Delilah"
The first 45 seconds or so of "Delilah" simply feature Florence Welch, backed by a chorus of Florence Welches, doing her atmospheric thing before exploding into the kind of soulful shouter she is so wont to deliver. By the time the pace kicks into gear some 90 seconds in, the listener knows they're going for a ride with a more confident and savvy Florence than ever, one who has mastered both the artistic and foot-tapping aspects of her art-rock craft. Featuring pulsating piano, handclaps and brief falsetto flourishes from Welch that sound almost like fellow English native La Roux, it's a perfectly representative slice of her triumphant 2015 LP, How Big, How Blue, How Beautiful. — Jim Vorel
16. Destroyer – "Dream Lover"
A pop provocateur with a proclivity for polysyllabic phrasing, Dan Bejar's freak flag flutters to a decidedly different breeze, one powered by his flat-footed sing/speak, lounge-leaning sensibilities, and some of the best horns our neighbors to the north have to offer. Poison Season highlight "Dream Lover" is decidedly gutsy. "Oh shit, here comes the sun," he sings, paying The Beatles what must be the most backhanded compliment of all time. Do the Canadians have a word for chutzpah? Eh, we'll just call the track what it is—a damn good time. – Laura Studarus
15. Tobias Jesso Jr. – "How Could You Babe"
This Canadian songwriter's debut Goon swept us off our feet this year with his simple piano-plus-vocals combination reminiscent of Randy Newman or Harry Nilsson. Lead single "How Could You Babe" starts off with a plucky, pinking chord in a major key. But as soon as Jesso starts singing, you know that happy-sounding accompaniment is just a cover. "Nothing's as hard to do / as just saying goodbye. / And when love is in the way, you gotta say / 'I guess love ain't always right," he laments. The track ends with Jesso howling "how could you babe?" over and over and honestly, we're right there crying with him. — Hilary Saunders
14. Sleater-Kinney – "A New Wave"
I don't think there was anyone out there who actually expected Sleater-Kinney's reunion to be bad by any stretch of the imagination, but if there were any doubts about whether Carrie Brownstein, Corin Tucker and Janet Weiss would be as fierce and flawless as ever on No Cities to Love, they were quickly pushed aside by "A New Wave." If there was a more triumphant call to arms than "Let's destroy a room with this love/We can drain out all the power, power/Steal from the makers who had made us/Leave them nothing to devour, devour" this year, I'm still waiting to hear it. – Bonnie Stiernberg
13. Unknown Mortal Orchestra – "Can't Keep Checking My Phone"
The beauty in UMO frontman Ruban Nielsen's songwriting is how much he gets across without saying a lot and we're drawn to his punchy rhythms and dance vibes. To Nielson, "Can't Keep Checking My Phone" has a deeper meaning to the overarching hedonistic themes on Multi-Love. But to the naked ear, it serves as a reminder to disconnect ourselves from the digital ball and chain we keep in our pockets or purses. The funky disco synths and catchy hook are part of Nielson's masterful pop formula and once the track has swathed your ear drums, the chorus continues to linger on the mind. – Adrian Spinelli
12. Dawes- "All Your Favorite Bands"
Mix nostalgic imagery and a chorus that just begs for a singalong, and you have "All Your Favorite Bands". This song deserves major credit for its musical structure—it starts off with not much more than Taylor Goldsmith's vocals and simple chords on the piano and guitar, and eventually builds up to a soaring classic rock guitar solo, accompanied by organ and drums. It plays hard on the shared experience of missing your childhood friends, which if you find yourself in just the right sentimental mood could bring a tear or two to your eyes. In a cheeky move, the music video accompanying the track shows several of Dawes' musical friends lipsyncing and air-guitaring to the lyrics. It's endearing, to say the least, to see Conor Oberst, Deer Tick's John McCauley, M. Ward and more sing along to "All Your Favorite Bands". – Annie Black
11. Missy Elliott – "WTF (Where They From)" [ft. Pharrell Williams]
Between her jaw-dropping Super Bowl halftime cameo and this head-spinning comeback single, Missy Elliott bookended 2015 with two strong reminders that she's still one of the most visionary and mind-boggling hip-hop artists around, a rapper who traffics in verbal contortions and maximalist beats that conjure strange new worlds. Especially after a 10-year absence, it's nice to have her back. And yet, "WTF (Where They From)" ought to reek of desperation: The title is a tired abbreviation, that kind of jump-rope rhythm is gone from the radio these days, and Pharrell "Blurred Lines" Williams raps on the bridge. And yet, the song just sounds so damn good—so lively, so weird, so wired, so undeniably fun—that Elliott can't help but sound timely. This kind of thing never goes out of style, and now that we have her back where she belongs, maybe she should just make all the music from now on. – Stephen Deusner
10. Sufjan Stevens – "Should Have Known Better"
Since Sufjan Stevens' teased the world with his imaginary 50 States project, he's followed his adventurous muse from symphonic experiments to electronic folk-art dreams. And although Carrie & Lowell is something of a return to his folkier roots, his songs have been affected by all his musical travels. "Should Have Known Better" is as delicate anything on Illinois with whispered vocals and quietly picked guitar, but it's as intricate as it is frail. Addressing pains that are as old as his memories, the song is both mournful and stubbornly hopeful, ending with the refrain, "My brother had a daughter / The beauty that she brings, illumination." – Josh Jackson
9. Tame Impala – "Let It Happen"
It seemed unlikely that Tame Impala—the one-man outfit of Kevin Parker, whose past two albums have garnered comparisons to latter-day Beatles work and Pink Floyd—could craft one of the year's best pop albums, but that's exactly what he did. And lead single "Let It Happen," clocking in at just under eight minutes, sets the tone for Currents, churning out a cosmic synth-heavy structure against a beat-laden backdrop. Parker takes what he knows but pushes his craft in new directions. The song's multiple movements swell and bloom into the cosmic psych-rock that Tame Impala so cleverly wielded on Innerspeaker and Lonerism, but there's a new dimension added this time around. "Maybe I was ready all along," Parker sings as the track reaches its apex, because "Let It Happen"—a song bent on going with the flow and not fighting what comes naturally—is the album's thesis statement, proving Tame Impala is ready for bigger and bolder things. – Michael Danaher
8. Drake – "Hotline Bling"
With its understated hook and roller-rink sample (courtesy of organ-playing soul man Timmy Thomas), "Hotline Bling" is a stealth earworm. It's the kind of song that gets under your skin and stays in your system for weeks, thanks as much to nineteen85's supple production as to Drake's melancholy vocals and lo-fi dance moves. And it did get under our skin, collectively and culturally, inspiring an unbearable cover by Sufjan, a slow-burn version by Son Little, even a shitty SNL sketch featuring Donald Trump (because unchecked xenophobia and arrogance is always hilarious). But the best version belongs to Erykah Badu, who gender-flipped the song and may have one-upped even Drake. – Stephen Deusner
7. Hop Along – "Waitress"
Philadelphia's punk sweethearts Hop Along have taken everyone's hearts this year with the release of their second LP Painted Shut, and the album's first single "Waitress" illustrates just why. With lead singer Frances Quinlan's unique vocals at the forefront, the song is reflective and positive, angsty and upbeat, and whether you're searching yourself or just floating along, it's a song that demands being on repeat. – Brittany Joyce
6. Leon Bridges – "Lisa Sawyer"
Coming Home, Leon Bridge's eagerly awaited debut, is filled with tracks out of another decade—doo-wop and soul abound in a way that could be coming straight off vinyl or the FM band in your '57 Chevy. "Lisa Sawyer" is a sweet slice of poetry that shows off both Bridges' honey-coated voice and his ability to tell a story. He paints a picture of his mother in a gorgeous way, comparing her complexion to a sweet praline and calling his family "rich in love" despite their lack of financial security. Pure sweetness. — Jonah Ollman
5. Father John Misty – "Chateau Lobby #4 (in C for Two Virgins)"
The story of I Love You, Honeybear is well told by now: sardonic boy meets beautiful girl, falls in love, and subsequently suffers an identity crisis upon realizing his feels probably constitute a concept more commonly referred to as "love." Josh Tillman's second record as Father John Misty explores these themes in the most cynical and romantic ways, and "Chateau Lobby #4 (in C for Two Virgins)" showcases the latter. Tillman begins by describing his now-wife by name: "Emma eats bread and butter / like a queen would have ostrich and cobra wine." The song serves as an honest recollection of the early days of their relationship, and Tillman manages to romanticize even the most comically droll aspects of cohabitation, while also glorifying the spontaneity of the sentiment. Musically, "Chateau Lobby #4 (in C for Two Virgins)" pays homage to a (supposedly) real life experience that included a mariachi band. As the trumpets mimic Tillman's original vocal melody, the anticipation builds into a joyful premonition of their new reality, and he asks coyly, "What are you doing with your whole life? How 'bout forever?" It's a wealth of emotion for the enigma known as Father John Misty to convey at all, much less in less than three minutes. – Hilary Saunders
4. Natalie Prass – "My Baby Don't Understand Me"
With a voice so soft and fragile that it could have just recovered from a monastic vow of silence, Nashville soul revivalist Natalie Prass tells us all about her boy problems in "My Baby Don't Understand Me." The song veers between triumphant horn section peaks and sedate string accompaniments, and Prass likewise finds herself trapped between conflicting forces. Though she admits that she and her inamorato's "love is a long goodbye, waiting on the train," it's a departure that never occurs—at least in this haunting, tear-streaked confessional. The resulting experience is an exercise in beautiful dissonance, poetic distress so sweet that it never wears out the five minutes it effortlessly occupies. — Sean Edgar
3. The Mountain Goats – "Legend of Chavo Guerro"
Mexican lucha libre may be brutal at times, but it's nothing compared to the last chorus of this song, when the narrator sings about his dad letting him down and then scattering his ashes to the wind in an act of rebellion. A young boy who needs justice, he finds it in a middleweight champ who defended the downtrodden and raised his boys to fight like him. Like many Mountain Goats songs, the jaunty melody and vivid details of a childhood hero can't hide the emotions bubbling up underneath. It's another punch to the gut in a catalog full of them, with a strength that would surely earn a three-count if that punch was delivered in the squared circle. — Josh Jackson
2. Kendrick Lamar – "King Kunta"
"King Kunta" is To Pimp A Butterfly's most radio-friendly track, but the fact that it trades the jazz and spoken word experiments for funk samples and a Mausberg beat doesn't mean it lacks the depth of the album's other songs. When Pharrell first heard it he called it "unapologetically black and amazing," and that's really the best way to describe it—Kendrick has us riveted from the moment he first announces "I got a bone to pick," and it only gets better from there as he proceeds to call out other rappers for using ghostwriters, serve up allusions to Roots and Ralph Ellison's The Invisible Man and deliver one of the year's catchiest hooks. – Bonnie Stiernberg
1. Courtney Barnett – "Pedestrian At Best"
The same trobairitz who once proclaimed that she "Should've stayed in bed today / I much prefer the mundane" opens her sophomore album with an audacious takedown of both herself and an implied lover. "I think you're a joke, but I don't find you very funny," Courtney Barnett taunts on "Pedestrian at Best," the breakout track from Sometimes I Sit and Think, And Sometimes I Just Sit. Barnett shifts from metaphysical folk gardener to aggressive insult comic for a joyride of merciless snares and squelching feedback, hell-bent on undefining whatever previous impressions may have been formed. As she openly admits in the lyrics, this is the mark of an ascending, experimental artist who has clearly outgrown herself. — Sean Edgar
Listen a playlist of the Best Songs of 2015 on Spotify.