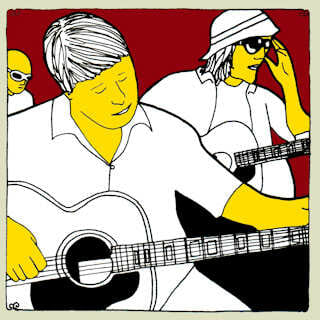 Hometown: Athens, Ga.
Band Members: Danny Hutchens (vocals, guitar), Eric Carter (guitar, vocals), Eric Martinez (guitar), David Nickel (bass), Aaron Phillips (drums), William Tonks (dobro)
Album: Baby, They Told Us We Would Rise Again
For Fans Of: Rolling Stones, Black Crowes, Drive-By Truckers, Carson McCullers
It's a scorching summer afternoon in Athens, Ga., the last day of Athfest 2003, and a few hundred people wait in the middle of Washington Street for the next act to take the hastily assembled outdoor stage. Finally, about 20 minutes late, local shoulda-beens Bloodkin slither onstage, ghostly pale, disheveled and sweat-soaked, hiding behind mirrored aviator shades. Frontman Danny Hutchens is dressed head-to-toe in black, his long, brown hair starting to gray from years of diving headfirst into places deeper and darker than most civilians could dream. But even more frightening is the sight of Hutchens' best friend and lifelong musical partner-in-crime, the Keith to his Mick, guitarist Eric Carter. The nice way to say it would be to quote Kris Kristofferson's classic-country tune "To Beat the Devil": Carter looked like he "was about a step away from dying." Really, though, he looked more like someone who'd overdosed, been buried a few days, then dug up and had a Les Paul Jr. shoved into his bony hands.
I can't remember what Hutchens' exact words were when he first stepped to the mic that day, but it was something like, "Sorry, we don't really see the sun much anymore," or "It's been a long time since we've been up this early." I looked at my watch—it was almost 5 o'clock.
Around the band hung an air of sadness, of missed opportunity, of brilliance and talent pissed away like a Saturday-night PBR. Still, when they started to play, they showed a ramshackle charm, not to mention a sleeve full of both sacred and profane would-be rock classics. But it was painfully obvious: Bloodkin, whose future had seemed so bright for a moment in the mid '90s, had almost undeniably reached personal and professional oblivion.
"We weren't taking good care of ourselves," Carter says of those foggy, booze-and-cocaine-twisted days.
"Or anyone around us," adds Hutchens. It was just "selfish, self-destructive behavior."
In 1994, after Bloodkin released its first album, Good Luck Charm, friends and fellow Athens musicians Widespread Panic (who count Bloodkin as a key influence) covered Hutchens and Carter's song "Can't Get High" on their Ain't Life Grand album. It became a minor radio hit, ending up on Billboard's Mainstream Rock Tracks chart. When the more jammy Panic started to blow up—touring constantly, and exponentially growing its fan base—it seemed logical that Bloodkin would be next. A half-dozen of the band's songs were in regular rotation at Panic shows that drew thousands of fans every night, and Bloodkin's own versions were even more concise and radio-friendly. Like so many born underdogs, though, Bloodkin had a knack for blowing it at all the most crucial moments, giving even the Bob Stinson-era Replacements a wicked run for their money as good-old-fashioned, class-A fuck-ups. "Like most artists," writes friend, admirer and Drive-By Truckers frontman Patterson Hood in the liner notes of Bloodkin's new album, Baby, They Told Us We Would Rise Again, "they can and have been their own worst enemy."
"I remember around '99 having some meetings with entertainment-lawyer types in Atlanta with our manager Zac [Weil]," Hutchens recalls. "He'd set these things up, and some of the people we were talking to were pretty big wheels in the biz—and at every meeting, Zac and I were both so hung over that, at least speaking for myself, I had no idea what was being talked about. I just sat there in the offices and sweated and couldn't wait to get out, go home, play guitar and get drunk."
Once, a Grammy-winning producer who'd liked Bloodkin's first few records came to see the band play at the Exit/In in Nashville. After the first song, Carter inexplicably sat down on stage and proceeded to tune his guitar out loud for seven minutes. Finally, says Hutchens, "the big-shot producer left. At which point, Eric jumped back up and kicked into the intro to the next song. After our set, a guy who worked at the club told Eric, 'Man, you're either some kind of punk-rock hero or the biggest asshole I ever met.' And Eric said, 'Probably a little of both.'"
Bloodkin's problem was never the music; that was always there. What would become their Achilles' heel—in addition to some unlucky breaks (their label going bankrupt after they released live album All Dolled Up in 2000) and their excessive disregard for the business side of the equation—began as casual drinking and drug experimentation. Over the decades, though, while they were alternately on the road or scraping by working side jobs in Athens (Carter worked for years checking IDs at the Georgia Bar, and Hutchens put in time as a cook at Harry Bissett's New Orleans Café & Oyster Bar and as a phone-service rep at DialAmerica), what was once casual became a lifestyle. But what really sent Hutchens and Carter over the edge was the death of their close friend and manager, Weil, in April 2000, during the sessions for what became the band's Community Gospel Rehab album. Just a few months later, another friend, Gov't Mule bassist Allen Woody, also passed away.
Instead of taking these deaths as a warning about where they, too, might be headed, the grief-stricken Hutchens and Carter sank even further into the abyss over the next few years. In the fall of 2004, at the insistence of longtime friend and producer David Barbe (who was very consciously trying to give them a reason to get out of bed in the morning), they began recording Last Night Out. It was during those sessions that Hutchens hit an all-time low.
"I'd come in in the morning and do a vocal take, go to the bathroom and throw up, and have to go home for the day," he says. "As the title indicates, I considered that to be the last Bloodkin record. Very consciously, the lyrics were addressing that, along with a lot of other things."
Hutchens expected he'd soon be dead, and given his feelings about life at the time, the idea didn't really bother him that much. And his best friend, Carter—whose condition was even more dire—was right there with him, just like he'd always been.
LITTLE KIDS LIKE US JUST MAKE THE RULES UP
While Bloodkin's music has always dealt heavily with the loss of innocence, the partnership at its core is rooted in a time of innocence. Hutchens and Carter met when they were eight years old, living in Ripley, W.V. Bonding over a shared love of music and baseball, they became fast friends. Five years later, in middle school, they began playing together in their first garage bands, practicing at the house Eric's family had moved to on Skull Run Road, 20 miles away, on the outskirts of Ravenswood.
Looking back, Hutchens chuckles as he admits their personalities are embarrassingly the same as when they were kids. Carter agrees. "Things haven't really changed a lot as far as what we would joke around about," he says. "We still play this dice baseball game we played when we were little kids—Strat-O-Matic Baseball. We're still playing music—I guess some people would consider that a childlike endeavor."
"I have a tape," Hutchens says, "of when we were 11 or 12 years old—a little cassette recorder of us just talking. And, man, the things we talked about on that tape are the exact things you'd hear us talk about today—Bob Dylan, baseball…"
"…Rolling Stones, music, music, baseball," Carter finishes.
The first song the two remember writing together was called "Head of a Hound Dog," which they laugh heartily about now. But their earliest co-writing endeavor to have stood the test of time is "Wet Trombone Blues." Penned by the songwriting duo while in high school, it ended up on their 1999 album Out of State Plates, and they continue to play it live to this day.
After high school, Hutchens and Carter were dead set on pursuing their rock 'n' roll dreams, so they packed their bags and hit the road, first heading to Huntington, W.V., and then indie-music mecca Athens, Ga. The song "Ghost Runner" on their new album draws heavily from this transitional time in their lives. "You do lose your innocence," Hutchens says, "you do get older. 'Ghost Runner' is about two kids playing baseball in a field, but it's starting to dawn on them—'We're not going to be able to hang out in this field and play baseball forever. We're going to have to move out of this town and get jobs—you know, grow up.'"
IT LASTED YEARS, I DON'T KNOW HOW
Not long after he'd arrived in Athens, Hutchens met former Velvet Underground drummer Maureen "Moe" Tucker, who was living in the country outside of town. He ended up touring the U.S. and Europe with Tucker and her old VU bandmate Sterling Morrison, chalking up some valuable road experience, and also playing bass and guitar on Tucker's solo albums I Spent a Week There Last Night and Dogs Under Stress.
"I came to consider both Moe and Sterling true friends, as well as mentors," Hutchens says, "I think the big lesson they taught me was just how to play music on your own terms, for the reasons you want to play it, and dodge the landmines of the music business. … [to not] buy into the bullshit—don't let anyone distract you from your dream. Hold on to that kernel of light inside you, which is the reason you fell in love with the music in the first place. Don't let the bastards win."
During his stint with Tucker and Morrison, Hutchens continued collaborating with Carter. By the time of Good Luck Charm's 1994 release, the two had written over 300 songs (some of which, along with outtakes and demos from the band's albums, are being compiled for a forthcoming box set). On Good Luck Charm, they worked with famed Southern-rock producer Johnny Sandlin, who, after playing in the Allman Brothers' psychedelic precursor The Hourglass, went on to become the drummer in the Capricorn Records Rhythm Section, vice president of Capricorn and a producer and engineer on albums by the Allman Brothers, Delbert McClinton and many others.
In those early days, Bloodkin consisted of Hutchens, Carter and whatever musicians they could wrangle to back them up. Members of Widespread Panic often filled in, or other locals like Chris Barrineau and Jack Dawson. Scott Boyer of '70s Southern-folk-rock band Cowboy lent his backing vocals to Bloodkin's debut, and Patterson Hood's dad—famed Muscle Shoals session player David Hood—even played bass on a track.
In 1996, Bloodkin avoided the sophomore slump with the tasteful acoustic album Creeperweed, recorded in an aging, windowless house that was being renovated on Pulaski Street in Athens. "The walls were halfway painted," Hutchens recalls, and there were "bats flying around the house." Widespread Panic's Todd Nance played drums on the album, but the band's lineup was still in constant flux.
For the first time, on 1999's Out of State Plates, the rotating cast of musicians solidified with the addition of bassist Paul "Crumpy" Edwards and drummer Bentley Rhodes, who would continue touring and recording with the band for the next three albums. Out of State Plates was Bloodkin's best album to date when it came out, full of humid, unmistakably Southern anthems like "Never In Vain," "Lifer" and "Tennessee Williams"—songs as literate and original as they were thunderous and down-home.
"Carson McCullers, Faulkner … Flannery O'Connor's grotesque characters, the really outcast or strange characters drifting through town—that stuff is unforgettable to me," Hutchens says. "And we're plugging into the same things [these writers were] plugging into—the same influences, as far as just living in the same region. Those kinds of writers are every bit as big an influence on me as anybody who ever made a record."
Out of State Plates was also the first time the band worked with producer David Barbe (Sugar, Drive-By Truckers, Son Volt), who expertly harnessed the promise Bloodkin had showed on its first two records, and who would essentially go on to become a non-performing member of the band, working with Bloodkin on four of its next five albums.
"When we are in the studio, he is an equal collaborator," explains Hutchens. "He's a member of the team, every bit as much as any of us—to the point that it's really hard for me to imagine making a record without him at this point. As far as what we've learned from him, I don't even know if I could count all the things. … I've pointed out how good he is with people—patient, drawing out their good performances, and also being a counselor and psychologist all in one."
The band's next album, The Bloodkin Community Gospel Rehab, was a loving tribute to their fallen friend and manager Zac Weil, with songs like "Jazz Funeral," "Kingly" and "Up All Night in Heaven." During this difficult time, more than ever before, the band turned to the kind of familiar religious imagery ("Thirty pieces of silver / Changing hands in a bar downtown," "You were kingly in your time / You drank the Blood down just like wine," "Crosses by the highway … I pray every time I pass one / Like beads around a rosary") that provides an instant cultural shorthand, especially in the Bible Belt.
"I was very much brought up in a religious household," Hutchens says. "The first song on the first Bloodkin record is called 'Preacher Man,' and that was by no means an accident or coincidence. It's one of the big themes we always come back to. But it's not in terms of preaching a particular religion or trying to convert anybody—it's just asking questions, and that tug of war between impulses. Kind of like what Hank Williams wrote about—'Should I go to the bar or go to church?'"
The music stayed strong while the band continued to grapple with its demons on 2002's Ravin' Beauties and 2005's grim Last Night Out. It's interesting to watch their attitude, in song, slowly shift from the black comedy of the former album ("Liquor ain't love, but she's filling in … Liquor don't bitch and liquor don't preach / Liquor ain't love, but she's my peach") to the disturbing fatalism of the latter ("Headed back up to the hills all alone, locking my door, disconnecting my phone, sobering up and loading my shotgun … There's nothing left to celebrate now / This is my last night out"). While it's an excellent album, listening to Last Night Out, you can hear this once-vibrant band's will to live seeping out like watered whiskey through a cracked rocks glass. Barbe had bought them time by giving them a project to work on, but now that it was over, Hutchens and Carter had all but given up the ghost.
WE GOT LOST AND WE GOT FOUND
It's March 2009—just shy of six years after Bloodkin's Athfest vampire horror show—and Hutchens and Carter are on stage backed by an all-new band at the 1,000-capacity Music Farm in Charleston, S.C., opening a sold-out show for the Drive-By Truckers. Hutchens is looking sharp in a black jacket and button shirt, his hair now clean-cut, close-cropped. Carter is still sporting his trademark fishing hat, ripped jeans, Stones T-shirt and white sneakers, but his flesh has returned to a shade more becoming of a living, breathing human being. No ghosts. No zombies. Not anymore. The walking dead have disappeared, and in their place stand two men with a fresh vitality—a renewed sense of fun and humor and wonder and purpose. They have discovered a happier, healthier muse, and—like the VU's Tucker and Morrison once taught Hutchens—they seem to remember and fully appreciate why they loved doing this so much in the first place. They've weathered the shitstorm and come out the other side, not exactly smelling like roses but blossoming nonetheless. A few years ago, if you'd told them they'd still be here, now, like this, they never would've believed you.
These days, they're enjoying increasing buzz, newfound attention from trendsetting blogs and a national music press that had ignored them for years, not to mention a dose of physical and mental well-being, and an incredible new album on respectable label Sci Fidelity. After such a long and crooked road, how in the hell did Bloodkin get to this point?
"It's fucking amazing to me, to tell you the absolute truth," Hutchens says, sprawled on a backstage couch with Carter, bassist David Nickel and drummer Aaron Phillips before the Charleston show. "I almost get hesitant—it's like being on the edge of spouting clichés. But, you know, I've gotten married, I have two kids, it's the whole 'love of a good woman' thing, as stupid as that sounds, but it's absolutely on the money in my life."
For Carter, it took a little longer to turn things around. Hutchens had already pulled out of his own near-fatal tailspin before the band started recording its new album, the aptly titled Baby, They Told Us We Would Rise Again. Throughout the sessions, though, Carter was still drowning in a sea of strawberry moonshine. But he was beginning, subtly, to send an S.O.S. to his bandmates and friends.
"I'm not really sure what happened to me," he says. "It was just sort of a slow unraveling. … I think that maybe, unconsciously, I was doing certain things, behavior-wise, until it just finally broke, and I finally had to ask for some kind of help."
"It had gotten where I almost couldn't look," Truckers frontman Hood says. "It just hurt me to be around [Eric] because I could see that he was dying, and it's never fun to watch somebody you love die."
"It almost took me to my grave," Carter says. "I wasn't going to make it to 45, much less 50, like I thought I might. … I discovered that I was starting to go insane; I started falling apart, physically and mentally—and this all kind of came at the same time. Something had to give. I had a lot of help from a lot of people to get to where I am now."
Rise Again's liner notes offer a special thanks to some of those very people: Linda Phillips at Nuci's Space in Athens, Shireen Janti at Musicares in L.A., and "all the good folks at Willingway in Statesboro, Ga. They saved Eric Carter's life, and have saved many others. Have fun out there, folks, but take good care of your loved ones. Don't wait til it's too late."
"I had to take a 'vacation,'" Carter says of his trip to rehab. "I had to divorce my beloved wife of 25 years—the bottle. It's almost been a year. That gets into more clichés—'one day at a time.' You know, you're not supposed to say things like, 'I'm never going to drink again' because it doesn't work like that. If you do that, you start discouraging yourself. But I had to [get sober] for myself and for a lot of other people. I'm sure that's helped."
Indeed it has. At the Charleston show, the band sounds tighter than ever. Longtime friend Phillips—who'd played drums with Hutchens and Carter years earlier, making the move with them from West Virginia to Athens—provides a constant pulse. And with the music now enhanced by an army of guitars (Hutchens' strumming, Carter's riffing and guitarist Eric Martinez's blistering leads supported by Nickel on bass and hotshot dobro player William Tonks), the band finally has a sound as big as the plot arcs of its epic story songs.
"This is the most fun I've ever had going out and playing music," Hutchens says. "And I think a lot of it's the combination of the people in the band—everybody gets along so well. … These are the people that I would pick to go hang out with to do anything, whether we're playing music or not. I think it's what Eric and I, in a certain way, have been looking for the whole time."
Through it all, Hutchens and Carter's loyal friendship, and their love for—and belief in—the music they were making has kept them glued together. Their triumph of spirit in the wake of the flood that had been their lives in Bloodkin ascends like a phoenix over the new album. They simply refused to give up, even as they clung by a thread to this world—perhaps because there was so much more music was waiting within them. As Hutchens sings on Rise Again's "A Place to Crash"—"Hell and high water and hard times / Never faded our design / We stuck like speed freaks to our childhood deal / We got snake rash on the road / We got viperish, we got cold / But inside we never lost that feel."
"That's right," Hutchens testifies, shortly before walking onstage, "Music, definitely for me, became and truly is my church. That's where I go where I get some kind of feeling of transcendence, for real, not just hearing other people describe it or reading a book about it, but experiencing it. For me, that's a great way to put it—it's my church."