"Girl From the North Country": The Song that Bob Sang with Johnny
The Curmudgeon on Dylan and Cash
Photos by Al Cayton, courtesy of Sony Music Archives
Music
Features
Bob Dylan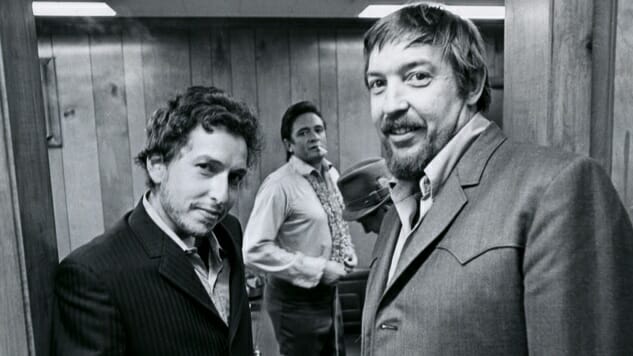 Bob Dylan's fall tour has had a surprisingly stable set list from city to city, and the highlight of the evening has been "Girl from the North Country." When I caught the show at the UMBC Event Center last month in Maryland, he sang the song from a bench before a black upright piano. He had reclaimed the large, brown nimbus of his Jewish afro of his 20s, and he turned partway to sing to the audience over the right shoulder of his sparkling gray blazer.
At first, his voice was accompanied only by his own piano chords and Donnie Herron's fiddle. "If you're travelin' in the north country fair," he crooned, "where the winds hit heavy on the borderline, remember me to one who lives there; she once was a true love of mine." Dylan is known for messing with his songs on stage, often altering the melody and phrasing beyond recognition. For many years, he deliberately flattened the tunes to emphasize the words and rhythms, but now he was intentionally emphasizing the intervals to bring out the Celtic charm of the music.
Whatever you think of Dylan's puzzling detour into Frank Sinatra covers (52 songs released on five discs between 2015 and 2017), it has paid unexpected dividends in his live show. He doesn't sing any of those American Songbook numbers on the current tour, but he does sing his own compositions with a renewed relish for melody. This reawakened affection for tunefulness reminds us that many of his originals are built atop the armatures of old folk and country songs. When he sang "Girl from the North Country," for example, one could hear the echoes of Scotland's "Elfin Knight" and England's "Scarborough Fair."
After the third verse, drummer Matt Chamberlain brought in rumbling mallets, while guitarists Charlie Sexton and Ben Bob Britt fleshed out the chords to nudge the song into a fuller sound. "I'm a-wonderin' if she remembers me at all," Dylan sang. "Many times I've often prayed, in the darkness of my night, in the brightness of my day." It's one of his loveliest, most romantic songs, a confession of lingering affection and regret for the girl left behind.
Who was she? In his book Positively Main Street, Toby Thompson recounts his 1968 trip to Minnesota to explore the sites of Dylan's youth. In Minneapolis, Thompson finds Echo Helstrom, Dylan's 11th grade girlfriend from the small Iron Range town of Hibbing near the Canadian border. The Village Voice reporter asks Helstrom if she's the "Girl from the North Country."
"I like to think it's about me," she replies. "I know it's about me; there's no one else it could be about."
When they first met, Helstrom had the 16-year-old Robert Zimmerman "pegged for a goody-goody, you know, one of those kids who never wanted to have any fun, always going to church and listening to their parents." But when she discovered that he listened to Jimmy Reed, Little Richard, Fats Domino and Chuck Berry on the same late-night R&B radio show out of Shreveport that she tuned into, a bond was formed. They soon became inseparable. Bob played piano and sang lead in a high school band that played around, including a notorious talent show at their high school where people laughed at him, later inspiring "Positively Fourth Street."
"They were doing a Ray Charles sort of boogie, really loud," Helstrom told Thompson, "but gradually it got so I could distinguish Bob's voice, and you know what he was singing? He was howling over and over again, 'I gotta girl and her name is Echo,' making up verses as he went along. I guess that was the first song I'd ever heard him sing that wasn't written by somebody else. And it was about me."
The more melodic singing of Dylan's current tour is reminiscent of the 1967-70 period, when he adopted a similar country crooning approach for albums such as Nashville Skyline and New Morning. To celebrate that conversion, he re-recorded "Girl from the North Country" as a duet with his hero Johnny Cash. When ABC-TV's "The Johnny Cash Show" debuted on June 7, 1969, Dylan and Cash reprised the duet for a national TV audience.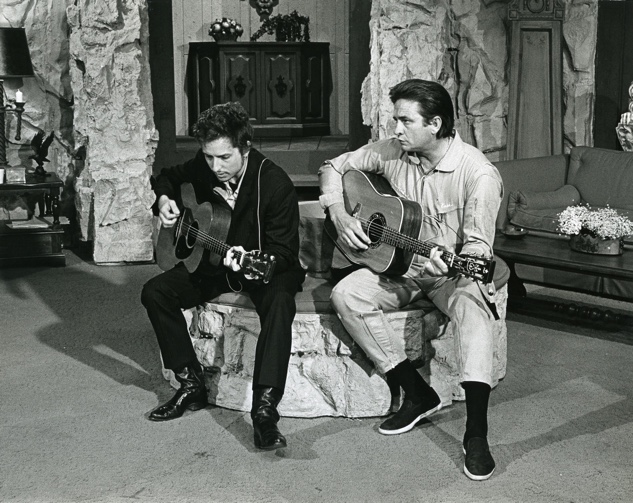 The close friendship between Dylan and Cash makes a lot of sense. Cash was part of the rockabilly revolution at Sun Records with Elvis Presley, Jerry Lee Lewis and Carl Perkins (a Memphis paper dubbed them the "Million Dollar Quartet"). But Cash, more than the other three, loved traditional country music and even older folk songs. And Dylan, who played boogie-woogie piano in his high school band, loved rockabilly and jump blues as much as he loved folk music.
They both wrote songs about the dispossessed, and they both had the versatility to go electric or acoustic. They were both working with producer Bob Johnston. When they crossed paths at the 1964 Newport Folk Festival, the 32-year-old Cash was as impressed by the 23-year-old Dylan, as the latter was upon meeting his role model.
Cash was especially captivated by the youngster's songwriting and recorded three Dylan compositions ("Don't Think Twice," "It Ain't Me, Babe" and "Mama, You've Been on My Mind") for his 1965 album, Orange Blossom Special. In his documentary about Dylan's 1966 tour, D.A. Pennebaker captured Dylan and Cash singing a relaxed version of "I Still Miss Someone" backstage.
A few years after Nashville Skyline was released, bootlegs surfaced that revealed that the duet was just one of many songs that Dylan and Cash had recorded for a possible album. This year 25 tracks from those sessions have finally been officially released as the centerpiece of the three-CD box set, Travelin' Thru, 1967-1969: The Bootleg Series Vol. 15. Filling out the box are outtakes from the sessions for John Wesley Harding, Nashville Skyline and Self Portrait, as well as all the Dylan performances recorded for ABC-TV's Johnny Cash Show and PBS-TV's Earl Scruggs: Family and Friends.
Listening to the Dylan/Cash sessions now, half a century after they happened, it's obvious why they were never released. These are rehearsals that find the two men fishing around for final arrangements they never quite capture. But for anyone who cares about these two artists, welcome revelations can be found in these ramshackle versions of songs written by the two singers, by their lead guitarist Carl Perkins, by their studio cheerleader June Carter and by assorted blues, gospel and hillbilly songwriters.
For example, before Cash had even released "Don't Think Twice," he wrote new words for that melody and had a #1 country hit with the resulting "Understand Your Man." Four years later, to prove just how close the two songs are, Cash suggests that they sing them simultaneously. At the end, they switch parts, Dylan singing Cash's words and Cash singing Dylan's words over the same music.
Inspired by the clickety-clack, railroad rhythm of Cash's road band, which supports many of these tracks, Dylan invents a new, livelier melody for "One Too Many Mornings." Dylan, Cash and Perkins celebrate their shared enthusiasm for Elvis Presley with spirited versions of "Mystery Train" and "That's Alright, Mama." Cash keeps tossing out song suggestions, and Dylan often stumbles over half-remembered lyrics; his memory is no match for Cash's. But when they move to Cash's own songs, the band is better prepared and the performances quickly gel, especially the rollicking treatments of "Big River" and "Ring of Fire."
Dylan recorded bluesier versions of that latter song and "Folsom Prison Blues" for Self Portrait, but they finally surfaced only now, on this box set. The outtakes from John Wesley Harding and Nashville Skyline don't differ that much from released versions; there are slight lyric alterations and wisely discarded alternate musical arrangements. The big reveal is "Western Road," a loose-limbed 12-bar blues from the Skyline sessions, based on Leiber & Stoller's "Kansas City."
In his liner notes, Colin Escott remarks how startled the Nashville musicians by Dylan's new vocal approach in contrast to his previous visit for the Blonde on Blonde sessions. They realized that his gravelly singing had been not been a result of vocal limitations but a deliberate choice to emphasize the blues sources and the hardscrabble perspective of those early songs. The decision to roughen his vocals increased the drama of his songs but obscured the strong melodies often lurking inside them.
That musical beauty is one of the biggest surprises of the 2017 London cast album for the stage play, Girl from the North Country. This play, written by Conor McPherson, the Irish playwright behind The Weir and The Seafarer, is set in a Duluth guesthouse during the Great Depression. The married couple that owns the house is facing bankruptcy, and their 19-year-old adopted daughter is pregnant. Also staying in the house are an alcoholic writer, a wealthy widow, a preacher and a boxer. Complications ensue.
Twenty-two different Dylan songs from all phases of his career help the characters express their longings and disappointments over Simon Hale's arrangements. Those setting use only instruments available in 1934, and the cast of actors lean on Dylan's crooning voice to bring the songs to life. The original London production earned rave reviews and subsequent productions in Toronto and off-Broadway in New York. The show moves to Broadway itself this coming February.
It's no surprise that the song "Girl from the North Country" became the show's title. Not only is the show set in Minnesota's northern Iron Range, but the song's strong tune and romantic lyrics are readymade for musical theater. That potential has long been latent in his songwriting, but it only becomes obvious when someone like McPherson or Dylan himself chooses to spotlight it.
By 1975, Dylan had reverted to his more familiar blues-drenched sound. But that 1967-74 interlude of country crooning made clear what he was capable of and anticipated the "Sinatra era" of his music from 2015 onward. His current tour features some of his clearest and most tuneful singing in years.
At his Maryland show, he provided a version of "It Ain't Me, Babe" that reflected the country flavor of the 1965 Cash duet with June Carter. A fiddle intro set up the slow, hillbilly build-up of "Simple Twist of Fate," which climaxed when Dylan stood up from the piano to sing the last verses, capped off by his harmonica solo. Something similar happened on "Trying To Get to Heaven," one of the evening's four songs from 1997's Time Out of Mind. Herron's pedal steel guitar encouraged Nashville Skyline-like crooning on "When I Paint My Masterpiece," "Not Dark Yet" and "Soon After Midnight."
The new tour also includes blues stompers such as "Highway 61 Revisited," "Can't Wait" and "Early Roman Kings." That's an essential part of Dylan's music, and one would never want him to abandon it. But it's a pleasure to hear this other side of his singing, this patient, emotive, melodic aspect. In November, he sang, "Please see for me if her hair hangs long; that's the way I remember her best," the key lines from "Girl from the North Country," in his rarely witnessed crooning voice. In that performance, one could hear the echoes of Echo Helstrom and Johnny Cash; one could hear all the yearning and fondness that only comes through when the melody is emphasized as much as the words.