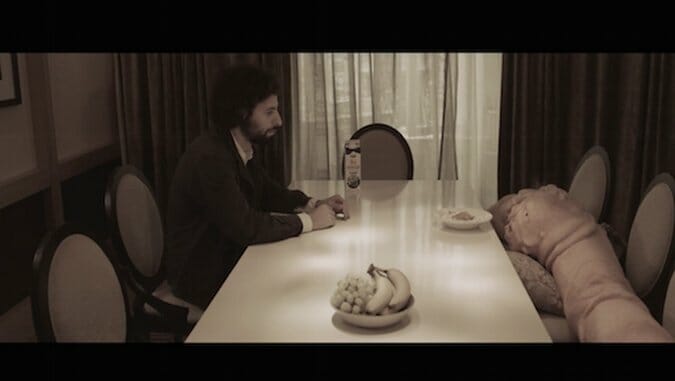 Calexico have shared the music video for their song "Falling From the Sky," which features Ben Bridwell of Band of Horses. The video, however, features another fellow musician, José González, caring for a strange, worm-like creature by feeding it, sleeping next to it and carrying it around.
The clip is evidently the first part of a two-part story, which will be completed in an upcoming music video for a González song.
The director, Mikel Cee Karlsson, made the following statement on the video:
"The idea[s] for this video have been lingering for a while, ever since I saw Albin Karlsson and Björn Renner's worm-like creation made for a show at the Museum of Modern Art in Stockholm. In original form, the "worm" was strictly covered in black leather. But I wanted to make it more like a living thing, like an evolutionary side step, a creature that is stuck in its codependency and has rather few possibilities in this world but still has the capacity to dream of better things.
I also had the idea that I wanted to make a two-part video on the same story and tell it from two different perspectives.
When I heard Calexico's "Falling from the Sky" I felt that I heard the perspective of the creature, or rather the perspective of anyone who find themselves in a similar mindset or situation.
So, this video is actually part I of II, or more precisely, perspective I of II of this relationship."
Check out the video above.