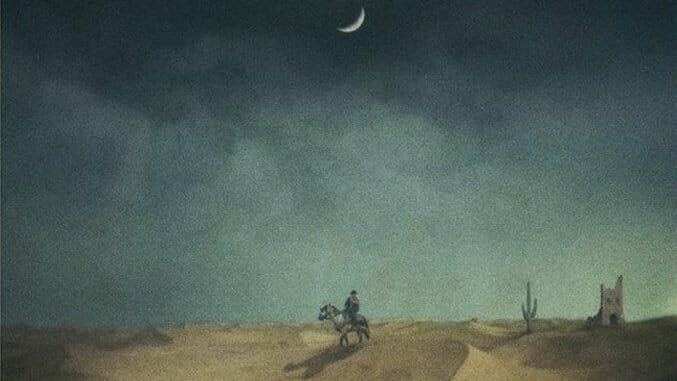 Today marks the first day of summer, and summer is the time when normal city dwellers suddenly become avid outdoors folk. That's right, summer means camping season. And even though nature has its own soundtrack of birdsongs, flowing rivers and rustling winds, sometimes it helps to add some of your tunes to the mix. In that spirit, here are eight songs for your next summer camping escapade, whether it's a Bear Grylls-esque adventure or just round of PBRs in your backyard tent.
1. "Sit Down by the Fire," The Veils
As the title suggests, "Sit Down by the Fire" is best enjoyed at night as your jam-packed camping day winds to an end. Everyone is gathered around the crackling fire, softly lit and breathing in that sweet woodsy smell. The song is an introspective anthem accentuated by bluesy melodies. Finn Andrews's keening voice delivers an emotional wallop as he sings, "There's no way out of this old world, even if you tried." Don't take it too literally if you're lost in the woods, though.
2. "Sprawl II (Mountains Beyond Mountains)," Arcade Fire
"Sprawl II," with its balance of a bold musical ensemble and equally bold lyrical statement, is a classic Arcade Fire song. Culled from 2010's Grammy-winning The Suburbs, the song combines a spiraling synth riff with a washed-out disco homage that makes Regine Chassagne's voice almost unrecognizable. It's a perfect track for those moments on your camping trip when you've reached the peak of the hike. As you look over the great landscape beneath you and ponder life's meaning, let Chassagne echo your contemplation as she screams, "Sometimes I wonder if the world's so small."
3. "All of Me Wants All of You," Sufjan Stevens
At its core, Carrie & Lowell is Sufjan Stevens's narrative on his mother (who suffered from mental illnesses and died in 2012), placed within the context of his childhood. Much of the 2016 album takes references Stevens's summer trips to Oregon, which should have been happy childhood memories about frolicking in nature. In particular, "All of Me Wants All of You" name-drops specific places, as Stevens sings, "I saw myself at Spencer's Butte / The landscape changed my point of view." This imagery invokes the sense of peace and serenity that you can feel surrounded by rows of Douglas Firs. And through vivid songwriting and inventive melodies, Stevens proves that despite feelings of loneliness, isolation and depression, tranquility can be found among the trees.
4. "The Ghost on The Shore," Lord Huron
Honestly, Lord Huron's debut EP Lonesome Dreams could be added to your camping playlist in its entirety. Ben Schneider sings, "I was born on the lake and I don't want to leave," and goes on to tell a story about trudging through the woods, crossing rivers and declaring his love for someone atop of a mountain. The songs are simple in composition with gentle guitar-picking, but the lyrics and rich harmonies help create a vivid ethereal soundscape perfect for a day out in nature.
5. "Like The Wheel," Tallest Man on Earth
Don't be fooled by Kristian Matsson's smaller-than-average frame. As his stage name suggests, what the Scandinavian folk singer lacks in height, he makes up for with an assertive and powerful voice. His raspy vocals and acoustic guitar-based songwriter especially shines on "Like The Wheel," off 2010's Sometimes the Blues Is Just a Passing Bird EP. Matsson sings, "And in the forest someone is whispering to a tree now / This is all I am so please don't follow me." It's a fitting song for both the lonesome drifter and conscientious trail follower.
6. "Tiger Mountain Peasant Song," Fleet Foxes
Between their folksy song structures and association with the Pacific Northwest, Fleet Foxes are often associated with the woods. "Tiger Mountain Peasant Song" paints the story of someone overcome by his own mortality who finds refuge in the mountains and forests. Things just make sense out there, which just reinforces the idea that camping can be a chance to break away from the banal and reflect on yourself.
7. "Woman King," Iron and Wine
The title track off the Woman King EP epitomizes the feeling of a mind/body recharge. The song opens with the clacking sound of pieces of wood hitting each other and a relentless slide riff that booms the energy of the song in every direction. "Woman King" is rich in subtle biblical undertones and allusions to a spiritual female figure. And with a whispery of strings weaving with Sam Beam's anxious and hushed vocals, "Woman King" easily becomes a soundtrack to your outdoor spiritual quest.
8. "With Arms Outstretched," Rilo Kiley
Rilo Kiley's "With Arms Outstretched," off their 2002 LP The Execution of All Things, echoes that rationale of camping as a way to unplug. Jenny Lewis sings in the chorus, "Some days last longer than others / But this day by the lake went too fast." It's a reminder to all of us to take a deep breath, live in the moment and remember not to take yourself too seriously.