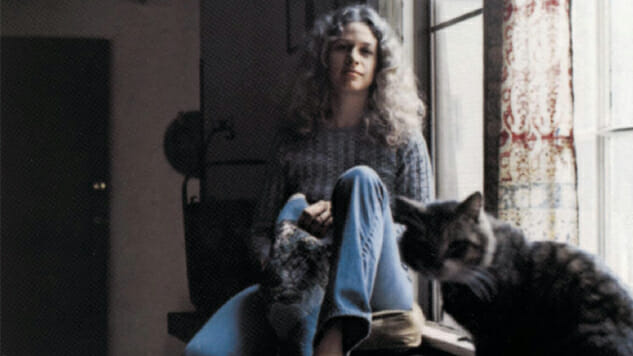 Carole King's contributions to pop music songwriting and rock 'n' roll history can't be overstated. Her work, both as a composer and performer, continues to be the gold standard of fine form matched to pop melody. In fact, other canonic musicians ranging from Aretha Franklin to The Animals and The Drifters to Dusty Springfield have performed her music, partially to honor the legend and partially to make her work their own hits.
With dozens of pop standards to her name, it's a challenge to narrow down even King's greatest hits much less her deep cuts, overlooked gems and standout tracks from less popular and later albums. But to name her 12 best songs, calls for an emphasis on her golden years of partnership with Gerry Goffin, their work at the Brill Building and her 1971 masterpiece album Tapestry.
12. "Up on the Roof"
Some of King and Goffin's best lyrics are strongly rooted in a sense of location. In particular, "Up on the Roof" paints an unforgettable, visible setting. This melancholy take from her debut solo album Writer is a lovely contrast to the classic toe-tapping version by The Drifters. In King's hands, the song plays like an aching companion to The Beach Boys' "In My Room."
11. "Beautiful"
This is one of the best melodies in a catalog overflowing with them. The alluring transitions between minor and major keys create a poignant sensibility that plays against the tune's bouncing, Tin Pan Alley chorus. "You're as beautiful as you feel," King sings, and listeners want to feel as beautiful as this song sounds.
10. "You've Got a Friend"
James Taylor puts a light touch on his hit version of this classic from Tapestry but King's own performance here has the weighty feel of a late-night pledge in a time of distress, making for one of the most affecting songs on the record.
9. "Oh No Not My Baby"
Aretha Franklin's classic take on this tune brings out the complex mix of confidence and doubt that makes "Oh No Not My Baby" such a tender song. In King's own version from Pearls, her sterling vocal performance in the climactic final verse sells the listener on the sense that the speaker can see a trustworthiness in her love that others just can't see. Ignoring Mom's advice has rarely sounded so right.
8. "Take Good Care My Baby"
This tune is a '60s standard. While "Take Good Care My Baby" was one of King's biggest songwriting hits with Goffin, other artists like Bobby Vee, Dion & the Belmonts and The Beatles also offered their own well-known versions. This lovely demo version shows off King's beautiful, melodic piano playing, an under-appreciated facet of her musical excellence.
7. "Pleasant Valley Sunday"
With the memorable image of "charcoal burning everywhere," King and Goffin send up sterile suburban life behind an intoxicating melody made famous by The Monkees, for whom they originally wrote the song. It begins with a view of "the local rock group down the street trying hard to learn their song" and later shows us "Mr. Green […] so serene" with "a TV in every room." Hell, we can almost picture Mr. Green himself tuning in to one of those TVs to catch that group The Monkees themselves playing this song. But is he in on the joke?
6. "It's Too Late"
"It's Too Late" is of the best and most beloved tracks from Tapestry, as well as one of the biggest hits of King's career. The lyrics, written by her frequent co-writer from the mid-'70s Toni Stern, flip the perspective from King and Goffin's '60s hit "Will You Still Love Me Tomorrow?" Here the speaker isn't longing to be loved, she's the one doing the spurning. The strong groove of the verses reinforces the lyrics' in-control attitude.
5. "One Fine Day"
The Chiffons' version remains one the most recognizable tunes from the girl-group era and King's jubilant rendition on Pearls hits home, too. In particular, this live version from our own archives in the Paste Cloud captures the sparkling joy of Brill Building melodicism.
4. "So Far Away"
"So Far Away" is a knockout from Tapestry about life on the road that doubles as the go-to anthem for long-distance relationships. "Doesn't anyone stay in one place any more?" she asks, but we come to see that she's also asking if people stay in one relationship any more. James Taylor's guitar blends easily with King's keyboard, often obscuring where one ends and the other begins, an interplay that helps dramatize the interaction in the lyrics. In this light, the duet section between guitar and flute suggests new couplings and moving on, a newly frequent experience in liberated '70s culture.
3. "It Might as Well Rain Until September"
One of King's earliest hits as a singer (although originally written for Bobby Vee), this song strikes a chord with lyrics that put an eloquent touch on the heartbroken teenager trope. King and Goffin were instrumental in helping to construct this trend, along with their co-workers like Burt Bacharach, Johnny Mercer and Phil Spector.
2. "Will You Love Me Tomorrow?"
This is truly one of popular music's best sad songs, a theme that has been explored by countless artists, but never captured more clearly than with this one plaintive question, asked in such a guileless confrontation: "Will you still love me tomorrow?" This live take from 1993 shows the remarkable staying power of the song's sentiment of impending heartbreak. The tune's clarity and pain are fresh forever.
1. "(You Make Me Feel Like) A Natural Woman"
This is the crowing achievement of King's incredible catalog, and one of the most iconic songs in pop history. While Aretha's towering, French horn-laden version is one of her signature numbers, King's own performance on Tapestry is a heart-rending, bare bones take anchored by a bracing vocal performance. Simply stated: it's an all-time classic by an all-time lyrical talent.