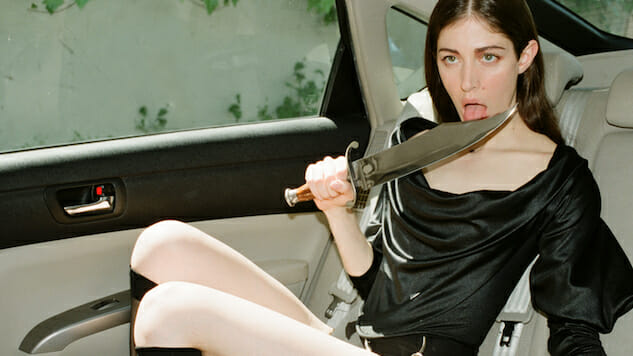 Pop mystic Caroline Polachek (formerly of Chairlift) has unveiled two new offerings from her forthcoming solo release Pang.
"Ocean of Tears" finds Polachek syncing hypnotizing, snake-charming vocal melodies to magnetic torrents of synth, bass, clicks and loops. The production is sharp and clear, a Polachek trademark hammered down by the track's additional production from PC Music's A.G. Cook.
"I'd really like someone to figure skate to this at the 2022 Winter Olympics," Polachek noted in a statement.
The musician's second offering is a dark ballad led only by a lush, gentle falsetto and gradually swelling keyboards and synths titled "Parachute." According to a press release, the lyrics were lifted directly from a dream Polachek wrote down a week prior to writing the music, "in which she accepts her own death only to find herself saved."
The track was written in collaboration with PC Music's Danny L. Harle, who referred to Polachek's releases as "some of the best music" he's ever been a part of creating via Twitter.
v excited for this – some of the best music i've ever been a part of creating tbqfh https://t.co/ApBdFpNcxk

— Danny L Harle (@DannylHarle) July 23, 2019
"Parachute" and "Ocean of Tears" were the first and last songs written for the album, respectively, and both releases are accompanied by visual "lyric booklets." The tracks follow last month's release of Polachek's first solo single under her own name, "Door."
Polachek's forthcoming debut Pang is set to arrive this fall via Columbia Records. Further details have yet to be announced, but stay tuned for updates on the project.
Check out the two singles and a 2010 Chairlift performance at the Paste office below.