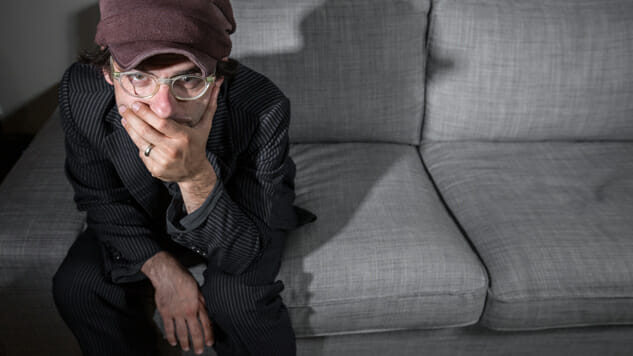 There's no better time than a band putting out a new release to look back at all that came before it. Clap Your Hands Say Yeah released The Tourist last month (and Alec Ounsworth dropped by our studio to play some of it). It's hard to use the term band to describe Clap Your Hands Say Yeah, as the moniker has represented only Ounsworth as an official member since the early days. Nonetheless, the new CYHSY record offers a nice stylistic shift for a project that came of age during the rise of internet taste-making. Considering CYHSY's 12-year run and five LPs, here are the 10 best songs by Ounsworth and co.
10. "Loose Ends"
If a new dawn has come, then this is an ideal representation of that fresh musical morning off CYHSY's brand new The Tourist. It's a subdued soliloquy by a frontman whose project represents that to the core. Ounsworth strips away the swirl of musical maelstrom that represents so much of his previous work and goes easy here. A naked backbeat supports acoustic guitar ornamenting, pretty synthesizer sways and, of course, the man himself's fragile vocal, capturing a portrait of simplicity.
9. "Impossible Request"
On 2014's Only Run, CYHSY went full synth to give its solid, but well-worn sound a modern lift. It mostly fell flat considering the lofty standards set by previous work, but this tune mixes the group's old rock 'n roll sound with some cool tape loops and even guitar bits. Ounsworth speaks pretty honestly when he croons the song out to the lyrics, "Please don't ask me where I'm going / I'll tell you again / I never know."
8. "Emily Jean Stock"
"You look so neat / Every day is your birthday," cheers Ounsworth to kick off this rousing stop-start musical party. One of the best things about CYHSY is how they can use heart-on-sleeve musical bits and straightforward exuberance to churn out a boisterous rock song that still has pop accessibility. Smashing drums, handclaps, wild guitars and more showcase Ounsworth's best.
7. "Misspent Youth"
Even more overlooked than the band's second album Some Loud Thunder (albeit for decent reasoning), Hysterical did deliver this piece of beauty. From start to finish, this song is written masterfully. The track begins with a tender piano riff that carries the "Misspent Youth" into solemn spaces of lyrical perfection. And in typical CYHSY form,, there are quintessentially interesting chord progressions and a structural artistry so seldom seen in the band's peers.
6. "Upon This Tidal Wave Of Young Blood"
CYHSY's 2004 self-titled masterpiece will forever be etched into the imaginary dictionary that determines what the phrase "indie rock" sounds like. The song kicks off with the perfect lyrical boast that only Ounsworth can deliver, "Now that everybody's here / Can we please have your attention." His band's chugging dancefloor rock 'n roll grabbed it and never looked back.
5. "Satan Said Dance"
The title pretty much says it all. From the twisted disco beat to the swirling synths to the sweltering guitars, this song encapsulates what 21st century rock 'n roll means to a certain set of Millennials. By the time Ounsworth gets to repeating the word "Satan" about a million times in a row—interspersed with the lo-fi chime in of a gaggle of folks finishing the titular line by screaming, "says dance"—you feel a little bit of heaven by listening to something so sinister.
4. "Underwater (You and Me)"
This key song of the band's 2007 sophomore effort is an example of CYHSY nailing all of the things they do so well—simple, but strapping guitar parts, steady, but standout drums, breezy lyrical delivery—with the intangible coolness that got the gang noticed from the get-go. "We'll design a clever disguise / Or retreat to the bottom of the sea," Ounsworth broods coolly in the chorus. Try it buddy, we'll still know it when we hear a band as cool as its New York City roots.
3. "Let the Cool Goddess Rust Away"
This list culminates with three best tunes on CYHSY's near-perfect debut album. When "Let the Cool Goddess Rust Away" came out, it captured so much of what was musically new and fresh in 2005. "You're so different/ In a different way/ What goes up has so far down to fall," Ounsworth prophetically sings in the opening verse, as off-time vocal chanting, tambourines and zig-zagging guitar riffs surround his vocals. He was so right, but back then the fact he didn't care more than to play his heart out showcased why we loved them.
2. "Details of the War"
Showcasing a depth in songwriting, Ounsworth's instrumental pacing, vocal and lyrical range separates "Details of the War" from everything else on Clap Your Hands Say Yeah. The song adds seemingly simple elements (like a sick harmonica shred) to achieve a sense of unity with all of its moving parts. The result is a musical masterpiece like a multifaceted painting.
1. "The Skin of My Yellow Country Teeth"
"The Skin of My Yellow Country Teeth" is one of the few CYHSY songs that is credited as being written by the entire band. And everyone deserves a piece of this one, it's true. Featuring the most memorable guitar riff of the band's career, a pogoing bassline to match and a searing, yet funky drum beat setting it all off, when Ounsworth screams, "Awww this boy can use a little city / That's right," every listener grabbed that dial, twisted it to max and rocked a little harder.