Listen to David Gilmour Go Solo and Chrissie Hynde Cover The Beatles on One Night in 1986
On Feb. 9, 1986, David Gilmour, Pete Townshend, Chrissie Hynde and Annie Lennox shared a bill at the Royal Albert Hall in London.
Photo: Getty Images
Music
Features
David Gilmour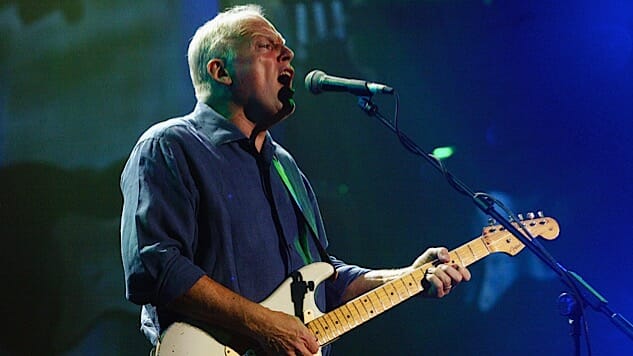 Did you know that Paste owns the world's largest collection of live music recordings? It's true! And what's even crazier, it's all free—hundreds of thousands of exclusive songs, concerts and videos that you can listen to and watch right here at Paste.com, from Dizzy Gillespie to The Kinks to Public Enemy to HAIM. Every day, we'll dig through the archive for the coolest recording we have from that date in history. Search and enjoy!
On Feb. 9, 1986, The Who's Pete Townshend and Colombian musician Chucho Merchan hosted the Colombian Volcano Disaster Appeal Concert at London's Royal Albert Hall to benefit a volcanic disaster in Colombia that had occurred just months before. The bill that night featured solo sets from a who's-who of frontpeople without their venerated bands, including Chrissie Hynde (The Pretenders), Annie Lennox (Eurythmics), David Gilmour (Pink Floyd) and Townshend, who took the stage with his side band, Deep End (and even brought up his oldest daughter, Emma). Gilmour, who had assembled an outstanding band in what was a rare solo performance, played two tracks from his second solo album, 1984's About Face, in addition to a pair of classics from Pink Floyd's dark opus, The Wall. During this time, Gilmour and Pink Floyd mastermind Roger Waters were locked in legal battles surrounding contractual disagreements with the band, and Gilmour had begun to explore solo musical pursuits.
Listen to David Gilmour do an emotional "Comfortably Numb" as his set-closer for this unique benefit concert, which was recorded for the King Biscuit Flower Hour radio show.
Here's Chrissie Hynde digging into her Pretenders megahit, "Back on the Chain Gang."
…and returning for a cover of The Beatles' "In My Life."