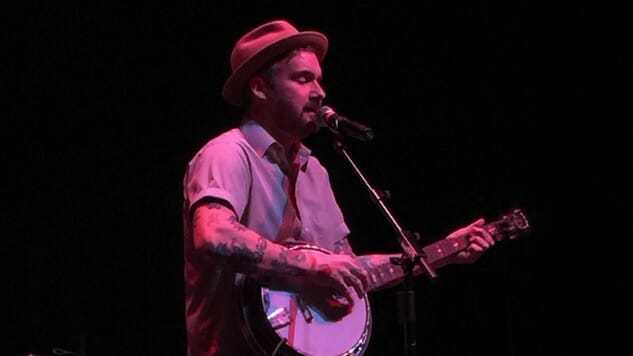 The inaugural Daytrotter Downs Festival kicked off last night at the Adler Theatre in Davenport, Iowa. And let me just say – they nailed it. With a lineup consisting of vets John Paul White (The Civil Wars), William Elliott Whitmore and P.O.S., as well as artists-to-watch Curtis Harding and Mothers, Daytrotter founder Sean Moeller perfectly curated the night's roster to ensure that it was a night everyone would remember…and thoroughly enjoy.
The stage's simple set-up kept the focus where it belongs—on the music. The house lights were up just barely enough to keep fellow audience members in view, transforming the typical every-man-for-himself concert-goer struggle into a shared community experience. Perfect. In true Daytrotter fashion, that audience intimacy, combined with the eclectic mix of performers and the setup of the stage, gave attendees the feeling of an exclusive special VIP performance from each band. In no way typical or overproduced, it was as if we'd just stumbled upon the most lively and successful sound check in history.
Curtis Harding
Curtis Harding walked out on stage in a camel grandpa sweater and sunglasses, and already was the coolest guy in the room. And then the music started. What. A. Rockstar. This dude does modern soul better than just about anyone, and his band just straight rips (plus, I gotta give props to anyone who alternates back and forth between a guitar and a tambourine). I legitimately gave myself a migraine with all of the endless head banging I was doing. Everyone watch out for this one. He's a game changer.
Mothers
The only word that ever comes to mind when I see Athens, Ga.'s Mothers is "haunting." Their music is purely infectious, and Kristine Leschper's voice is guaranteed to put goosebumps on your arms. In the immense auditorium of the Adler, the hollow echo of the room perfectly emphasized the ghostly vocals and fever-dream instrumentals. I seem to always want to listen to Mothers with my eyes closed. You can really lose yourself within the layers of their music.
"The festival was great," said Mothers bassist Patrick Morales post-show. "We love Sean and the folks at Daytrotter, so we felt special to get to play the inaugural Daytrotter Downs. We just wish we could have hung out longer and maybe visited Rozz-Tox over in Rock Island."
P.O.S.
"P.O.S. recorded his only Daytrotter session within the first few months we were doing this thing," Moeller told me. "And then he got sick for a long time…didn't perform for years and years, and I always kept checking in on him to make sure he was okay. I couldn't wait for him to come back. This was the first time he came back since then, and so it meant a lot to have him here."
Putting aside that he's been one of my personal favorites of the genre for quite awhile, I can objectively say that P.O.S. has got it. In the hip hop world, he's a breath of fresh air, with raw and poetic lyrics and the ability to own a room with just a killer backtrack and a microphone. On top of his energizing and, let's just say it—badass—performance that had everyone up and out of their seats, he also isn't afraid to interact with the crowd, at one point calling out our herd mentality by pointing out that we all have a tendency to applaud and "woo-hoo" regardless of whether we actually enjoyed the performance or not. As an antidote to this lemming behavior, P.O.S. encouraged all of us to simply give a thumbs up and say "Good job" following his songs, but only if we truly enjoyed it. Trust me—everyone did.
William Elliott Whitmore
In the words of the enthusiastic inebriate constantly whooping in front of me, William Elliott Whitmore is a "one man fucking band." Armed with a kick drum and a banjo (later swapped out for an acoustic guitar), the Iowa native's voice silenced the whole room with unassuming pure-hearted songs that I could have sat and listened to for hours. There's no pretense needed in Whitmore's performance, and it stands on its own with nothing missing. At one point my drunken seat neighbor screamed, "You're the man!" to which Whitmore simply countered, "No, I'm just a man." A man, his guitar, and an audience full of hushed revelers.
John Paul White
According to Moeller, The Civil Wars were always incredibly supportive of the work that Moeller and his team were trying to do, and White in particular was especially enthused.
"He really dug it, more so than anybody," said Moeller. "And at that point, they were already kind of well on their way and didn't need to do this. But he really wanted to be here and do a Daytrotter session. He's just always been a huge supporter, and so I reached out to him and wanted him to play this thing. I think he said yes because he really wanted to be here for it, and that was really great."
Last night's headlining performance represented John Paul White's first gig post-Civil Wars breakup done with no backing band or stage partners. You would never know it, though. For someone who claimed to still be working on his stage banter, he sure seemed to know what he was doing, at ease through jokes, commentary and pre-song anecdotes. His entire performance was unguarded and comfortably honest, like he was born to be on stage. I think it's clear that he was.