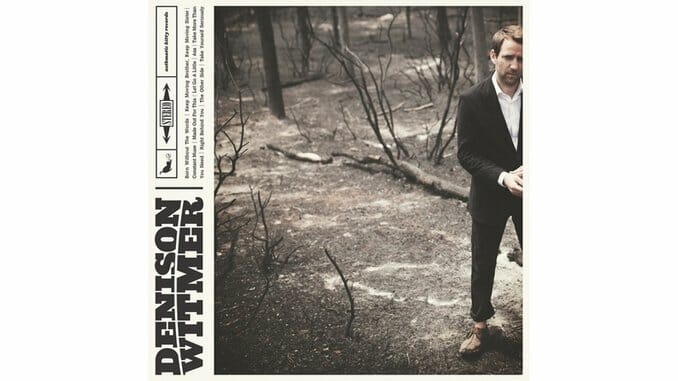 Denison Witmer has always had a knack for writing songs that seem extremely personal and completely relatable at the same time. His new self-titled LP is nothing less than expected from the singer/songwriter. Working out of his own studio in Brooklyn, The Honey Jar, Witmer seems to have had the time to thoughtfully arrange this batch of songs, stacking them up by his already impressive arrangements, and produce one of his best records. The intricate guitar parts Witmer is known for are there as expected and paired well with piano and various other instruments to create a dreamy atmosphere of varying degrees throughout. Overall, Denison Witmer is an easily enjoyable album that stays on the softer side of the fence for the majority of its duration, but that doesn't mean that there aren't powerful moments. Witmer continues to build upon the progress he's made over his 15-year career as a superb songwriter, and with the subtle yet decisive arrangements he lays the perfect bed for his lyrics to shine.
Encouragement in moments of doubt is a big theme on the album. "Born Without The Words" starts the album with a message seemingly about accepting your place in life and being comfortable in your own skin while comparing this rejuvenation to a flower emerging from the dirt. In one of the choruses he sings, "Pushing my way out of the ground / I'm ready for it / I've grown too old to die young now / And I'm better for it."
On "Made Out For This," he sings a question that most everyone whispers to themselves from time to time—"What if I'm just not made out for this?"—with verses of reassurance to balance the doubt.
"Let Go A Little" is the shortest track on the album but probably the most hauntingly powerful with its six lines: "I was in my garden / Water pouring from my head / I turned around and there you stood / You were transparent and you said / Why are you so precious about everything / Let go a little."
"Keep Moving Brother, Keep Moving Sister" is a dreamy sort of-shuffle about continuing on in less-than-ideal circumstances where he touches on perhaps why he's decided to self-title this album in the line, "I consider my name / The one I'm given and the one I became / And the difference between hangs inside the stars, my love."
"Right Behind You" is a song about devotion with one of my favorite arrangements on the album. In the chorus, he sings: "I don't see the point in waiting half my life to say / All of the things I'm thinking each and every day / I'm right behind you now."
While I've found my own meaning to the songs of both Denison Witmer and Denison Witmer, it takes the time to listen and absorb the lyrics within to get the full effect. If you're looking for something quietly magnificent and uplifting, then you may have found it.