Dr. Dre Loses Trademark Battle with a Gynecologist Named Dr. Drai (Updated)
Photo: Getty Images
Music
News
Dr Dre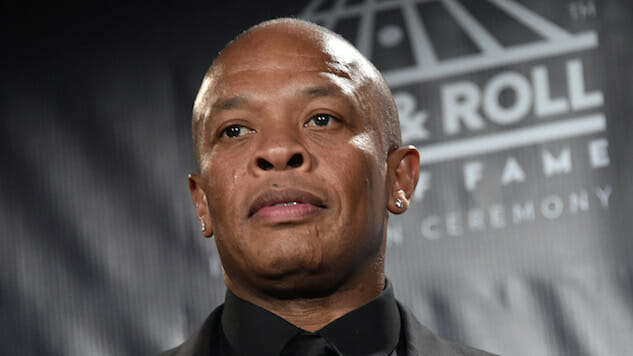 Hip-hop legend Dr. Dre has lost a trademark dispute against a gynecologist named Dr. Drai.
Pennsylvania gynecologist Draion M. Burch tried to trademark the name Dr. Drai in 2015, but Dr. Dre objected, citing potential confusion with his own trademark. Dr. Dre planned to use his trademark to expand into audiobooks and seminars, which he said could cause confusion if Dr. Drai was granted a trademark to sell similar products.
The case was launched in 2015, and the U.S. trademark office has finally dismissed Dr. Dre's case. The ruling, which was made last week, found that Dr. Dre had failed to show how people might mistakenly buy Dr. Drai's products instead of his own. The TTAB ruled neutrally as to whether it would be plausible for a consumer to accidentally buy a Dr. Drai product, given that the doctor's average public speaking fee is $5,000, pointing out in their opinion that a consumer would not be willing to shell out that kind of money for a product that they didn't do their research on, but also noting that "the fact that some purchasers may exercise care before utilizing these services does not mean there can be no likelihood of confusion."
Burch also argued that there wouldn't be confusion between the two names "because Dr. Dre is not a medical doctor nor is he qualified to provide any type of medical services or sell products specifically in the medical or healthcare industry."
Burch also took a subtle jab at Dr. Dre (aka Andre Young), saying that a connection between the two of them would reflect badly on him as a medical doctor due to Dr. Dre's lyrics, which he found to be often misogynistic and homophobic.
Dr. Dre recently made a surprise appearance during Eminem's headlining set at Coachella last month alongside 50 Cent, Bebe Rexha, Skylar Grey and Kehlani.
(Update, 5/16: This post has been updated to clarify the TTAB's ruling as to whether it would be plausible for a consumer to accidentally buy a Dr. Drai product, detailed under the "Conditions of Sale" subheading in their opinion.)