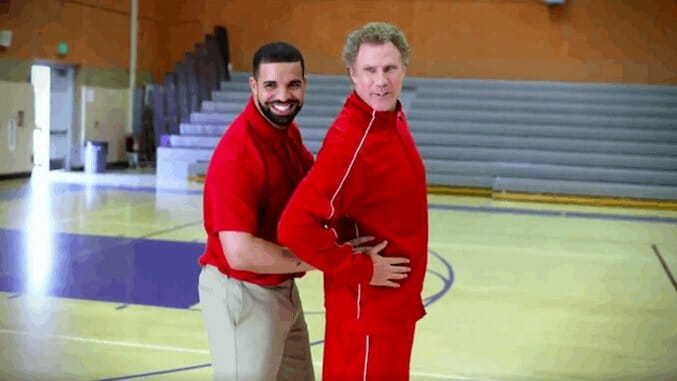 Drake hosted the first-ever NBA Awards Monday night and in typical Drake fashion, he was unbelievably corny, but in the best way.
As a friendly reminder that he started his career as an actor, Drake shines in a handful of ridiculous skits in which he pokes fun at NBA stars.
The show opened with a skit in which Drake is joined by Will Ferrell to openly mock Toronto Raptors player DeMar DeRozan.
Another is a parody of Jordan Peele's Get Out, in which Ayesha Curry "convinces" her husband Steph to stay home instead of celebrating the Warriors' recent championship. And in the third, he uses puppies and grandmothers to avoid answering questions at a press conference.
The rapper also took a few shots in his opening monologue, calling out Draymond Green's podcast and LeBron James' baldness.
Drake did something similar when he hosted the ESPY Awards in 2014, starring in skits with Blake Griffin and Chris Brown.
Watch the hilarious skits below.
"Get Out and Celebrate." @Drake as @StephenCurry30? #NBAAwardspic.twitter.com/7KvLgVBOnq

— NBA on TNT (@NBAonTNT) June 27, 2017
.@Drake & Will Ferrell give @DeMar_DeRozan some handshake advice… ???? #NBAAwardspic.twitter.com/oQAKKwvYW1

— NBA on TNT (@NBAonTNT) June 27, 2017
.@Drake x Will Ferrell handshakes Part II features an original you won't want to miss…#NBAAwardspic.twitter.com/Qh8pYxVQng

— NBA on TNT (@NBAonTNT) June 27, 2017
If @Drake held a press conference… #NBAAwardspic.twitter.com/kZzRcTonX9

— NBA on TNT (@NBAonTNT) June 27, 2017