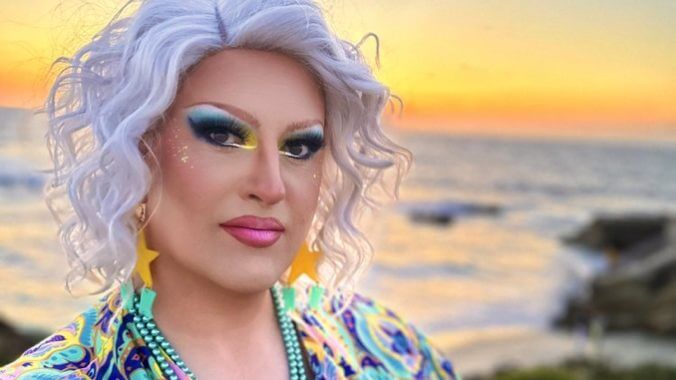 The tweet read: "If you're wondering the end goal of the deconstruction movement in the church, then look no further than former worship leader @derekwebb's new collab with a drag queen. These are truly the last days."
In response to that missive from Christian musician and failed Congressional candidate Sean Feucht sent out to his 100,000 followers, fans made one of those collaborations, "Good Day," hit the top spot on the Christian iTunes chart briefly last night. The album it's on, Flamy Grant's Bible Belt Baby, still sits at #1 on the album chart.
The irony is that Derek Webb, former lead singer of Christian music stalwarts Caedmon's Call, was never a worship leader. But Matthew Blake, who performs musical drag under the moniker Flamy Grant—"a shame-slaying, hip-swaying, singing-songwriting drag queen"—served in that role for 22 years.
"I grew up super evangelical, fundamental in the Bile Belt," Blake says. "I was a worship leader up until last year really, the last decade in more progressive churches. I've always been interested in drag, but as a kid, I didn't know it was drag. I just liked my mom's clothes. It got pushed out of me. I realized that if I'm going to belong in that [Christian] community, I'd have to suppress it."
His first time as an adult in drag was dressing up as a witch for Halloween in 2019. Then the pandemic hit. "Instead of doing a sourdough starter, I watched lots of makeup tutorials. I started a livestream where I would dress up in drag and cover songs."
Flamy Grant was created just for Blake's own sanity. But when his pastor asked him to give a sermon in drag, Blake made a Tik Tok video to practice. It went viral, racking up nearly a million views. "That's when I realized, from all the comments, all the people saying 'I feel so seen, I feel so safe here'—I connected the dots that my drag wasn't just for me, but for people who felt trapped like I did."
In addition to Webb, the album features queer Christian artists Jennifer Knapp and Semler, as well as queer country singer Adeem the Artist.
Webb, who left Christian music after a "deconstructing" of his faith, returned with his own new album "going back into the rubble of deconstruction and sifting through to look for things that are beautiful and meaningful and true that you want to bring with you."
"Thinking out who the record was for, I wound up talking to Flamy," Webb says. "I always thought Matthew was a genius of a musician and songwriter. Flamy was doing worship songs as church trauma recovery. It was such a juxtaposition of things that needed to be together."
The Jesus Hypothesis features a duet with Flamy Grant, "Boys Will Be Girls" inspired by a friend coming out to Webb. The video begins with the Stan Mitchell quote, "If you claim to be someone's ally but aren't getting hit by the stones thrown at them, you aren't standing close enough." In it, Flamy puts her make-up skills to use on Webb, transforming him into drag in a church sanctuary.
Flamy sings the last verse: "I heard Jesus loved and spent his life with those who / Were abandoned by proud and fearful men / So if a church won't celebrate and love you / They're believing lies that can't save you or them / 'Cause you're so beautiful by any name."
Feucht's broadside wasn't new for Blake. "I have a lot of personal spiritual practices, but it's really hard to identify with the Christian church in America right now," he says of his own journey. "Nonetheless, I feel like it's important that there are some folks who try to take a little of that space like what Semler has done, what Derek Webb has done, if for no other reason to just let the next generation of kids who are still growing up in the spaces that I grew up in where I couldn't be myself, couldn't even talk about what was really going on with me for fear of being cast out, of being ostracized. They'll call it indoctrination on the right, but I just want those kids to see options available to them. To see that they're not alone."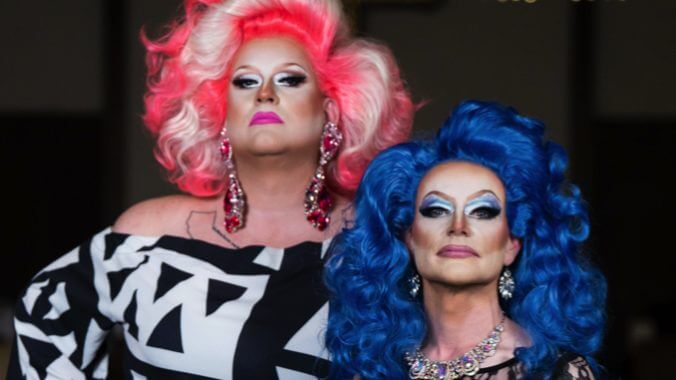 "We're just trying to love as radically as we've seen Jesus love," Webb adds, "being willing to have reputations ruined in order to identify with the people who culture sees as most 'sinful' in the church. I see Jesus standing with the marginalized and the cast-out and the rejected. Jesus reserved his most harsh language to the arrogance of the leadership, not for those who the culture saw as sinful. That's who he lived his life with."