FYF Fest Founder Sean Carlson Accused of Sexual Misconduct By Multiple Women
Photo by Frazer Harrison/Getty
Music
News
FYF Fest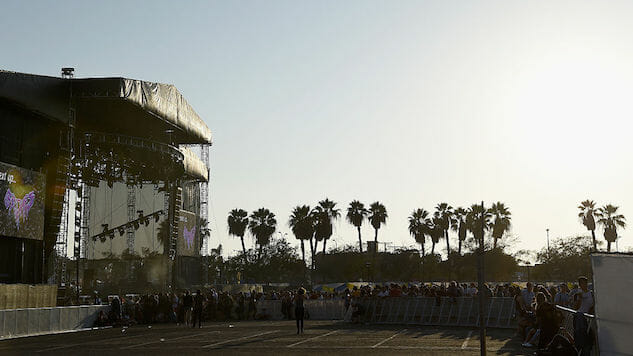 Festival promoter Goldenvoice recently announced that it had severed its relationship with FYF Fest founder Sean Carlson. In a statement issued Monday, Goldenvoice head Paul Tollett did not provide a reason for Carlson's dismissal, but stated, "We're evaluating our path forward as it relates to FYF Fest."
Although an explicit reason was not given, SPIN reports today that sexual misconduct allegations against Carlson have surfaced, documenting accounts of four women who say they experienced unwanted advances from Carlson between 2010 and 2015. All of the incidents allegedly occurred in social situations, ranging from Carlson groping the victims, to following them into the bathroom and repeatedly attempting to kiss them even after they rejected his advances, to sexually assaulting one of the victims after locking her in the bathroom with him.
When confronted with the detailed list of allegations, Carlson admitted to two of the allegations and claimed that the other two, including the one accusing him of sexual assault, contained "serious misstatements and omissions." He continued, "However, on both occasions I acted inappropriately and shamefully, and deeply regret my actions."
Carlson went on to explain the actions he has taken to remedy his behavior:
In December 2015, my years of recklessness and selfishness hit a breaking point; I had to make a promise to family and friends that I would change, or risk finally exhausting what remained of their compassion and support. I gave up alcohol for good, I embraced therapy, and I asked, sincerely, that my family and friends forgive me. Nevertheless, these corrective actions do not excuse my reprehensible conduct, and are small solace to those whose pain I am so sorry to have caused.
Find SPIN's full report here.