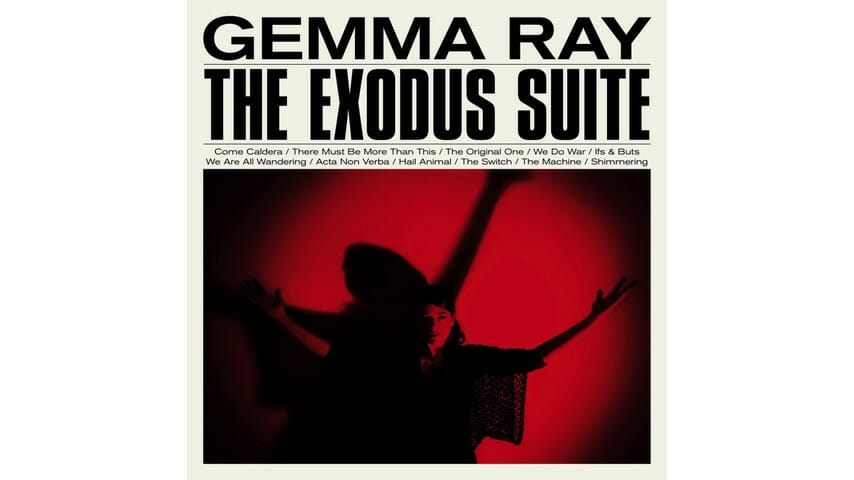 In the literary sense of the word, an epic is much more than an exciting story. It requires highs and lows, obstacles and aid, and a steady, sizable growth in character over the course of some life-changing scenarios. So when British singer, songwriter and multi-instrumentalist Gemma Ray announced her seventh studio album The Exodus Suite as a "52-minute odyssey of epic torch song psychedelia," she was certainly setting fans and critics up with pretty big expectations. Broken up into two acts, The Exodus Suite undoubtedly plays out as an epic, but never manages to sound disjointed. Genre-bending but with a common gothic ambience throughout, Gemma Ray is equal parts story teller and musician as she skillfully intertwines a diverse collection of 12 independent chapters in the form of songs that stand strong individually, but intensify when put together.
It is not to say that Gemma Ray has ever been anything close to predictable. Her past work always had the same Nick Cave-inspired gothic tinge as shown on The Exodus Suite, but Ray truly comes into herself as never before. Highly indebted to bands from the Beach Boys to Sharon Van Etten, Ray does not reinvent anything, but does carve a distinct niche for herself that few other artists could fit into. The Exodus Suite is her most mature and mysterious work to date, and what's more rewarding is how we see her grow even just within the album. Down but never defeated, Ray contemplates her defeats on songs such as "There Must Be More Than This" in a true gothic fashion, melding longing and angst with shadowy beauty. An undulating bass line is cut with dissonant guitars, juxtaposed with fluttering keys that set her sights on her potential rather than her uncertainties. The mood of the album changes constantly, from driving to introspective and everywhere in between. Even within individual songs such as "The Original One" and "We Are All Wandering," Ray takes listeners through her moods and motions and supplies comfort and insight into her own ambiguities.
Recorded live with 8,000 Syrian refugees living underneath the studio in which The Exodus Suite was recorded, Ray's personal life becomes politicized, although not inherently so. There is a palpable bleakness around the album as a whole, but Ray's soft and dreamy vocals cut right through the dark and let the light shine through. The Exodus Suite should be considered a hero's adventure more than an odyssey as Ray leads us through her highs, lows and rebirth as if we are all on this journey alongside her.