Goat Girl Take the Power Position on Their Dark Debut
The London quartet is helping to write a new, and distinctly female, chapter in the story of rock 'n' roll.
Photo by Holly Whitaker
Music
Features
Goat Girl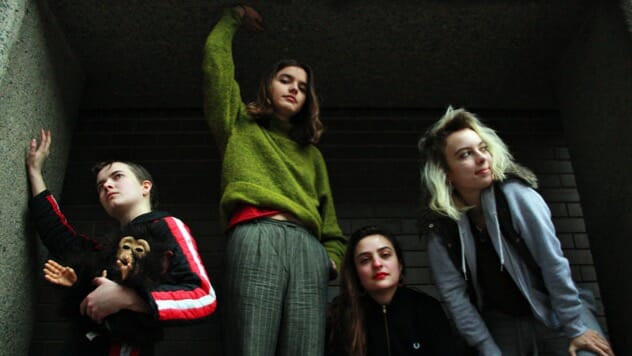 In the more than 50 years since A Hard Day's Night, not much has changed in the way America views young British bands. When they arrive on our shores, we group them into "British Invasions," coming in waves once every decade or so. But British rock music is not just the Beatles and the Stones, Blur and Oasis, Bloc Party and Arctic Monkeys. So much in between remains ignored, and not every sound fits into a neat narrative. "The press sort of treats everyone as if they're a child that needs everything explained to them," says Clottie Cream, lead singer and guitarist for London quartet Goat Girl. "I think people can figure out for themselves whether they like [us]."
It's fitting that Goat Girl parody A Hard Day's Night in their video for "The Man," from the band's self-titled debut record, out Friday. In the clip, Goat Girl's four members—Clottie, Rosy Bones, L.E.D. and Naima Jelly—plot their escape from hordes of young men who shriek, cry and faint at the mere sight of them. It's kitschy and fun, but it's also loaded with intention. "Men can't really express those emotions outwardly in the culture we live in. They can't cry or scream. So it was a pretty interesting reaction that all the actors had to it," Clottie explains. "[The video] talks about sex from a female point of view, which is kind of unspoken in our culture. It's interesting to explore those sorts of different avenues… it's nice to talk about love, but it's good to put yourself in the position of power."
"It's nice to talk about love, but it's good to put yourself in the position of power."
Gender, power, and authority are all major themes on Goat Girl, a vivid and intense 19-track LP that drifts from twangy pop ("The Man," "Cracker Drool"), to dark, stormy post-punk ("Throw Me a Bone," "Viper Fish") to offbeat, melodic interludes ("Moonlit Monkey," "Dance of Dirty Leftovers"). The songs are sharp and biting one moment, pretty and delicate the next. Woven together seamlessly, they string together a shadowy tale of growing up in South London amid a turbulent cultural and political climate. "At the beginning [of the band] we had a lot of teenage angst," L.E.D. says.
Goat Girl, who hail from the same South London scene as close friends Shame, met through school and from attending gigs around the city. They signed to Rough Trade in 2016 while teenagers, made their U.S. debut last month at SXSW, and are set to hit the road with labelmates Parquet Courts this summer. As they gain more fans worldwide, Goat Girl are becoming known through their nicknames—mysterious identities that were jokes at first but have since become essential components to the band's performances. "It's not really a real situation to be in," Clottie says of being onstage. "Loads of people are staring at you and clapping. So you kind of have to position yourself in a bubble where you lose yourself, in a way."
Goat Girl opens with the creeping, crawling "Salty Sounds" and melts into the searing "Burn the Stake." "Shoot them in the face and castrate/ They're all filthy fakes," Clottie sings over wailing, enveloping guitars, her warm and syrupy voice erupting into shrieks. "Build a bonfire, put the tories on the top/ Put the DUP in the middle and we'll burn the fucking lot." (The DUP being the Democratic Unionist Party in Northern Ireland.) While the album's tracks were completed prior to the Brexit vote in June 2016, "Burn the Stake" was written directly after the British general elections of 2015. In addition to 2016 single "Scum," "Burn the Stake" reveals the frustration the band felt toward the U.K.'s conservative-led parliament. Though based on current events, Clottie describes the sentiments of the songs as "timeless," reflective of "the aggravation you feel when [things are] really hopeless."
Despite the album's raw, confrontational lyrics and pointed cultural criticism, Goat Girl don't consider themselves a political band—at least not in the traditional sense. "Songs aren't necessarily good just because they're political," says Clottie. "I find politics in the way that we work together as a band, and the way that we sing together, the harmonies and melodies." She elaborates: "[Our music] isn't really there to create change, although it'd be great if it did. It's there to converse with ourselves and with others. We're using that platform to create conversations."
Read: The 25 Greatest Frontwomen of All Time
While they reject the oft-quoted "goth-country" description of their sound—"Goth is like, The Cure," they agree—Goat Girl acknowledge the influence of country-inspired rock bands like Silver Jews and Country Teasers; the latter, in particular. The Scottish art-punk band's 2006 record, The Empire Strikes Back, is packed with provocative language and twisted humor, like on "Points of View," where frontman Ben Wallers adopts the persona of a racist as a form of satire. "He's becoming a racist, or a homophobe, or whatever, to make you experience how it actually feels," Clottie says. "That's such a progressive way of writing, in this ironic sense… It makes you feel uncomfortable."
Like Country Teasers, the Goat Girl sound flourishes in the dim, murky corners of society, but as women in their early 20s, the band members toy with ideas of sexuality, dominance and control in ways that feel fresh and modern. On the scuzzy "Creep," Clottie suggests that she'd like smash a man's head in, while "Throw Me a Bone" offers a stern warning: "If you take me home, you'll end up alone." When confronting the other gender, Goat Girl are bold, cunning, and importantly, unafraid.
It took time to build that confidence. "I always had the feeling in my head with playing guitar that a man could do it better," says L.E.D. "I've only let go of that recently. You don't have to do things the way that men do them." That's literally been the case for Clottie, whose guitar teachers were all men. "They would all do that thing: 'Oh, it's a lot easier to play the chord this way.' I dunno, my hands aren't your hands."
Eventually, female influence became equally, if not more important. Adds Rosy Bones, "I grew up listening to a lot of rock bands that were male. But then listening to a lot of female empowered music that wasn't guitar music—like naughties pop music—was really inspiring. Like Gwen Stefani and Rihanna."
Goat Girl recognize the differences between their sound and that of their male contemporaries. The press may group them together, but what Goat Girl are bringing to rock music is entirely new, and distinctly female, a narrative all their own. "Space is very important when playing music," L.E.D. says. "I feel generally, and this is a big generalization, women in bands I've seen are quite good at finding space for things to sit. That makes it more impactful."
According to Clottie, the band pride themselves on "simplicity." They avoid "unnecessary shreds," refusing to make noise just for the sake of being noisy. For Goat Girl, silence is just as powerful.
"It's always funny onstage: Whenever there's a bit of feedback, some bands tend to indulge in that," L.E.D. laughs. "We just turn all of our pedals off straight away and it's dead silent. We're not fucking with that shit, you know what I mean?"