Hailey Whitters Makes a Case for Country Stardom on The Dream
Alongside greats like Brandy Clark & Lori McKenna, Whitters showcases her heartfelt style on second LP
Music
Reviews
Hailey Whitters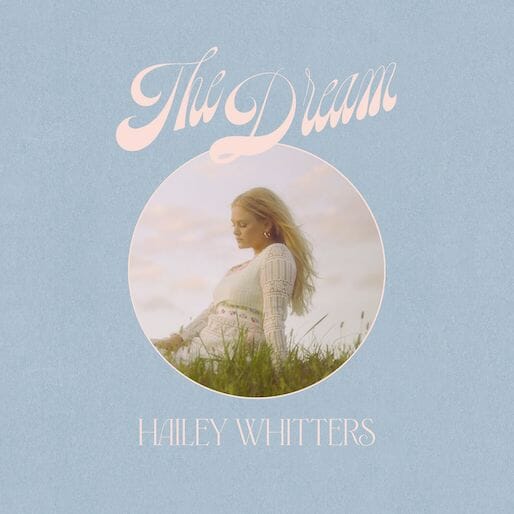 Last year, the Iowa-raised, Nashville-based singer/songwriter Hailey Whitters released "Ten Year Town," an emotional number about something country artists have been moaning about for the entirety of the genre's existence: small towns, how they trap us and how they're always there waiting, even if you're lucky enough to make it out.
But "Ten Year Town," now the opener on Whitters' new album The Dream—which she fully funded herself with money she earned waiting tables and plucked from her savings—doesn't feel sorry for itself, or bemoan a geographical situation. Co-written by country great Brandy Clark, "Ten Year Town" doesn't just long for escape, it actually manifests Whitters' departure. In the first verse, she admits, "thought I'd be a big star now," but she's still wasting away in a home that wasn't supposed to be permanent. Yet, her outlook remains overwhelmingly positive. "Dreams come true and I think mine will," Whitters sings.
As if "Ten Year Town" was some miraculous vehicle to will her success into existence, Whitters began steadily gathering acclaim last year, securing a coveted number two spot on Rolling Stone's list of 2019's best country songs and touring with Maren Morris and Brent Cobb. This year, she adds Tanya Tucker and Jordan Davis to that list. It's just the right amount of clout to draw attention to the follow-up to her giddy-up 2015 debut Black Sheep. The resulting album, The Dream, proves there's so much more wisdom where "Ten Year Town" came from. Whitters has continued to one-up herself with each single's release. With this album, she graduates from Dream-er to doer.
Upwards of seven songs from this record are already available to hear, several of which appear on a 2019 EP The Days (also the name of an album track). But perhaps the most impressive of the entire bunch is "Janice at the Hotel Bar," the account of a spontaneous confessional with a wise boomer at the downstairs bar co-written with Lori McKenna. Together, the pair are masters at clever, sometimes devastating, wordplay, and "Janice" is the best example of their combined craft. The extroverted stranger admits she prefers shopping for cosmetics at the drugstore, vodka over dessert and mowing her own lawn, but she also has some more consequential life advice, the best of which may well be her assessment of the male sex: "All men are babies and that's just how they roll." She also recommends staying off pills, except for the Pill, drinking a glass of red wine every night and occasionally allowing oneself a "good cry," which is all just undeniably sound advice. "Go on and make a good living girl," Whitters, posing as Janice, sings. "But don't forget to make a good life."
But "Janice" isn't the only time Whitters emphasizes soul maintenance on The Dream. "The Days" urges us to make the most of every moment, because life is fleeting and time is ultimately scarce. "Dream, Girl" is a breakup anthem from a third party perspective that sounds a bit like Fearless-era Taylor Swift telling you to keep your chin up. Whitters reinvents Kacey Musgraves' "Merry Go 'Round" on "Heartland," which, like the Same Trailer Different Park highlight, sports a simple banjo melody and plenty of anxiety. But there's also some release from the unease when Whitters offers a simple solution to the societal noise we can't escape: "When life is out of your hands, you gotta let your heart land." Later, on the Lori McKenna-penned "Happy People" (which Little Big Town originally recorded back in 2017), she pushes happiness over suffering at all costs. "Do what makes you feel good"—it's an easy command to follow. You've never met her, but Hailey Whitters has your best interests at heart.
Whitters rounds up McKenna and Clark again for "Loose Strings," a funny tune about falling off the wagon and trying to forget someone in the process, in which that "someone" has to confiscate Whitters' car keys so she doesn't get "busted by the po-po." Before you have time to register the change from rascal Southern girl to bar singer, Whitters slips into a slinky drawl on "The Devil Always Made Me Think Twice," a reconciliation with temptation. The proceeding "All The Cool Girls" is a sneakily sassy takedown of vanity, as well as a bluesy Americana dreamscape.
But the real "dream," for most people, that is, is "a paycheck at the end of the week," an indulgent cigarette here and there, the miracle of the earth's rotation and someone to accompany you on the long ride. "We're all just livin' the dream," Whitters sings on the record's final song. The Dream cherishes working-class triumphs and even failures, as country music always has. You won't find a radical change where that content is concerned. But Hailey Whitters' heartfelt manner of describing those ups and downs is what makes her dream so damn charming to behold.
Watch Hailey Whitters perform "Janice at the Hotel Bar" in the Paste Studio last year: