Hilary Duff's Metamorphosis at 20: Reflecting on a Picture of Millennial Adolescence
Photo by J. Shearer/WireImage
Music
Features
Hilary Duff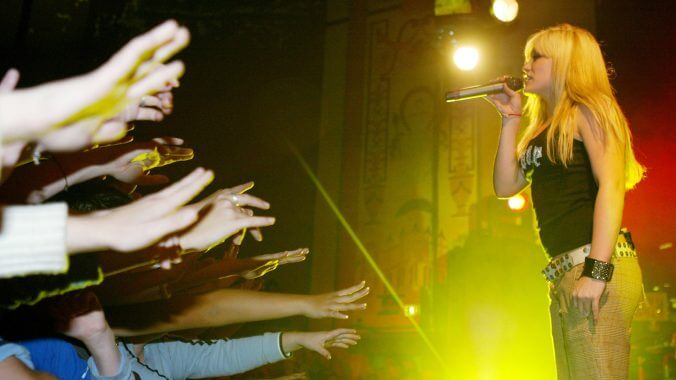 Hilary Duff helped an entire generation through the odyssey of growing up. Many of us found a friend in Lizzie McGuire, and Duff's music added new dimensions to our devotion. August 26 marks the 20th anniversary of her breakout album Metamorphosis, which followed her 2002 holiday record Santa Claus Lane. Released just over a month before her 16th birthday, Metamorphosis represented much of Duff's lived experience. The album's title captured pivotal changes we saw in her artistic trajectory—from television actress to musician and feature film star, from Lizzie McGuire to platinum-certified powerhouse.
Duff's young fans were presented with many prospects while forming identities in their tween years: They could go punk and channel their inner Avril Lavigne, or they could take style cues from the burgeoning reality TV stars of the day and the established pop powerhouses. As a singer, Duff gave them an edgy but approachable role model, a young woman who was candid about trying something new while also remaining confident in her own work ethic and abilities. She was inspired by the teen artists in her Hollywood circle. The former senior VP of A&R at Walt Disney Records, Jay Landers, saw her synergistic potential.
With the right collaborators on board, Hilary Duff helped redefine Disney Channel stardom. Her contemporary, Raven-Symoné, had a full music career before working with Disney and lending her voice to The Cheetah Girls. The Jonas Brothers were even signed to Columbia Records before becoming affiliated with Hollywood Records and Disney Channel. It was totally new for someone to start a music career on Disney's record labels from the foundation of starring in a Disney Channel series. Selena Gomez, Miley Cyrus and Demi Lovato have all expressed their admiration for Duff, as she walked a path worth studying and made it to the other side of child stardom without the public trials that some of her peers faced. Metamorphosis, in retrospect, changed her life and shaped the musical tastes of a generation.
She worked with sought-after producers The Matrix (Lauren Christy, Scott Spock and Graham Edwards)—who wrote "So Yesterday," "The Math" and "Where Did I Go Right?" with Charlie Midnight. Lavigne had worked with The Matrix on "Complicated," "Sk8er Boi," "I'm With You," "Anything But Ordinary" and "Things I'll Never Say" for her debut record Let Go—so Duff and the trio made complete sense.
I still have my original copy of Metamorphosis, which spun in my boombox as I sang along to "So Yesterday" at age nine. Now, at 29, the message is no less comforting and can still be applied to life in general, not just a breakup: "Laugh it off, let it go, and when you wake up it will seem so yesterday, so yesterday." This guitar-driven lead single set up Duff's pop-rock sound and look, making it easy for us to sing along and nail those spoken bits: "You can change your life—if you wanna / You can change your clothes—if you wanna." She wears jeans and a black top and blazer in the music video (directed by Chris Applebaum), complete with a single black glove. As vivid as that image is, her next single is ingrained as much, if not more, in the collective millennial consciousness.
From its hypnotic synth pattern to its angsty chorus, "Come Clean"—written by Kara DioGuardi and John Shanks—was perhaps one of the most serious songs Hilary Duff's fanbase would encounter in 2003. Though it was reflective of DioGuardi's journey as a songwriter, "Come Clean" was adapted for Duff and fit the singer's goal of sharing who she really was. "I'm shedding / Shedding every color / Trying to find a pigment of truth / Beneath my skin," she sings. An abridged version of the music video (directed by Dave Meyers) played on Disney Channel—with Duff in a white sweater, surrounded by candles as the rain pours—while the MTV crowd heard the song as the intro to Laguna Beach. There's no better music for plumbing the depths of the soul. The chant-like interlude of "rain fall down" and "let the rain fall" has a cleansing quality before Duff again pleads, "Let it wash away / My sanity / 'Cause I wanna feel the thunder / I wanna scream / Let the rain fall down / I'm coming clean." Each note in the chorus is well-placed, rising with "let the rain" and descending to "fall down."
I view "Little Voice" and "Party Up" as companion songs. The former, written by DioGuardi and Patrik Berger, was originally sung by Swedish artist Sahlene but with much more suggestive lyrics. A hint of this remains in Duff's second verse: "You smell so sweet just like my perfume / What have you been doing since I left you?" The production style from DioGuardi and Chico Bennett is playful, and Duff's half-step intervals create instability approaching the tonal center of the chorus. "The little voice in my head just won't let me get with you," she concludes. "Party Up," written by Meredith Brooks, Taylor Rhodes and Ashley Hamilton, instead has her accept a tumultuous romance. "You roll me, you use me, you love me and then / You wrap me up and reel me in and use me again / You love me, you hate me, you say it's the end / I know you're gonna do it again and again," she speak-sings in the bridge, leading up to a dramatic, climactic vocal slide.
Even if the youngest of Hilary Duff's fans hadn't branched out much beyond the Disney Channel and Nickelodeon television blocks, they could still rock out and have fun with the lyrics she sang. On "The Math," she intones: "If you can't do the math, then get out of the equation!" The idea is to lead with the heart instead of calculating everything. ("You can't do it! You can't do it!" Duff teases toward the end.) "Workin' It Out" begins with chill guitar grooves and builds to a pep talk of sorts from Duff: "Hey! Hey! I'm not giving up, no / Gonna stand up and shout it / No way! I'm not slackin' off or backin' out or crackin' up with doubt / I'm workin' it out," she cheers.
A frequent Hilary Duff collaborator was her sister, Haylie Duff. Haylie penned the quiet empowerment number "Inner Strength" and co-wrote "Sweet Sixteen" with Lane Toran, the original voice of Arnold on Hey Arnold. "Gonna spread my wings / Sweet sixteen / It's my chance to shine / Sweet sixteen / Discovering / Sweet sixteen / So much more to life / Sweet sixteen," Hilary sings. She graced MTV's My Super Sweet 16 with this theme song. Naturally, I added the track to my birthday playlist when the time came.
"Where Did I Go Right?," "Anywhere But Here" and the waltzy ballad "Love Just Is" make for a nice trio of love songs. The latter, written by Midnight, Jim Marr and Wendy Page, draws out the sweetness of Duff's voice with innocent lyrics and orchestral-style moments. Growing up and falling in love can be filled with contradictions—"When every move seems out of place / But every kiss is filled with grace," as Duff says. "Where Did I Go Right?" has a cinematic arc, displaying a character who finds the perfect love despite her own shortcomings. "I'm always too late / I see the train leaving / I'm always laughing / When it's not cool to smile," Duff begins in her lower register.
She says in behind-the-scenes footage, "This girl's stuck in a bad situation in her life where she doesn't really ever do anything right, she doesn't feel good about herself, and this person kind of is always there for her and makes her feel really good about herself. So, it's definitely a love song." Marr and Page co-wrote "Anywhere But Here" with producer Chico Bennett, and it's rife with the exhilaration of young love: "I'm falling through the door / Flying 'cross the floor / When you look at me, suddenly it's clear / You're burning up my dreams / Crazy as it seems / I don't wanna be anywhere but here." The song plays at the end of Duff's 2004 film A Cinderella Story.
Another movie tie-in is "Why Not," a bonus track to close out the album. The upbeat song, written by Midnight and Matthew Gerrard, was familiar to any fan of The Lizzie McGuire Movie and its soundtrack. Verse two stays with me after all these years: "You always dress in yellow / When you want to dress in gold / Instead of listening to your heart / You do just what you're told / You keep waiting where you are / For what, you'll never know / Let's just get into your car / And go, baby, go." The extratextual layer is the knowledge that Duff practiced what she preached all along. She took a chance on herself, and so did Disney and their record labels. The work certainly paid off. Metamorphosis landed in the Billboard 200 No. 2 spot and quickly took No. 1, eventually reaching triple-platinum status.
In the liner notes, Duff wrote, "The album is titled Metamorphosis, because I thought it was a good way to express my experiences in this ever-changing world." With Midnight and Bennett, she and her then-manager Andre Recke are credited as co-writers on the title track. It includes the album's final instance of spoken word: "Every day is a transformation / Every day is a new sensation / Alteration, modification / An incarnation, celebration / Everyday is a new equation / Everyday is a revelation / Information, anticipation / On to another destination."
We, Duff's audience, were really the ones "watching the butterfly" during her Metamorphosis era. Though she was already so famous, her professional life as a musician was evolving right along with her personal life as a teenager. MTV shot behind-the-scenes footage while she filmed her music videos. Hollywood Records and Buena Vista Home Entertainment created The Girl Can Rock DVD (with a new song by the same name) to follow her early performances onstage with her band. The WB even sent Duff and her friends and family to Hawaii for Hilary Duff's Island Birthday Bash, featuring Simple Plan. This celebration of her 16th birthday included an outdoor concert, in addition to lovely, secluded acoustic sessions for "Come Clean" and "Anywhere But Here." The budding rock chick still experimented with softer moments, and she continued to broaden her range on future albums.
While moving on from Lizzie and maintaining her steady presence on the big screen, Duff kept working on new music. A favorite of mine is "Crash World" from the soundtrack to A Cinderella Story. "Go on, get out of my head / I'm on the wrong side of a parallel universe," she sings. Written by Desmond Child, Andreas Carlsson and Julian Bunetta, it's an excellent bridge between Metamorphosis and her self-titled 2004 album—an era that officially began with the haunting strains of her single "Fly," another DioGuardi and Shanks offering. Metamorphosis and Hilary Duff were the albums I listened to most often in the 2000s, but I became a fan of her 2007 dance-pop album Dignity in adulthood. Her longtime audience hopes she'll consider working on a follow-up to her last album, 2015's Breathe In. Breathe Out.
Duff expanded the possibilities for future musically-inclined Disney Channel stars, but she did so much more than that. With Metamorphosis, she voiced the contemplations and questions that still, 20 years on, come with familiar and universal facets of youth. She made music she was proud of and she gave many of us an outlet for our emotions. Then and now, Hilary Duff has helped us "spread [our] wings" and embrace the "chance to shine."