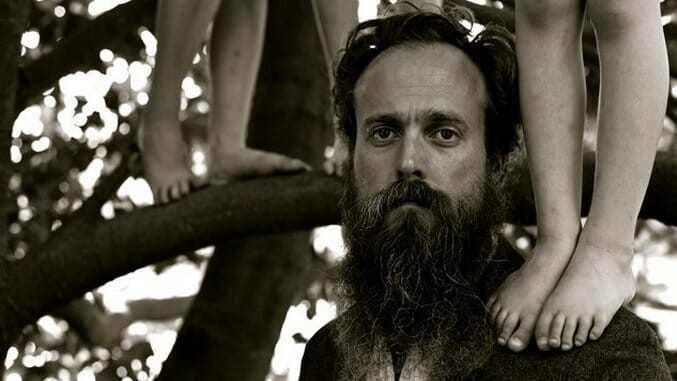 By now, Iron & Wine—the moniker of singer/songwriter Sam Beam—has basically achieved folk-hero status. The former film teacher started sharing his original songs in the early 2000s, which led to a contact with Sub Pop. Six LPs and a smattering of EPs and exclusive releases later, the bearded, soft-spoken Beam has become a beacon for the evolution of acoustic music in a time of digital domination.
In August, Beam released his sixth LP, Beast Epic, as Iron & Wine. This week, the full-band version of his project sets out on tour with two sold out dates at Thalia Hall in Chicago. From there, Iron & Wine traverses North America through November, before jetting to Scandinavia, Europe and the United Kingdom in early 2018. With this worldwide tour kicking off soon, we decided to take a look at the best Iron & Wine songs (excluding collaborations with Calexico, Ben Bridwell of Band of Horses, Jesca Hoop and others). Check out Beam's 15 best below.
15. "The Sea and the Rhythm"
The title track from this 2003 EP is one of the sexiest songs Beam has ever written. It'd be hard to tell on first listen, though; Beam apparently recorded this collection in his Miami home and the songs all assume a hushed, barely multi-tracked quality. With just an acoustic guitar, some layered vocals and an outro banjo solo, "The Sea and the Rhythm" could be a simple lullaby. But listen closer and you'll hear Beam's romantic poetry: "Your hands they move like waves over me / Beneath the moon, tonight, we're the sea." It's no wonder the sultry song was used in the closing episode of the first season of The O.C.
14. "Joy"
For an album that actually peaked in the Top 10 on the Billboard Rock charts, 2013's Ghost on Ghost contained a few songs that didn't necessarily fit into Beam's self-described, AM radio-influenced fifth studio LP. "Joy" is one of those songs. In fewer than three minutes, Beam extolls the tumultuous journey of falling in love, admitting, "I'm only frightened 'cause you finally gave me something to lose." But instead of the fingerpicked guitar work that defined previous efforts, Beam takes his exposed playing and transfers it to the piano, lending "Joy" an even brighter sentiment.
13. "Biting Your Tail"
For many of the other songs on this list, the mainly acoustic versions took on new and improved lives when Beam and co. reinvented them in concert. However, "Biting Your Tail," a B-side from the Walking Far From Home sessions in 2011, actually functions better in its (presumably) original format—just Beam and his guitar. The fingerpicked ballad serves as prayer and reminder for humility, with lines like, "May your mouth betray your wisdom / May you get what they failed to mention / May your love be your only religion / Preach it to us all."
12. "About a Bruise"
Born in South Carolina, now residing in North Carolina, with stops in Florida and Virginia along the way, Beam is a true Southerner. While the lyrics of this Beast Epic song can be a bit obtuse, the Southern imagery—from skies full of prayers to duck hunting to mall cops in Mobile—all culminate in a choir proclaiming, "This is Alabama." If Beast Epic illustrates the cyclical nature of living, the acoustic slapping of "About a Bruise" showcases those musical and lyrics phases in Beam's life.
11. "Grace For Saints and Ramblers"
When Iron & Wine unveiled this pop gem as the lead single from Ghost on Ghost in 2013, fans knew they were in a Tilt-A-Whirl of a ride. With the snare-heavy percussion, brass accents and mouthfuls of words, "Grace For Saints and Ramblers" represented a new age of Iron & Wine, moving far beyond its skeletal, folky beginnings. But beneath the flashy (by Beam's standards) accouterments remains a core of a song that is utterly representative of Iron & Wine—careful, thoughtful and gorgeous.
10. "Jezebel"
Each track on the six-track Woman King EP from 2005 honors a prominent female spiritual figure. However, Beam takes the titular character, who was associated with false prophets in the Old Testament, and re-envisions her narrative. With sister Sarah Beam's backing vocals floating higher and higher with each verse and chorus, the acoustic track becomes nearly ethereal.
9. "Call It Dreaming"
The moment Iron & Wine returned with this song after back-to-back collaborative albums (with Ben Bridwell of Band of Horses and Jesca Hoop, respectively), it was easy to breathe a sigh of relief. "Call It Dreaming" sounds like a return to form. It's not that those two other albums were bad—there was an sense of exploration and excitement about them—but as a whole, Beast Epic illustrates Beam's career, in his own words, is the shape of a circle. Plus, the video features Beam and a dog riding around in the bed of a pickup truck, which is pretty great just by itself.
8. "Your Fake Name Is Good Enough For Me"
Perhaps the heaviest song Iron & Wine has released, "Your Fake Name Is Good Enough For Me" opens with a distorted curl of a riff that could be mistaken for a scream of feedback. The bass grooves, laying a foundation for a burst of brass that carries the melody until Beam comes in to retrieve it with his singing. However, it's the transition to the wholly new second movement is what placed this song so high on this list. About halfway through the song, the horns peter out and the electric guitar skitters to a half time and half as much distortion. And rather than lyrical slights-of-hand of the first movement, the second embraces many visions of reality, all filtered though Beam's soulful singing of metaphors of what "we will become."
7. Boy With a Coin"
The first single from2007's The Shepherd's Dog, "Boy With a Coin" showcased Iron & Wine's new direction in a defiant, yet tempered way. The acoustic strumming that marked Beam's initial releases wasn't exactly gone, but layers of claps and drums, vocal, overdubs and electric guitars interjected with feedback fidgeted above them. The video, featuring a ballet troupe emphasizing the tapping percussion, alludes to way Iron & Wine would later turn this song into a danceable romp in live shows to come.
6. "Walking Far From Home"
"Walking Far From Home" is another example of how four chords and the truth can really set you free. A Bob Dylan-esque epic with lyrics that are easy to get out of order, the magic of track from 2011's highest charting Kiss Each Other Clean comes from its dynamics. Beam masterfully conducts his accompaniments—woodwinds, brass, backup singers and more—to rise and fall with the intensity of the lyrics.
5. "Passing Afternoon"
The closing track to Our Endless Numbered Days, this acoustic number is as dreamy as its title implies. In fact, the album title comes from a lyric in this song. Leave it to Beam to write a song about trying to appreciate the tiniest moments in our fleeting lives.
4. "Such Great Heights"
With all due respect to the adorable, digitized tunes on The Postal Service's indie cult-classic, Give Up, it seems some of the songs are just better suited for other artists. Iron & Wine's Sam Beam provided convincing evidence of that when he took the skeleton of "Such Great Heights" and dressed it in the dreamiest of dulcet tones. The signature sounds of hushed guitar plucking and nearly-whispered vocals could easily fool anyone unfamiliar with Ben Gibbard's early electronic days into thinking the song was an Iron & Wine original, hence why it landed at No. 35 on our list of 50 Songs Better Than the Originals. —Trevor Courneen
3. "Upward Over the Mountain"
Already a hefty six-minute track, this cut from Iron & Wine's beloved debut The Creek Drank the Cradle wholly transforms when performed in a full-band setting: The tempo picks up, the acoustic instruments are traded for electric ones (that sometimes take solos!) and the outro breakdown has been known to leave fans in a frenzy. Yet, such a song of forgiveness and hope can still resonates in its barest form—this original version from 2002.
2. "The Trapeze Swinger"
Written in the same time as Our Endless Numbered Days and placed in the film In Good Company, "The Trapeze Swinger" never actually made it on an Iron & Wine album until 2009's compilation album of B-sides and rarities called Around the Well. Still, the song has been a fan-favorite since at least 2005, as you can hear on the limited release official bootleg Norfolk 6/20/05. Beam typically performs this winding narrative on nostalgia solo acoustic, which helps emphasize the already personal lyrics delivered as snapshot memories verse after verse after verse. Depending on the listeners' own emotional state, the effect is either comforting or utterly heart shattering—a testament to Beam's timeless storytelling.
1. "Naked As We Came"
This acoustic number from Our Endless Numbered Days encapsulates what it's like to be an Iron & Wine fan. In just two-and-a-half minutes, Beam sings a love song about death, inviting all who join him to pause, breathe, and appreciate it all before it's too late.