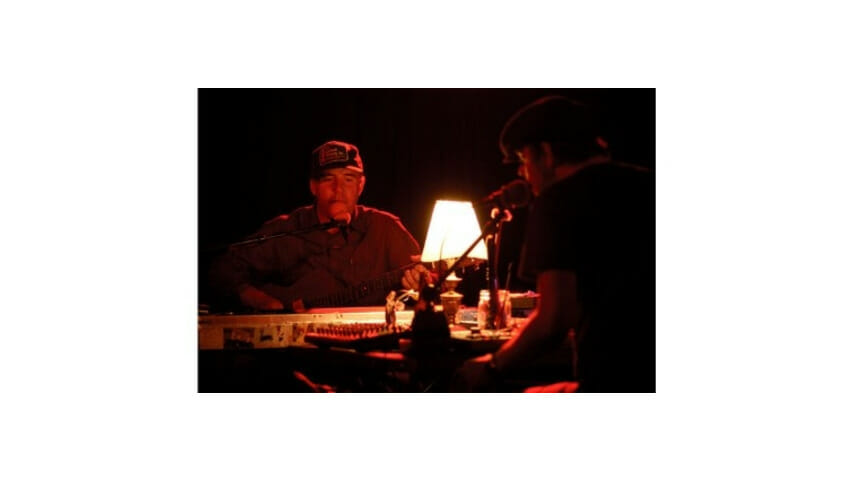 Jason Lytle once mentioned in an interview that as a child, he would draw playmates for himself in dirt with a stick. A creative solution to an emotional predicament like loneliness, and one that goes a long way toward explaining the music that would spill out of him in later years with indie giants Grandaddy. While the demise of the band is heartbreaking to many, what survives is a long legacy of storytelling, of stainless steel covered in ivy, dusty roads and drunken robots, and melodies that question technology even while celebrating it. While it's an indelicate dance to maneuver, Lytle has recently embarked on a series shows that acknowledge Grandaddy's past while hinting at his designs on the future.
This show, the first of two at San Francisco's Café Du Nord, had all the familiar trappings of a Grandaddy show in microscale. The stage was a makeshift campsite of keyboards, a card table, and the requisite beer cooler – itself re-purposed to hold more keyboards. Lytle invited Rusty Miller, lead singer and guitarist of Jackpot, to round out the sound and harmonies. Up to their ears in guitars and appliances, the two faced each other in the near-darkness, illuminated by a small, antique-looking lamp. "From Target", Lytle explained, lest anyone in the crowd find his set-up too refined.
Lytle beautifully pulled off a quirky tea party of newborn singles and dust-covered rarities, with some hits thrown in for balance. For every "whoop" elicited from freshly minted songs like "Elevate Myself", or "Saddest Vacant Lot In All The World", there were gasps for demure beauties like "What Can't Be Erased", (a Sophtware Slump-era b-side) or the jaw dropping inclusion of "Ghost of 1672", an obscurity that first appeared in 1998 on a compilation cd for the indie zine, Zum. "Ghost of 1672" was a highlight of the evening, first because it had never been played live, and secondly because it was transformed from it's original 'sea shanty' type time signature into a bottom-heavy, slightly psychedelic head bobber. Miller was an excellent foil for Lytle's exuberance in every instance. At one point, the duo had the crowd in hysterics during the lo-fi punk of "Chartsengrafs", which they allowed to deteriorate into a strumming duel before sending out its infamous lyrical warning, "Your guess is good as mine / As to just what kind / of trouble I might find / Tonight out of my / my mind."
While there were many hilarious moments throughout the years, it's the quieter, lonelier songs that have earned Lytle his place as a master indie tunesmith. The elegiac, "A Valley Son (Sparing)" hinted at the deep wells of grief that the passing of a loved one can cause. Once again reaching into the rarities bag, Lytle included the equally wistful but ultimately more hopeful "Protected From The Rain." On the second night, he would include the new, "Aisle Seat 37D", a paradoxically celebratory tearjerker about a person on a crashing plane who faces death happily, having recovered a long lost photo of his loved one in the final moments of the plane's descent. Yet, as intensely dramatic and evocative these songs were, the most beautiful moments were the simplest, as evidenced by "Jed's Other Poem (Beautiful Ground)." Scrunched up in his chair, guitar held close, and singing in a sweet boyish tenor seemingly to no one but himself, it was easy to see the past and present moving in and around each other. Lytle succeeded both nights in drawing songs out of the dirt, not for accolades, but just to keep himself company.