JAY-Z's 4:44 Album Listening Party Was a Glorious Disaster
He's a business, man. But technical glitches didn't make 4:44 any less great.
Music
Features
Jay-Z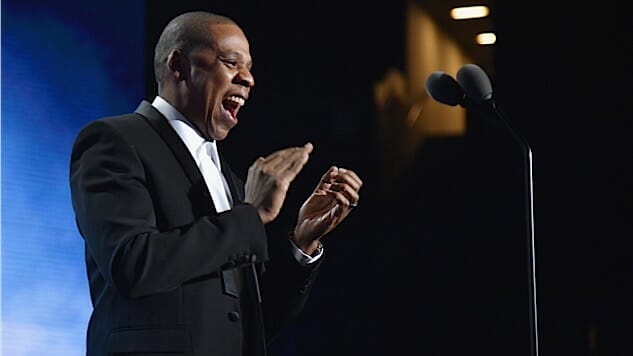 I am going to die in this club without even hearing this record, and it's all JAY-Z's fault.
You know the feeling. It usually comes when you find yourself stuck in a crowd at a festival or a club, packed in so tight you can't move or really breathe—that feeling in your gut that things are about to go bad. Maybe people have started to push. Maybe you're being crushed against a barricade. Whatever the circumstances, when they happen you know, and the thought runs through your mind, more resignation than panic: Welp, hopefully I don't die here.
It happens more often than it should at festivals and sold-out shows, but Thursday night in New York City was the first time I felt it at an album listening party. The long line to get in to JAY-Z's 4:44 premiere event at Manhattan's 40/40 Club (also owned by Hov) fed into a giant cluster of humanity trying to talk their way past the security-guarded barricades and into the at-capacity venue. One guy, having noticed I was media, told me to name my price to get him and his friend in with me. I politely declined and tried to figure out the best way to climb past a barricade in a dress.
It's easy to get hung up on JAY-Z's corporate interests—particularly with an album that you'll only be able to hear (for the time being) if you joined Tidal prior to its release or if you're a Sprint customer. Art and commerce go hand-in-hand, but when one becomes the other, we get skeptical.
Getting inside offered no relief from the throng. Reaching the bar was physically impossible, so I posted up, tried to ignore the limbs being pressed against my own because they had no where else to go, and directed my attention toward the big screens that read "JAY Z: 4:44."
And then…nothing.
I'm not sure the exact nature of the technical difficulties that left me certain I was going to suffocate in the 40/40 Club without ever hearing Jay's brand-new album, but there's surely a joke to be made about how not even a room full of Tidal executives could get the new record to play on Tidal. After about 15 or 20 minutes of frantic effort, someone on the mic—invisible to me through the sea of people—joked that he'd log into his personal account. Eventually, they got the songs up and running, but the visuals the crowd were promised would accompany the music on large screens mounted to the walls never got straightened out.
Instead, we briefly got this, before it was replaced with the 4:44 artwork: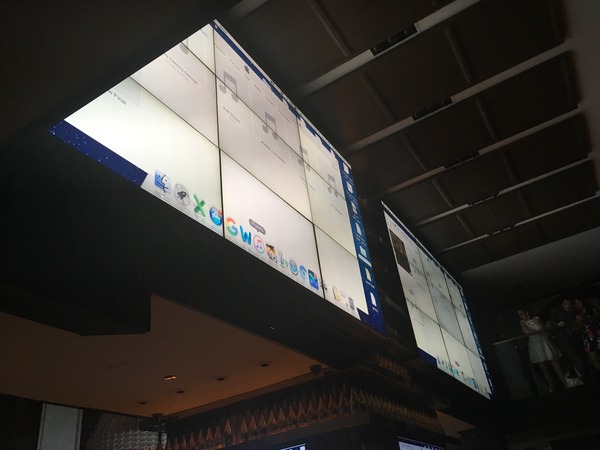 Maybe the visuals would've drawn more people in, but as the house lights stayed up and the new song "Kill Jay Z" blared, it was a bit jarring to see how many people who had waited so long to get inside and hear this record were now talking over it or distractedly taking selfies in front of the bar's gold bottles.
It's easy to get hung up on JAY-Z's material flash and corporate interest, particularly with this, an album that you'll only be able to hear—for the time being, at least—if you joined Tidal prior to its release or if you're a Sprint customer. Art and commerce go hand-in-hand, but when lines get blurred and one becomes the other, we get skeptical. But here's the thing: 4:44 is a great record. It's personal: On the title track, a response to Beyonce's Lemonade of sorts, he admits to cheating and apologizes with lines like, "You mature faster than me / I wasn't ready," and, "It took too long for this song / I don't deserve you." On the heartwarming "Smile," which features his mother, Gloria Carter, he raps, "Mama had four kids, but she's a lesbian / Had to pretend so long that she's a thespian / Had to hide in the closet, so she medicate / Society shame and the pain was too much to take / Cried tears of joy when you fell in love / Don't matter to me if it's a him or her / I just wanna see you smile through all the hate / Marie Antoinette, baby, let 'em eat cake."
It's political, too, with tracks like "The Story of OJ," an examination of race in America ("light nigga, dark nigga, faux nigga, real nigga/rich nigga, poor nigga, house nigga, field nigga / still nigga"), or "Moonlight," which observes "we stuck in La La Land/Even if we gonna win, we lose."
On "Caught Their Eye," he calls out the Prince estate for exploiting the late artist's death and bringing his music back to streaming services, chastising attorney Londell McMillan by name and claiming, "You greedy bastards sold tickets to walk through his house / I'm surprised you ain't auction off the casket."
JAY-Z, of course, hasn't exactly shunned capitalism—in fact, he had inked a deal to make Prince's music Tidal-exclusive before the singer's April 2016 death—and on 4:44 he holds it up as a way to combat the racism he chronicles, telling daughter Blue Ivy on "Legacy" that "my stake in RocNation should go to you / Leave a piece for your siblings to give to their children, too," and urging her and others to "fund ideas from people who look like we." On "Family Feud," he introduces Beyonce with "What's better than one billionaire? Two / Especially if they from the same hue as you."
It can be tough, sometimes, to tune out the noise—in this case, literally—and focus on the music, especially when the narratives surrounding an album are so focused on corporate sponsorship, relationship drama and tabloid fodder. But 4:44 is excellent, in spite of or because of all that.
As 2 a.m. drew near, the crowd at the 40/40 Club started to thin, making its way to the F train platform a few blocks away at 23rd Street. One guy turned to his buddy as they waited. "That was something, huh?"
"Yeah!" the other guy replied, before conceding a bit: "I dunno. I couldn't really hear the record."