Jazz Musicians Find a New Source of Standards: The Rock 'n' Roll Hall of Fame
The Curmudgeon
Sly Stone photo by Bob Cato/Sony Music Entertainment
Music
Features
Jazz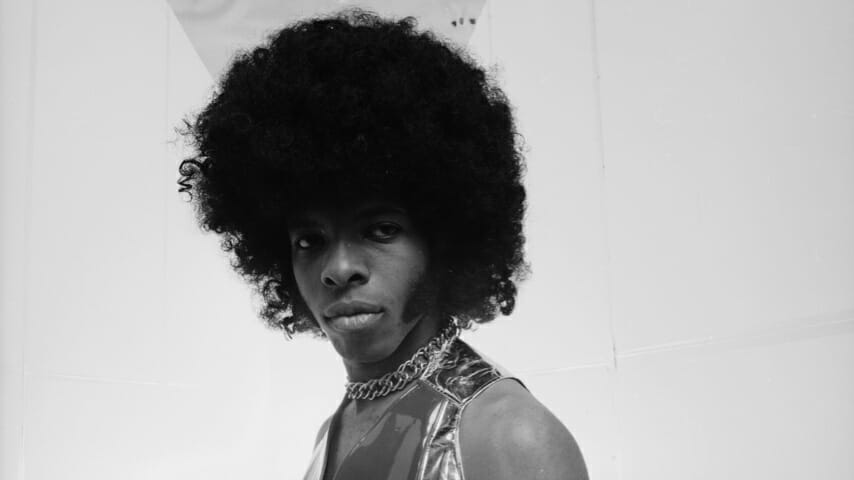 There's a reason Miles Davis recorded "My Funny Valentine" and John Coltrane "My Favorite Things." Jazz musicians work via a strategy of theme-and-variation. They plant a melodic/rhythmic motif in the listener's head, so that when they start playing variations on the theme, the listener can remember the original and appreciate how it's being changed. This process works a whole lot better if the original tune is popular enough to already live in the listener's head.
"My Funny Valentine" and "My Favorite Things" were that popular. The former song, written by Richard Rodgers and Lorenz Hart for the 1937 Broadway show Babes in Arms, was a song that most Americans knew, thanks to singers Frank Sinatra and Bing Crosby. Just as familiar was the latter tune from the 1959 Billboard chart-topping cast album for The Sound of Music, written by Rodgers and Oscar Hammerstein. So when Davis stretched out the first song with digressive lyricism or when Coltrane bombarded the second with sheets of sound, most listeners could remember the source material even as it was being reshaped.
If this process could happen with Rodgers' songs, why couldn't it happen with Sly Stone's songs? Why didn't Davis or Coltrane's artistic heir Pharoah Sanders record Stone's "Stand" or "You Can Make It If You Try" in the early '70s? Why did we have to wait till the second decade of the new century to hear these songs tackled by major jazz artists? The SFJazz Collective recorded both songs for this year's Live: SFJazz Center 2019 and Steven Bernstein's Millennial Territory Orchestra did both on 2011's MTO Plays Sly.
What took so long? It's as if jazz musicians forgot why they were covering show tunes in the first place. It wasn't because they were show tunes; it was because they were popular enough for listeners to know the melodies and to follow along as those themes were revised. When rock 'n' roll replaced show tunes as America's most popular music in the '60s, jazz musicians should have replaced show tunes with rock 'n' roll in their repertoire. But they didn't.
There was a certain snobbery involved. Jazz musicians will tell you that show tunes have more interesting chord changes, and there's a certain truth to that. But jazz players usually end up changing the chords anyway, so what difference does it make? And in retrospect, it's clear that the most beautiful melodies and interesting changes of the '60s and '70s were coming not from Broadway but from rock 'n' roll songwriters such as Stone, Paul McCartney, Stevie Wonder, Brian Wilson, Smokey Robinson, Joni Mitchell, Maurice White, Carole King, Jimi Hendrix and Donald Fagen. It was a missed opportunity.
But better late than never. Jazz musicians are now recovering from their former myopia and turning to the Rock and Roll Hall of Fame for material. Recent jazz albums have showcased not just the usual suspects (the Beatles, Steely Dan and Stevie Wonder) but also such welcome surprises as Sly Stone, Led Zeppelin and the Allman Brothers Band.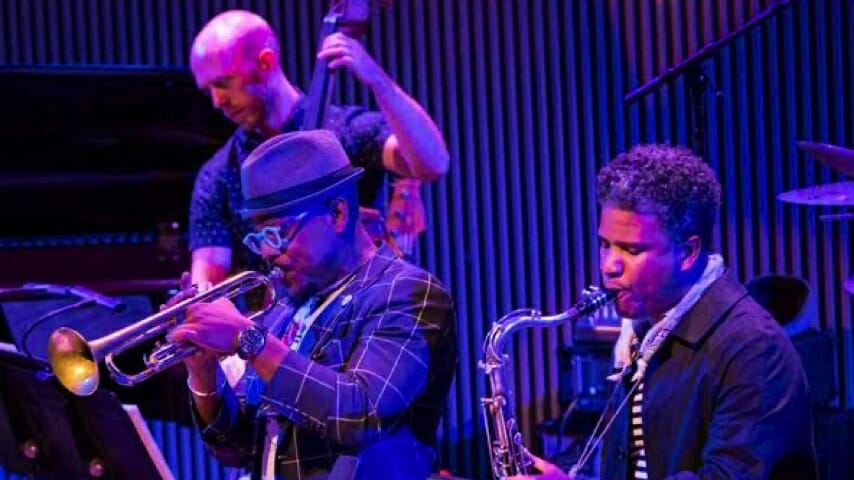 Matt Brewer, Etienne Charles and David Sanchez of the SFJazz Collective (courtesy of SFJazz Center)
The SFJazz Collective has been a pioneer in this effort. The octet is a group of jazz all-stars subsidized by the non-profit SFJazz Center, the West Coast equivalent of New York's Jazz at Lincoln Center. The California group hit on the inspired notion of subsidizing a group of top jazz musicians to write new compositions and new arrangements of old standards and to rehearse them thoroughly before going into the studio and then on the road. Time for arranging and rehearsing is one of the rarest commodities in jazz, and the payoff is performances that are not just a parade of solos by under-prepared players but thoughtfully shaped pieces.
Each year the SFJazz Collective picks a composer and tasks each of its eight members to arrange one song by that composer and to write a new song in a similar style. The result is 16 pieces, enough for a double album and an evening of live music. In the early years, the group chose obvious composers such as Coltrane, Thelonious Monk, Wayne Shorter and Horace Silver, but in 2011 they chose Stevie Wonder.
That album began with trumpeter Avishai Cohen's arrangement of "Sir Duke," Wonder's tribute to Ellington. It was a splendid example of how a jazz band can add something to a rock 'n' roll classic without merely regurgitating it. In his 14-minute expansion of the tune, Cohen gives it both a classic hard-bop swing but also angular modern horn solos. Wonder's catchy melodies surface often enough to keep the listener grounded and able to trace the wide tangents taken by the solos.
Just as good is tenor saxophonist Mark Turner's arrangement of "Blame It on the Sun," which deepens the ballad's harmonies by massing the horns into dense, extended chords that set up the solos by the vibraphone and trombone. For "Superstition," alto saxophonist Miguel Zenon varies the chorus melody a little bit each time it's mentioned thereby realizing the song's potential as never before.
In 2015, the SFJazz Collective chose Michael Jackson as its artist for the year. This makes a lot of sense when you stop to remember that Jackson's longtime producer Quincy Jones got his start writing arrangements for Duke Ellington, Count Basie and Frank Sinatra. The rhythms underneath songs such as "Don't Stop 'Til You Get Enough," "Thriller" and "Smooth Criminal" were given a Latin spin, proving that jazz players can improvise on beats as productively as on notes.
The band's new album of Sly Stone songs is less successful because the Collective takes too few liberties and remains too faithful to the original recordings. A big part of the problem is that the band hired a vocalist, which resulted in the open-ended instrumentals of the previous albums being replaced by more constricted vocal numbers. That singer, Martin Luther McCoy, has a good command of pitch and time, but he has none of Sly Stone's high-tenor sizzle and inventive use of dynamics. The instrumental playing behind McCoy is virtuosic but often too polite for its own good. This project is proof that jazz musicians can't beat the rockers at their own game; the jazz players have to rely on what they do best: theme-and-variation.
A far better jazz treatment of Stone's songwriting can be heard on MTO Plays Sly. This wonderful New York nonet was joined on this album by P-Funk keyboardist Bernie Worrell, Living Colour guitarist Vernon Reid and a variety of vocalists, all of whom understood the job better than McCoy. R&B veteran Sandra St. Victor sang "Stand," coming in after three-and-a-half minutes of delightful instrumental variations on the tune. After singing the familiar chorus, St. Victor started riffing on the hook, gospel-style, and soon the horns were doing the same.
Even better was singer Dean Bowman, who brought a baritone growl to "M'Lady" and "Time"; he was as willing as the instrumentalists to hit a dissonant note if it would up the excitement level. On the superb instrumental versions of "You Can Make It If You Really Try" and "Thank You for Talkin' to Me Africa," you could hear how the bottom was muscled up by the combination of acoustic bass, electric bass and baritone sax and how Curtis Folkes' trombone and leader Bernstein's slide trumpet added a dizzying blues wobble to the proceedings.
A similar wobble can be heard on the recent album, Bonerama Plays Zeppelin. Bonerama is a New Orleans sextet featuring three trombones, tuba, guitar and drums, and they apply the loosey-goosey funk of the city's traditional jazz combos to the songbook of the British rock quartet. It's as if you were watching a Mardi Gras parade march down St. Charles Avenue and behind a bead-throwing float came a brass band stabbing the air with their trombone slides and playing "Black Dog."
This is how the jazz/rock interface is supposed to work. The rock songs benefit from new instruments, new rhythms and new solos, all of which unlock the musical potential hidden within the original composition. The jazz players benefit from different beats and sensibilities than show tunes have provided. Moreover, the audience already knows these rock songs, so the listeners don't get lost no matter where the improvisation goes.
Something similar happens on the recent record, the Big Band of Brothers' A Jazz Celebration of the Allman Brothers Band. This 14-piece jazz orchestra tackles 10 tunes associated with the Allmans, integrating the latter's blues-rock and country-rock flavors into the hard-swinging, horn-heavy vocabulary of big-band jazz. The arrangers—mostly guitarist Tom Wolfe and jazz educator Shane Porter—strike the right balance between the sound of the Allman Brothers Band and the Count Basie Orchestra.
The piston-pumping horn charts are the main motor for the music, but lead vocals, organ riffs and guitar solos pull the music far enough in the rock 'n' roll direction to make this a true fusion. The band members aren't famous names, but they play with the facility and precision of the new generation of college-jazz-department grads. They're supplemented by Wynton Marsalis's old trombonist Wycliffe Gordon, guitarist Jack Pearson of the late-'90s Allman Brothers, and singers Marc Broussard and Ruthie Foster.
You've never heard these songs like this, and you've never heard a jazz big band play like this either. Especially impressive is the mesh of moving parts on trumpeter Mart Avent's soul-jazz arrangement of "In Memory of Elizabeth Reed."
Ever since this new century began, there have been more and more examples of jazz artists recording music by members of the Rock and Roll Hall of Fame. Keyboardist Herbie Hancock recorded an album of Joni Mitchell compositions for 2007's The River: Letters to Joni. It became only the second jazz album to ever win a Grammy Award for overall Best Album.
Trumpeter Wynton Marsalis has devoted albums to the songs of Ray Charles and Eric Clapton. Guitarist John Scofield also devoted an album to Charles. Bob Belden has arranged and produced albums devoted to jazz interpretations of Sting, Prince, Carole King and the Beatles. In 2005, an all-star jazz quartet (James Carter, Cyrus Chestnut, Ali Jackson and Reginald Veal) released Gold Sounds, an album of instrumental jazz interpretations of Pavement songs by Pavement (not in the Rock and Roll Hall of Fame but likely to get there).
Guitarist Bill Frisell devoted an album to the songs of John Lennon, and has also recorded songs by the Beach Boys, the Kinks and the Byrds. Brad Mehldau has recorded Radiohead songs on six different albums. The Jacob Fred Jazz Odyssey has recorded tunes by the Flaming Lips, Brian Wilson and Neil Young. The Bad Plus has recorded numbers by Blondie, Aphex Twin and Nirvana. Cassandra Wilson has recorded songs by U2, Jimi Hendrix and Aretha Franklin. Joshua Redman has recorded the work of James Brown, Stevie Wonder and Eric Clapton.
All this activity is redefining what can be considered a jazz standard. But perhaps it comes too late, now that a new kind of hip-hop-flavored pop has supplanted rock 'n' roll as America's most popular music. It's nice that jazz musicians are exploring the untapped potential of music by the Beatles, Stevie Wonder and the Allman Brothers. But we also need jazz musicians who will tackle the best songwriters of the new pop music: Beyoncé, Taylor Swift, Mika, the Pistol Annies, the Decemberists, Billie Eilish and Gary Clark Jr.