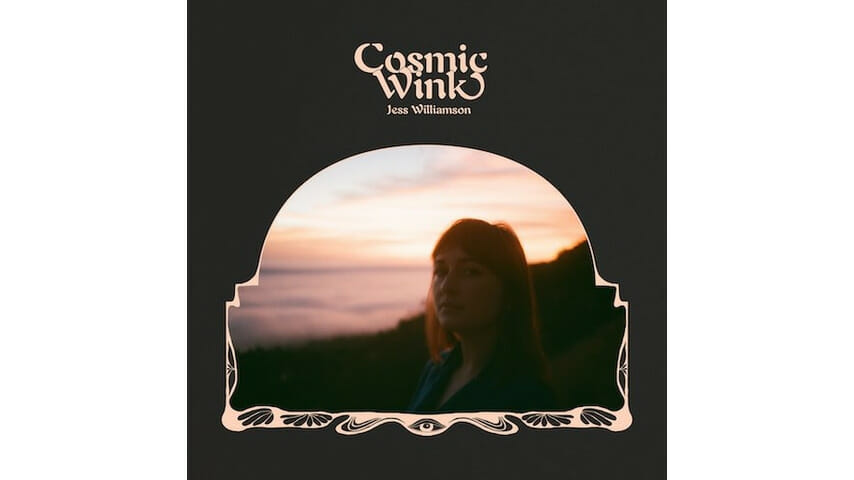 On her third album, singer-songwriter Jess Williamson is a giant, throbbing valentine, so taken by her new romance that she has become tenderness itself. "Love is my name now / Love, darling" she coos at the top of "Love On The Piano." It's a far cry from where she left us with 2016's Heart Song, a stormy, brutally beautiful collection of prose about gnarled matters of the heart.
The transformation comes courtesy of a passionate relationship with fellow musician RF Shannon, and a move from her native Texas for the palm-tree lined skylines of Los Angeles, the effect of which imbues the album. Heart Song was brooding, a dark roast. And while the core of Cosmic Wink is musically of the same rich brew, this time around, the moody center is bookended by sun-dappled tunes of pure amorous bliss.
"I See The White" opens the album like a warm summer breeze on bare shoulders; acoustic guitar and soft, shuffling drums cradling mystic-lite lyrics and a hooky chorus that rolls in like a foam-trimmed wave. "Awakening Baby" —the song you'll find yourself going to play again as soon as the album's over—perfectly distills the infatuated feeling of love's first blossom. "Your hair in my bed is regarded as a relic / My past and my future envy me," she sings, the relaxed instrumentation and her sleepy voice brimming with cozy contentment.
The mood shifts with the Rhodes-marinated slow burn of "Wild Rain." "You say there's two women / Living inside of me / One's doubt and desire / She's our enemy." It's the first mention of a threat to Williamson's bliss, the turn toward darkness emphasized by drums that sound like claps of thunder. This dangerous self-doubt bleeds into "Thunder Song," as her desire turns to paranoia. "I know you said 1,000 times / I'm the only one/ But when I look into your eyes / I feel that something's gone," she laments with a Patti Smith-esque wail. "Who do you love?," she presses, over and over again, as if she will only accept the answer she doesn't want.
"Mama Proud," is a late highlight, less romantic in meaning, but just as hypnotic in its lyrics and gentle cascade. An acoustic guitar shimmers like a wind chime, as Williamson quietly ponders. "Do you blame God / fate, luck, or chance / Are we not supposed to know?," she sings as her voice threatens to break. The sun comes back out for "Love On The Piano," an epic poem of romance that I do not recommend listening to if you're in a recently single state. "Something in your eyes / Means I'm home when I'm homeless," she gushes, in between a running list of the ways the love has transformed her: sex, motherhood and the definition of security all born again in the sweet light of her beloved. It's enough to make you sick, if Williamson wasn't so deft at restraint. A single guitar and a sprinkle of piano is often the only accompaniment to her temperate voice.
While love is by far the most common subject of all time when it comes to recorded music, Williamson wrings new insight and feeling out of this oft-tread territory. Free of sappiness or the numbing effect of anything trite, Williamson's words are the real deal. When she is in love, we all are in love, its transformative power making us feel like its for the very first time.