Jessie Ware Finds Her Pleasure on That! Feels Good!
On her stellar fifth album, the English pop icon doubles down on disco
Music
Reviews
Jessie Ware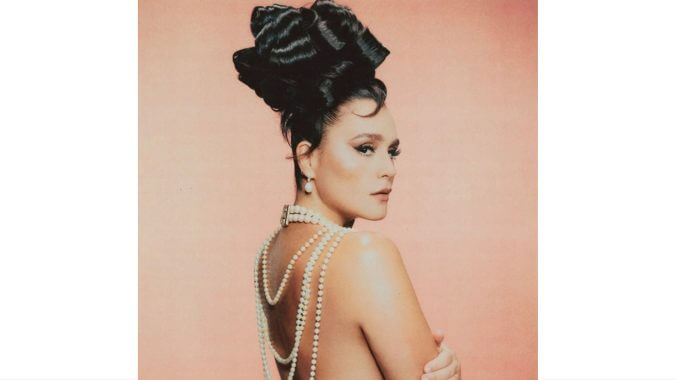 We all know the story by now: 2020, a year of isolation, was also home to some of the most upbeat and dance-floor-ready pop music in recent memory. It's an irony that feels draining to even bring up. Still, a year of empty clubs ended in a bolstered string of fabulous albums that drew on the luscious excesses of disco. Jessie Ware had a particularly banner year. Her fourth album, What's Your Pleasure?, was grounded in the powers of love and human connection through a sense of urgency.
Ware got her start as a backup singer for fledgling club acts, befriending the members of Disclosure and hopping on songs with Sampha and SBTRKT. Despite her dance music roots, her run of albums from her 2012 debut Devotion to 2017's Glasshouse trafficked in a trendy—if not anonymous—blend of R&B, soul and sophisti-pop. Her disco pivot on What's Your Pleasure? was a gamble that paid off in spades, revitalizing a career that had plateaued; an inviting, undulating club-pop record that found Ware taking you by the hand and leading you into a crowd. It's seductive, but at a distance; a demure smile from across the room. Even its title is uncertain, asking what might come next.
Her new album—and its title—act as an emphatic answer. On That! Feels Good!!, Ware casts aside any measure of modesty, transforming her disco den mother persona into the epitome of pleasure and excess. What's Your Pleasure? made the promise of connection explicit—telling her conquests she "see[s] the future / It's me and you"—but let fantasies linger. That! Feels Good! trades in innuendo for explicit detail. Pearls may have been worn to Ware's soiree, but they're scattered to the floor now, costly collateral. Part Madonna's Confessions on a Dance Floor, part Countess LuAnn's "Money Can't Buy You Class," That! Feels Good! is a record of sterling, mirrorball-lit songs and bawdy lyricism. It's Ware's finest collection of work to date.
Lead single "Free Yourself," is one of Ware's most immensely powerful songs yet. Embellished with striking keys and horns, it builds gradually, finally unleashing a larger-than-life chorus commanding you to let loose: "Don't stand there waiting all of your life / For the night to come and find you." The backing vocals sound like a packed dance-floor echoing Ware's demand back to her.
Similarly grand is the title track. The placement of exclamation points makes sense, as "That! Feels Good!" begins with a collection of breathy voices reciting the phrase over and over. Among these voices are Kylie Minogue, comedian Aisling Bea and actor Jamie Demitrou. Once they've said their piece, the song rips open. An impossibly cool, grooving bass line sits at the center, as Ware delivers the record's thesis: a shout to the sky, "pleasure is a right." Often, Ware's verses are not unlike the rap on Blondie's "Rapture." It's corny, but that doesn't matter. The song is enough of a romp to make up for it.
Sometimes, the campiness of these songs is intentional. Ware told Rolling Stone UK that she wrote "Shake the Bottle" with RuPaul's Drag Race in the back of her mind: "I was thinking 'Lipsync for Your Life' with these anchors of performance, musical theater and character." It would be fitting. The song finds Ware rattling off a list of former flames, and why they fizzled out.
Through extended, champagne-laden metaphors, she instructs the listener on how to make her "bottle pop." Joined by the "oohs" and "aahs" of backup singers, her delivery recalls Madonna's speaking voice after she began affecting a British accent in interviews in the early aughts. It's precocious, fabulous and theatrical. "Beautiful People" is similarly entertaining, with Ware crooning about buying a purple leather jacket or pouring a cocktail. It's explicitly a song made for getting ready to go out, and it features more of the album's affirming positivity through. "You look so good right now!" a chorus of voices shouts.
If the record stayed this over the top for its entire run, it would run the risk of becoming tiring. Thankfully, there are plenty of grounded moments. There's a gorgeously refreshing tonal shift on "Lightning," which is a gauzy trip-hop slow jam. If That! Feels Good!is a party, then "Lightning" is a trip outside for a smoke, feeling the cool night air hit your face. Over ghostly synths that sound like Ware lifted them from a Weeknd song, she sings: "It's emotional to love the star you are / You are the lightning in my life." This tenderness also emboldens "Hello Love." Inspired by the work of Donny Hathaway, it allows Ware's rich vocals to take center stage amid an immaculate brass band.
At the album's halfway point sits an odyssey: the massive, sprawling song "Begin Again." It feels like Ware is taking on "I Will Survive" and, for all of That! Feels Good!'s theatrics, scarcely is there melodrama. Here, we see her wishing for "new sun on the rise," as she puts it. This was the first song written for the album, when the pandemic was still at its peak and What's Your Pleasure? had just been released.
The most ambitious song in Ware's catalog, "Begin Again" seems to carry every emotion she's felt in the last three years. "Why does all the purest love get filtered through machines?" she asks, venting through her frustrations about having had to work remotely on much of this album. It ends with repetitions of another question: "Can we begin again?" And, while she may not have known it at the time she wrote this, the answer would be a resounding yes. Time marched on, and Jessie Ware's career has decidedly begun anew.
Eric Bennett is a music critic in Philadelphia with bylines at Pitchfork, Post-Trash, and The Alternative. They are also a co-host of Endless Scroll, a weekly podcast covering the intersection of music and internet culture. You can follow them on Twitter at @violet_by_hole.