Watch The Roots and Jimmy Fallon Lead A Capella Version of Queen's "We are the Champions"
Music
Video
Jimmy Fallon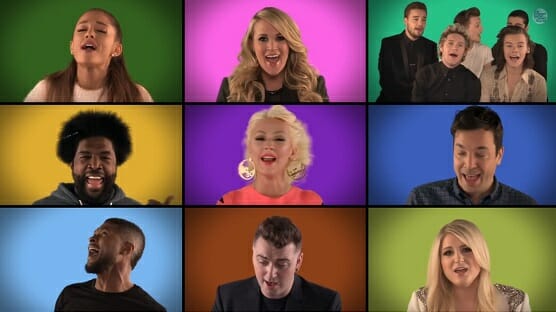 In addition to the previously posted lip-sync battle with Will Ferrell and Kevin Hart, Jimmy Fallon further cemented his place as hosting the best Super Bowl party of all time by leading a star-studded a capella version of Queen's "We are the Champions" with the Roots.
The video sees Fallon and the Roots singing their parts in individual rectangles on the screen, looking around at the stars that cycle in and out, bringing a real Brady Bunch vibe to the iconic sports anthem. They were joined by Sam Smith, Carrie Underwood, Ariana Grande, Usher, One Direction, Blake Shelton, Christina Aguilera and Meghan Trainor.
Watch the video above.