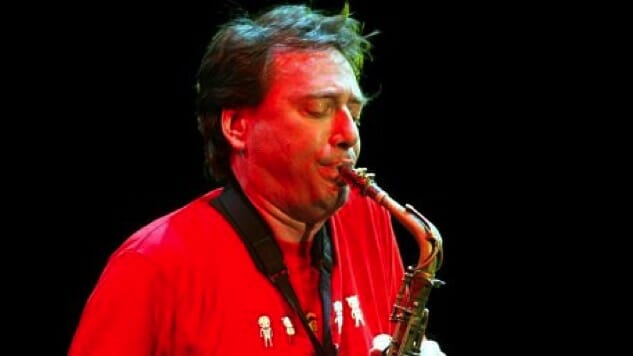 Welcome to Notes From New York, a monthly jazz column by Bill Milkowski that includes observations on the scene along with interview snippets, gossip and gig information.
Zorn's Vanguard Run
Visionary composer-saxophonist John Zorn, an important figure on New York's so-called "downtown scene" since the late '70s, has chosen to document his work over the years on his own Tzadik label (he's released over 400 CDs on Tzadik since 1995). And while his bands like Masada, Painkiller, Bar Kokhbar, The Dreamers and Moonchild, among many others, have toured all over the world, Zorn's lone New York City venue has been his own Lower East Side club, The Stone, which he opened in 2005. And he's been content with that outlier status. But in recent years, the avant garde jazz renegade, a recipient of the MacArthur Genius Grant in 2007, has been embraced by the mainstream. There were gala performances at such prestigious venues as the Museum of Modern Art, the Guggenheim Museum and Alice Tully Hall as well as a day-long event at the Metropolitan Museum of Art in 2013. The following year, Zorn made his debut at the jazz mecca of NYC, the Village Vanguard, that hallowed subterranean space in the heart of Greenwich Village which celebrated its 80th anniversary last year. For his third appearance at the Vanguard in August, Zorn presented works from his new Book of Bagatelles, 300 short pieces he composed in a frantic burst of creativity from February to July of 2015. Showcasing 15 bands in 15 sets over six nights, the music ranged from the chamber-like delicacy of the Sylvie Courvoisier-Mark Feldman duo to the bone-crunching power trio Asmodeus (Marc Ribot on guitar, Trevor Dunn on bass, Tyshawn Sorey on drums) to a swinging, interactive piano trio led by Brian Marsella with Dunn on upright bass and Kenny Wolleson on drums and intimate acoustic guitar duets by Gyan Riley (son of minimalist pioneer Terry Riley) and six-string sensation Julian Lage. To represent the full scope and depth of the prolific composer's massive body of work—his Book of Masada, for instance, numbers 500 compositions—you'd have to book a few months at the Vanguard. But for fans of Zorn's singular, challenging and often atonal music, this single week was a special treat.
Dave Stryker Digs the '70s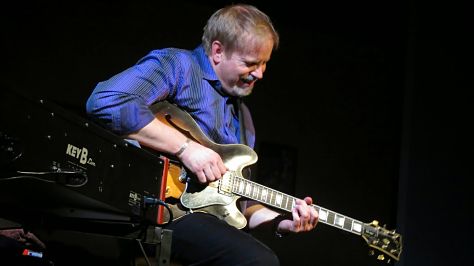 Guitarist Dave Stryker, who came up on the organ group circuit in the early '80s with Hammond B-3 master Jack McDuff and later toured and recorded with tenor sax great Stanley Turrentine, hit on a "groovy" idea with 2014's Eight Track, his reimagining of classic pop tunes from the '70s with his working trio of organist Jared Gold, rising star drummer McClenty Hunter and special guest vibraphonist Stefon Harris. Their hip renditions of tunes by Curtis Mayfield, The Spinners, The Fifth Dimension, The Association, Jimmy Webb and others were eagerly received by audiences and critics alike. "Styker's Eight Track is straight up fun," wrote Dan Bilawsky in All About Jazz while Steve Greenlee declared in Jazz Times: "Forget those Time-Life collectors' editions sold on late-night infomercials. Buy this." Of course, there's nothing new about revisiting and revamping pop classics. Freddie Hubbard put a jazzy slant on John Lennon's "Cold Turkey" on his classic 1970 album Red Clay and interpreted Paul McCartney's "Uncle Albert/Admiral Halsey" on 1971's First Light. Wes Montgomery had his way with The Mamas and the Papas' "California Dreaming" on his 1966 album of the same name and interpreted the Beatles' "A Day in the Life" on his 1967 album of the same name. Buddy Rich covered the Beatles' "Norwegian Wood;" Ella Fitzgerald covered Cream's "Sunshine of Your Love;" Billy "Mr. B" Eckstine covered Jim Croce's "Bad, Bad Leroy Brown." One of Stryker's own early guitar heroes, George Benson, covered a Yardbirds hit on 1968's Shape of Things to Come and also did an entire album devoted to Beatles tunes on 1970's The Other Side of Abbey Road.The Count Basie Orchestra also saluted the Fab Four on 1966's Basie's Beatle Bag. The list goes on and on. "A lot of people like hearing these tunes that they grew up with," says Stryker, who remembers playing some of these '70s staples on the 8-track console in his '69 GMC van with shag carpeting back in his youthful days in Omaha, Nebraska. "It brings people in and they'll go with you when they hear a tune that they recognize. But the challenge, always, is to find tunes that I can do my thing to, improvise and play as creatively and musically as I would on any jazz standard. And I enjoy the challenge."
The soulful guitarist, who appears around town with his own group at places like Bar Next Door, Birdland and Small's, is back with more sounds from the '70s in Eight Track II, which has his intrepid quartet (with vibist Steve Nelson replacing Stefon Harris) putting a hip spin on favorites like Isley Brothers' anti-war protest song "Harvest for the World," which they handle as an upbeat shuffle; Marvin Gaye's anthemic "What's Going On," re-arranged as a 6/8 workout; a slamming version of The Temptations' "Can't Get Net To You" and a shuffle-swing version of The Zombie's "Time of the Season." The lone tune on the collection not from the '70s is Prince's 1984 hit, "When Doves Cry," which they handle as a swinging uptempo burner. "Prince had just passed at the time we were recording, and it just seemed appropriate to pay tribute to him in some way. It's a great song and it is from the '80s, but whatever…I don't think anybody's keeping score." The album closes on a nostalgic note with a shuffle-swing rendition of Cream's 'Sunshine of Your Love" that sounds like something Stryker might have played with McDuff up at Dude's Lounge back in the day. "I have a long history with that song," says the guitarist. "I actually played it as a solo guitar piece in my sixth grade talent show. And you might catch my quote from Clapton's original solo on that tune, that part where he's actually quoting from 'Blue Moon.' I was a big Clapton fan. And I'm not proud to admit that before I heard Albert King I heard Eric Clapton imitating Albert King."
Seen on the Scene
A bevy of jazz guitar greats, including Jack Wilkins, Russell Malone, Gene Bertoncini and Mark Whitfield paying tribute to guitar great Joe Diorio at his 80th birthday bash held at the Zinc Bar; Bassist Felix Pastorius (son of Jaco) leading his band the Hipster Assassins (guitarist John Bendy, second bassist Mike Bendy, tenor saxophonist Chris Ward and drummer Kenny Grohowski) on a set of originals and interpretations of his daddy's "Used to be a Cha-Cha" and "Havona" at the 55 Bar; avant garde guitarist-composer Mary Halvorson, the most exciting and original six-stringer on the scene today, playing duets with fellow guitarist Joe Morris and Nels Cline during her week-long residency at The Stone; Tokyo-born Hammond B-3 organist Akiko Tsuruga unleashing her burning, Jimmy Smith-inspired chops at her regular Harlem nightspot, The Showcase Lounge; Grammy-winning 76-year-old keyboardist-composer-conceptualist Herbie Hancock bridging the jazz and hip-hop worlds with his band and special guest rapper Common in a free show at the Prospect Park Bandshell.