Falling Through Jonathan Wilson's Kaleidoscopic Wormhole
The producer and singer/songwriter talks stashing tricks from sessions with other artists, stream-of-conscious songwriting and his latest record, Eat the Worm
Photo by Andrea Nakhla
Music
Features
Jonathan Wilson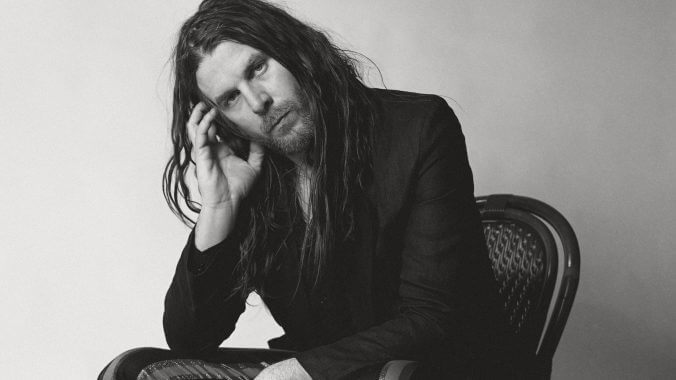 You might not recognize Jonathan Wilson's name, but you sure as hell recognize much of his work. He's the production wizard behind every Father John Misty record, along with Margo Price's Strays, Angel Olsen's Big Time and Conor Oberst's Upside Down Mountain, just to name a few. But Wilson's roots can be traced back to his time as the bandleader of Muscadine—a one-album group who found a home on the Sire Records label in the late-1990s. It wouldn't be until 2011 when Wilson finally put out his first full-length studio album, Gentle Spirit. But, in the 12 years since, he's made four really terrific, psychedelic singer/songwriter projects that have soared far beneath the radar.
With his latest offering, Eat the Worm, Wilson has penned his acid-laced, gonzo concerto of poetic theatrics. It arrives like Can trying to make Laurel Canyon folk music, as Wilson adopts vivid imagery of mars colonization and John Mayer criticism and revolting against capitalism. There are stories of the drifters wandering the aimless spaces of Los Angeles and beyond, where he name-checks folks like Charlie Parker, Chet Atkins, Father Time, Larry Bird, Lightning Hopkins, Kyle Mooney and more. It's not an homage to the artists who came before him and now surround him so much as it's Wilson imagining a world where they walk the same roads and reach the same destinations. Eat the Worm is a kaleidoscope of destiny-inspired, stream-of-consciousness folk rock that subverts all expectations by never committing to one direction too long. For every jazz chord comes an angled piano arrangement; every guitar strum is counter-balanced by a string melody. Maybe the most accessible experimental record of 2023, Jonathan Wilson has proven he's one of our sharpest penmans.
A few weeks ago, I hopped on Zoom with Wilson—who was calling from his self-made recording palace, Fivestar Studios, in Topanga, California. We talked about how working on Elvis Costello and Rilo Kiley records opened the door for him making his own, stashing tricks and techniques from studio sessions with other artists and, of course, the wondrous, colorful brilliance of Eat the Worm.
---

Paste Magazine: Seymour Stein passed away earlier this year, and he had been the one who signed your band Muscadine back in the 1990s. By that point, Sire had already become legendary—with their Talking Heads, Replacements, and Madonna releases. That being your first real foray into the industry, how fundamental was having someone like Stein take a chance on you and your band during one of the most do or die periods in rock 'n' roll?
Jonathan Wilson: It was exciting for us because we were from a relatively small town of Charlotte, North Carolina. Other than a really cool band in Charlotte called Fetchin' Bones—that was, back in the day, signed to Capitol—nobody, really, from our town was in the real music business as it were, if you will. So, it was really exciting. We had the real old-fashioned bidding war. DreamWorks, Brendan O'Brien—who was working for Epic at the time—showed up, several others. Atlantic showed up. It was a bidding war to sign this cool, grungy-but-good-songwriter kind of band.
PM: 15, 20 years ago, you were holding jam sessions at your house with Wilco, the Cars, Tom Petty, Conor Oberst. A bunch of big-time folks with well-established careers at that point, but you hadn't yet put out your own first solo record. How did spending such a significant time in the company of people like that really inform what your own approach to songwriting became when the time came to make Gentle Spirit in 2011?
JW: It was a natural stepping stone, in a way. But, when Muscadine disbanded, I became pretty disillusioned with it all. That was a pretty harsh experience, in a way, to end it—because the band just ceased to exist. We broke up and didn't finish the second album that we had started. It was a weird ending to the whole thing. And there was no hit, so to speak, so there wasn't something that could keep the band alive—which, in retrospect, is a really good thing, I think, because I would not want to be known as "the guy from that song."
There was a bit of a lull when I moved to Manhattan for a while and I started to build instruments. I was, kind of, playing on the side and I really couldn't find my way in New York—as far as the scene. So, I sort of retreated and hung out in the bluegrass scene. It wasn't until I moved back to California in 2005—that's the birth of me turning into a session dude around town. It began to spread around town, my skills in the studio—or something like that—and that started to grow. It was a big influence to be, suddenly, in Sound City Studios making an album with Elvis Costello or Rilo Kiley. It was all a part of what became the stew of my first album.
PM: The poetics on Eat the Worm are particularly vivid. It's got some of my favorite imagery from any album this year so far. It's psychedelic but still grounded in truth and reality, whether that means critiquing John Mayer's Jerry Garcia mimicry and three-figure Grateful Dead tie-dye shirts, or how Elon Musk is colonizing mars with his cursed billions. What outside lyrical or literary reference points were influencing your penmanship the most on this album, in particular—because it feels very influenced by Gonzo storytelling and acid poetics.
JW: The first song that I wrote for this set of songs was "Wim Hof." That was the first one that started it, and that kind of autobiographical—but not always—style that's sort of a little bit more rapid fire, speak-singing style that that song has. And I'd been searching for that [style] with a song. I was searching for a way to say some things in a song that, maybe, should be said or could be said. It was a conscious thing that I fell upon a style. I was like, "Well, I'm going to expand this." That style of singing is on five or six of the songs. I was bound and determined to make something strange. A big influence on me was this guy called Jim Pembroke—this really cool, kind of unknown dude from the 1970s. He passed away during the pandemic and somebody sent me his band [Wigwam] on some show in 1974. I looked at the video and I was like, "Who is this guy? Why have I not fucking heard of this guy?" It was like a solo jawn at the piano vibe with a proggy band from Helsinki.
I was just like, "Who is this guy?" It turns out that his name is Jim Pembroke and he's a British guy who sings with these dudes from Helsinki. I went on a deep dive of his stuff and found this thing he made in 1972 called "Warm Rumours" that has 6,000 spins on Spotify. That was the moment I ws like, "This is the kind of shit that I need to make." He shoots any commercial success completely in his foot and he talks in these weird little characters and he presents [Hot Thumbs O'Riley – Wicked Ivory…] as a talent show. It's just fucking bizarre. He's just got these really, really incredible songs that are strange and they're psychedelic and they're whimsical and they're weird. And he says whatever the fuck he wants to say. That was inspiring.
PM: Not many artists can make a record that sounds like Can or Captain Beefheart imitating Laurel Canyon sunshine-folk. It's a leap and an experimentation that a make-or-break artist can't usually take. But even the most seasoned vets have to be calculative in how they perform their own visions. Ultimately, what cemented the destiny of this record? What pushed you to say "Fuck it, let's do it this way, no matter how strange or offbeat it gets?"
JW: Part of it was the "death" of my solo career as a musician—coming off the heels of the pandemic. I put out [Dixie Blur] on March 6th, 2020, so it was a horrible, horrible time to put out an album. But, even prior to that, I had gone on these tours that were in the red—and this is even pre-COVID, so you can imagine now. It's crazy out there now. I was dealing with that, in a way. It's not that that would have that much to do with my songs but, at the same time, I was just like, "Well, now I guess I don't have to consider what this would be like live." And I really don't have to consider what a whole lot of people think about it. Each time I put something out, seemingly, it's more of a niche thing—less and less folks are caring about it, and there are so many things out. The amount of content is so high that, when you put stuff out—it's like, if you're expecting something you've seen in the past, I think that's a mistake. That was a freeing thing, too. I was just like, "Well, nobody's really gonna give a fuck about it anyway." That's kind of where you want to get to, not really be considering those self-aware tropes that you've already done and "What are my fans gonna think, man?"
PM: The last two years, your production has taken a real country turn, as you've worked on records from Billy Strings, Erin Rae, Angel Olsen and Margo Price, to name a few. But you've also worked with Roy Harper, Father John Misty, Dawes. How does the diverse work you're doing with other folks imprint on your own songwriting—especially on a record as wide-ranging and ambitious as Eat the Worm?
JW: I don't think about those artists, per se, while the process [of Eat the Worm] was happening—but, when I'm in the studio with those folks, I treat that, definitely, as an education. And not only on style of songs, but all the sounds and all of the overdubs and the experimentations that I get to do. Sometimes, I put things in the back of my mind. I'll get a certain sound or a certain fuzz on the guitar, a certain way of getting the basics to really pop through—like you're listening to a Lee Hazlewood song. [I pick up] little tricks that I experiment with and learn, and then I'll file those in the back of my mind and can then pull them out. There's some special things that I save for my own stuff. This album, I did a stylistic thing where the vocals are all double and panned—that creates a certain vibe.
PM: Being that you spend so much time in the company of others, lending focus on their visions, when do you carve out space for yourself to write your own music? Is it all happening at the same time, or do you find yourself gravitating towards moments of solace where you can zero in on your own world?
JW: On this album, in particular, I was trying to find that. I did it, mostly, all by myself this time. There was really no engineer. 90% of the time, it was just myself. And I can control this big thing from my phone, which is cool. I would just go from station to station. Some of these songs were written from the drum set, unconventional stuff like that. Usually when a band or a project would go home, at 10 PM or whatever, I would start working on [Eat the Worm] and go until five in the morning. There are songs that are from a session from a Father John Misty song. We had finished his song, he goes out the door and I start something on the piano—therefore, all of those files are called "JoshPiano2" and "JoshPiano3," shit like that.
This time, I wanted to get back to my roots as a recording fiend and do it by myself, no one around to talk to—which is, sometimes, not the best. Sometimes, it's a bit of a hardship. But, yeah, definitely good to be in that deep concentration to find sounds and songs. When people don't enter that really deep concentration in the process, I think it's pretty apparent.
PM: Maybe there is something to what people say about music producers never getting any sleep.
JW: And, typically, don't music producers put out kind of mediocre albums of their own songs most of the time? I think that's probably more true than not, so I was definitely conscious of trying not to do that.
PM: I think you cleared that bar. For Eat the Worm, you have your core band, your exemplary personnel, of Jake Blanton, Drew Erickson, Grant Milliken and Andrea Nakhla. And then you have a big group of string and horn players. What sets this group of collaborators apart from the people you've ushered onto your solo work in the past?
JW: Well, this is my current group, and the people I use—particularly that trio of Drew, Jake and I. I've been playing with Jake for 10 or 12 years. His normal gig is in The Killers, so they're gone quite a lot. We, basically, have to count our blessings to get him here. But that trio has made, I don't know, 10 albums here. We're just good friends and we love to cut up. This is the first time I've used loads of strings like this. There's been strings on all of my stuff in the past, but this is the first time that there's a lot of strings and horns. It's the first time I did full-on arranging, which was fun. That was another pandemic skill. We were the studio A-Team, that was the idea.
PM: Something that always interests me is the idea of who produces the producer, right? In the same avenue of who edits the editor and so on and so forth. I know Grant is credited as having co-engineered Eat the Worm with you. When you're assembling your own albums, how often do you have another set of eyes and ears on the work?
JW: I decide on the balances, when it comes to mixing. That's something that I think I have a talent at. That's something that I do myself and then, I guess, when it goes to Gateway for mastering, that's the first time that it gets altered—but that's usually a subtle thing. It's like the inmates running the asylum at this point.
PM: At what point did it become obvious that the cast of characters wandering the streets of LA around you were mythical and folklorish enough to, essentially, make an entire record about them?
JW: Fantasy is in there, too, and fantasy and fever dreams—where you drift off into a song, "What the hell is this guy talking about?" I was just determined to write something that could be somewhat, somehow, interesting. Because, in this side of things in this business, songwriting can be a tricky thing when it's just done on the fly in a room with strangers and they've never met each other. It gets to, kind of, be a yucky song. I was really trying to create something that was in the style of my catalog, something that was a different, more descriptive thing.
As far as who shows up or why they show up, I have no idea. You have to stream of consciousness some of these things. It's the first thought/best thought kind of thing. There's a lot of those—where I'm just like, "I have no idea why I'm setting a song in Boston and I'm talking about a guy from Saturday Night Live, but then I'm talking about the famous basketball player Larry Bird in the same verse." Stuff like that, to me, is just fun. When I listen to Zappa or Captain Beefheart, those were the touchstones.
PM: You name drop quite a few all-time greats across this album. Charlie Parker, Jimi Hendrix, Chet Atkins, Hank Williams, and Lightning Hopkins, just to name a few. I especially love when you mention Charlie and then the instrumental pivots to a jazz riff. What's your relationship to paying homage to those who came before you in this business? Because it quite often extends beyond the musicality and seeps into the storytelling, too, as if these figures are always in conversation with your life.
JW: Those are your friends. I have a few friends on Earth, but I have a lot of friends that are not here—it's like Leonard Cohen's "Tower of Song." Those are your comrades, people that you love that you feel like you have a connection with. You feel it. As far as generational sharing and collaboration, that's something that I've done a lot. I spent a lot of time trying to cultivate that, because it was like the passing of the torch from the elders. I saw that missing, definitely, in indie rock—so I spent the 2010s really trying to cultivate that. I got to sing with a lot of folks and that, to me, for some reason, was just a high priority.
Watch Jonathan Wilson's Paste session from Newport Folk Festival in 2012 here.
---
Matt Mitchell reports as Paste's music editor from their home in Columbus, Ohio.