Watch Joseph Share Songs from New Album Good Luck, Kid in the Paste Studio
Image via YouTube
Music
Features
Joseph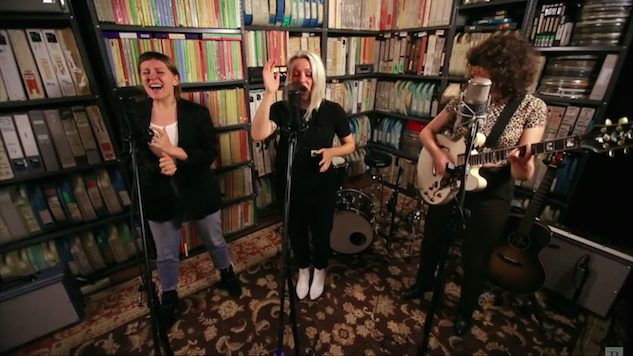 Early last month sister trio Joseph announced their first new album in three years, Good Luck, Kid, and shared its lead single, the resounding "Fighter."
They stopped by the Paste Studio Thursday to play stripped-down versions of that song, plus three more from the album: the title track, "Revolving Door" and "Without You." This is the third LP for the family of folk-pop singers—Natalie Schepman and her sisters Allison and Meegan Closner—who broke out in 2016 with fierce songs like "White Flag" and "Canyon."
These new tunes are no less fierce, though. In fact, they're even fierier. "Fighter" is an uplifting stronghold. "Without You" is an uncertain trek into singlehood, but Joseph's harmonies make it sound empowered. And the title track is a refusal to back down, even in the face of impending adulthood anxieties and pressures.
"It came from a moment," Closner said during the session. "I'm 32-years-old, and I just had this moment where I was like, "Oh, I'm the adult now? It's me? Oh wow ok, I guess here we are.' And this world is up to us. It's up to me. It's like a scary feeling, but I was telling my husband about it and he was like, 'Yeah it's like the universe is looking down being like 'Good luck, kid.' It does kind of feel both sarcastic and like 'You got this.'"
Watch Joseph's new Paste session below, followed by a clip from their 2015 session, further down. Find more info about their forthcoming album, out Sept. 13 on ATO, right here.