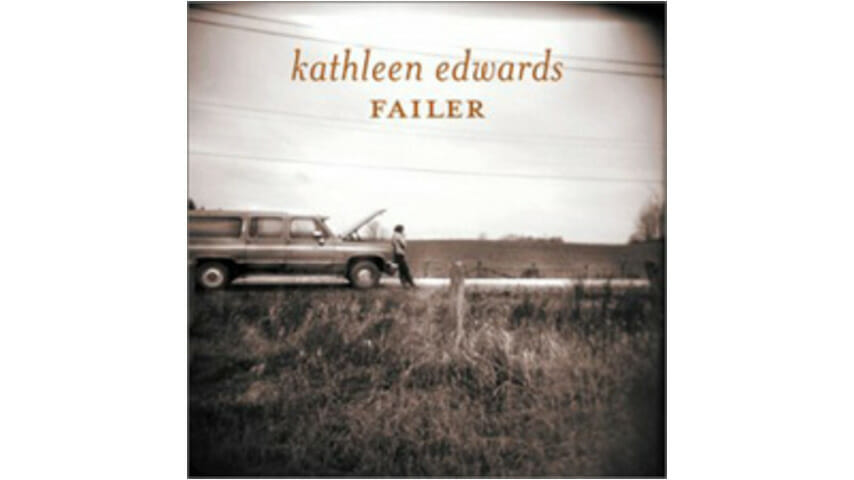 "A year or two from now, I'll be opening for her," Richard Buckner said of Kathleen Edwards, a 24-year-old Canadian who—on his 2002 tour anyway—is opening for the veteran songwriter. "Whatever it is, she's got it."
Her debut, Failer, certainly suggests as much. The throaty Edwards sounds like Lucinda Williams with far fewer miles on the odometer, and she mines similar veins of hard living and love gone wrong for her lyrics.
But Edwards doesn't sound like an acolyte. She's got moxie, but a refreshingly fragile honesty in her writing tones down the bravado. On "Hockey Skates," when Edwards asks "if the 'boys' club' will "crumble just because of a loud-mouthed girl," the swagger and self-effacement form a neat balance. She's aware of the cost, but not afraid to confront it.
That symmetry pervades Failer. Edwards slips comfortably between song styles—from straight-ahead rockers ("One More Song the Radio Won't Like," "12 Bellevue") to country and folk-tinged tunes ("Mercury," "National Steel")—without suggesting that she's trying on any of them. She sounds like she's been at it for decades.
The arrangements help. The 10 songs include a nice range of instrumentation (organs, alto/baritone/soprano saxophones, vibes, banjo and pedal steel) all expertly done. But ultimately Edwards' voice and lyrics stand out; it would be nice to say that about the debuts of more artists.