Kylie Minogue Reinforces the Primacy of Pleasure on Tension
The Australian pop sensation returns to euphoric form with celebratory electro-pop on 16th LP
Music
Reviews
Kylie Minogue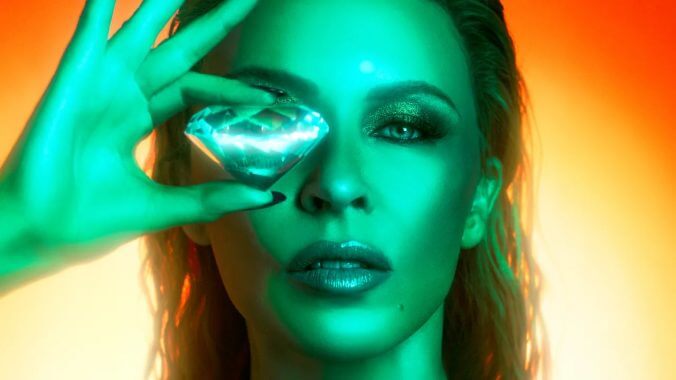 "Tense" isn't the first word most folks would use to describe Kylie Minogue's musical output over the past 35 years. Save for her woefully underappreciated output at the end of the 1980s—when the pristine star harnessed coquette suggestion to describe the search for bliss—Kylie's often euphoric output has charmed the dance charts in the United States and the singles charts in Oceania and Europe with hit after hit elevating the unique power of pleasure. She's reinvented herself enough times to prove that she's literate across an incredible breadth of pop culture, but she's uniquely capable in the electro-pop space. Enter "Padam Padam," the gay song of the summer: Dropped intelligently on American Idol in May, the song was a quick hit for LGBTQ+ fans—some of Kylie's strongest devotees—and became the unofficial anthem of Pride Month. "Padam Padam" also served as the lead single for Kylie's 16th studio album, Tension, an electropop suite of club-ready bops sure to please. It is one of her best 21st-century albums, and it has signaled a return to form that fans, both seasoned and new, are celebrating.
"Padam Padam" is Tension's glimmering thesis statement—a bouncy cut under three minutes that recounts a sultry dance floor encounter and the possibilities it presents. For Kylie, the act of pursuing her pleasure is a source of pleasure itself: What's better than the unique high of slyly detecting that the subject of your lust mirrors that desire? She follows up the hit with "Hold On To Now," which reveals the other pillar of her argument: Live in the now. The album's title track, which sounds like a second cousin to Dom Dolla and Nelly Furtado's recent hit "Eat Your Man,", is a far more naked display of sexual pleasure: "Oh, my God, touch me right there / Almost there, touch me right there / Don't be shy, I don't bite / You know where, touch me right.." "One More Time" has a similar disco-leaning approach, with intricate layers, including more house keys that threaten to overpower her voice but ultimately let her maintain the limelight.
Tracks like "Things We Do For Love" and "You Still Get Me High" start slow and minimal, building a healthy tension before Kylie launches into a euphoric chorus. These are moments where her voice, distinct and memorable but closely held, gets to shine. "Hands" has a minimalism that is all its own—with a simple drumbeat, handclaps and synths that fall away and return at Kylie's command. She yet again revels in the ecstasy of a subject's love, emphasizing the freedom to be wild she hopes to coax out of him. "Vegas High" felt like an Easter egg suggesting a Vegas residency—a key milestone for any popstar. The suggestion proved true: Kylie's slated to debut a winter residency at Voltaire, a new venue at The Venetian. The much-anticipated exclusive experience sold out immediately.
Before "Padam Padam," Kylie collaborated with Dutch future house producer Oliver Heldens on "10 Out Of 10," which the two co-released in early April. As Heldens lists the qualities of an encounter that warrant 10s—body, touch, energy—the pop shine and restrained delivery feel reminiscent of the ballroom, a subject of more widespread curiosity and affirmation after Pose and Renaissance. As a pop album track praising a sexy counterpart, it's delightful; as an artifact interpellating ballroom, it feels chintzy. Kylie's unique appeal in the LGBTQ+ community is a decades-long phenomenon, and she has earned the right to pander—but it wouldn't be fair to call this her best work. It's a miss.
"Green Light" begins at a gentle allegro, promising her counterpart that she can facilitate euphoria once she gets the signal. The jazzy production and occasional croons from the saxophone let the song rest in tasteful territory, presenting a cute—if not tame—saxophone solo in the middle. Tension's closer, "Story," is a fast-paced highlight, showcasing Kylie's uppermost vocal range—a toe-tapper that fades gently but swiftly like a lead actor's bow.
Tension is strong proof that Kylie Minogue in 2023 is more than just "Padam Padam," but it's also a relatively uncomplicated message from the international superstar. It delivers what she does best: a campaign speech on behalf of pleasure and its pursuit, with an electro-pop shine that delivers dopamine hit after dopamine hit. Now 35 years and 16 albums into a music career, she does not need to reinvent the wheel; if anything, she already did that herself with Impossible Princess and Fever. It's clear that Tension has renewed global interest in Kylie's work across generations, with veteran fans and TikTok teens alike singing along and rediscovering her offerings. There is plenty of material for the club to cycle through, and one can expect that the album cuts will gain a new vitality on the dance floor, too. Kylie Minogue has found her pleasure, and she's ready for her listeners to find it, too.
---
Devon Chodzin is a critic and urban planner with bylines at Slumber Mag, Bandcamp Daily and more. He is currently a student in Philadelphia. He lives on Twitter @bigugly.