Liam Gallagher Chats about As You Were and His Hope for a Reunion with Brother Noel
"I wish we were in a band together again. I wish we were brothers again."
Photo: RANKIN
Music
Features
Liam Gallagher
It's a warm day in Santa Monica, and Manchester-bred Brit Liam Gallagher, in town to discuss his first official solo album, As You Were, is sporting a jaunty new look that's appropriately Californian: cargo shorts, a hooded nautical pullover, signature aviator shades, and his signature mod shag now trimmed to a polite 9-to-5 business length. As he caroms around his beachside hotel room, he could easily pass for some corporate executive, preparing to set sail with Muffy and Biff, Jr. on the company yacht. And, in fact, when he heads downstairs and out the front door for a periodic cigarette, no passerby even casually notices the man voted the Greatest Frontman of All Time by Q Magazine readers in 2010. Today, the ex-Oasis firebrand is just another mariner, waiting to hit the waves. And that's the way Gallagher likes it. At least for the moment.
At his side everywhere he goes, dressed all in black, is his girlfriend and manager, Debbie Gwyther, whose affable nature and zany sense of humor belie a keen showbiz acumen and a watchful eye that's always focused on the task at hand—namely laying the nuts-and-bolts groundwork for launching As You Were, which arrives Oct. 6 around the world. She stops periodically to check on flight schedules and guest lists for Gallagher's hot-ticket showcase concerts in New York the following weekend. On her watch, no detail goes unexamined, and details are crucial at this stage in the game.
"God forbid there should ever come a day when I will look at a microphone in fear. Bring that microphone to me and I will rip it a new asshole!"
Gallagher, 45, is mounting something of a comeback with his solo debut, and all of his ducks need to be in a respectable row. He's been in the wilderness, you see, dealing with: the 2009 departure from Oasis of his songwriting brother Noel Gallagher, which led to a steady stream of public acrimony that continues today (he regularly refers to Noel as "Potato" on social media); the splintering of his second group, Beady Eye, in 2014; and, that same year, the dissolution of his second marriage, to All Saints vocalist Nicole Appleton, in the wake of his learning he had a 2-year-old daughter from a brief affair with a New York journalist. He met Gwyther not long after, and she stuck by him through some of his darkest days.
When the lanky rocker sits down for an interview, he doffs his shades and addresses his bond with Gwyther first. And he struggles to find the right words for a minute—usually not a problem for the famously profane talk-first-think-later walking bullhorn. "She's the one that gives me…I can…well, she reins me in when I'm a bit of a dickhead," he sighs. "Without Debbie, I wouldn't be here doing this. Without a doubt, I wouldn't have gotten up the drive to do it. She was like, 'Look, man, come on, you're better than just sitting around all day. Come on and play your guitar!' Because I was feeling a bit lost. When we knocked Beady Eye on the head, that was the first time in 25 years that I've not been in a band. And I was like, 'Right. Well, I'm not gonna be in another one. I can't be arsed to go through that again. And solo? Fuck that, man. I haven't got it in me to make an album on my own.' That's when Debbie got me back on track."
Read Paste's review of Liam Gallagher's 'As You Were' here.
Gallagher has always been remarkably candid about whatever he's thinking, whether it's his disdain for Noel (whose High Flying Birds also have an album coming out this season), or his uncharacteristically emotional response to the May 22 terrorist bombing at an Ariana Grande concert in his hometown of Manchester. During our chat in Santa Monica, he often jumped up from the table to act out the anger or frustration he was trying to communicate. In recent years, he said, his days would start optimistically with a refreshing run. "But around about the afternoon, I'd hit the pub, and around six or seven o'clock the old marching powder would come out, the cocaine, and then I'd be chasing my tail for three days," he admits. "So you'd miss three days, and you'd chill for a bit. But then I'd do it again, and you'd be drinking and not eating, and before you knew it, you'd just be in a shithole. And that was just out of boredom, with nothing to do—no songs, no gigs to play."
Meanwhile, he adds, divorce proceedings and other legal entanglements were starting to consume him. "I was dealing with lawyers morning, noon, and night," he says. "I was living in that world, and it was all my own doing. So I'm not moaning about it. I'm sure people were going, 'Well, you deserved it.' But still, you have to navigate your way through this shit. Then all of a sudden, that stopped, and we were free to just… be again. So I think I've fucking learned my lesson. I've learned not to drink too much and take too much cocaine, because it sends you down a stupid path. I've learned to live in the moment and not think too far ahead. So we've got one record here, and we're gonna play it loud and proud. And we'll see where we up at the end of the year. I'm not thinking about a big solo career—it's just one record at a time."
If the man sounds unusually humble, it's because he's become more comfortable with his strengths and weaknesses. And those, too, he freely confesses. This would prove crucial to As You Were, which has become something of a catchphrase for him. "I'm all about the voice, man. When I look in the mirror, I see a rock and roll singer, not a songwriter."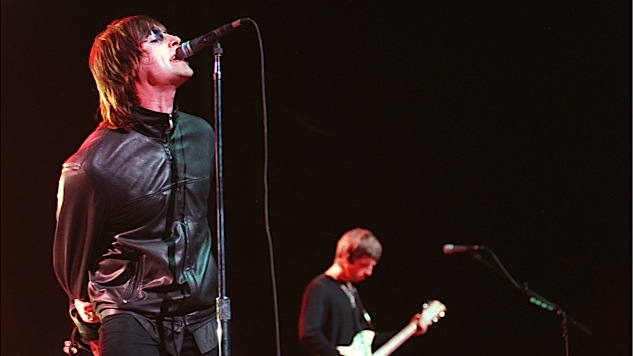 Liam Gallagher, left, with brother Noel in Oasis in 2000.
Indeed, when Oasis were at their peak in the 1990s, the chemistry between Liam and Noel was essential, but Noel was considered the brains of the operation, the composer. It was Noel's songs that filled their seminal albums: 1994's Definitely Maybe became the fastest-selling debut album in British history, and the follow-up, 1995's What's the Story Morning Glory, ultimately sold more than 20 million copies behind smash singles like "Wonderwall" and "Don't Look Back in Anger," making it one of the best-selling albums ever. Liam didn't start penning Oasis tunes until the band's Heathen Chemistry record in 2002. "I come up with a few every now and again, but I'm here to sing songs," he says. "I'm here to be a singer, man."
Accustomed to injecting his John Lennon-inspired charisma into his brother's songs, he wasn't averse to an idea proposed to him by Warner Brothers when they heard the first two numbers he'd composed, post-slump: "Bold" and "When I'm In Need," both of which made As You Were. "They asked if I wanted a record deal, and I said, 'That's all I've got at the moment.' Then they asked, 'Would you be up for writing with other people?'"
The exec suggested Adele collaborator Greg Kurstin and Miike Snow mainstay Andrew Wyatt, and Gallagher agreed to roll the collaborative dice. The first trip to L.A. to work with both yielded three songs in three days: "Paper Crown," "Doesn't Have to Be That Way" and galloping lead single "Wall of Glass," in which Gallagher snarls, "You've been keeping secrets…that stone you throw will turn back in its path."
Back in England, Gallagher teamed up with Cherry Ghost's Simon Aldred for the anthemic "For What It's Worth." Kurstin and Wyatt co-wrote several more songs, like the honky-tonk growler "Greedy Soul" (which sneeringly observes "She got a 666/ I got a crucifix," a couplet its author is understandably proud of), and a stomping "You Better Run," sung at the venomous velocity of "The Hindu Times," one of Gallagher's most high-octane Oasis performances. Kurstin produced several cuts, with engineer Dan Grech-Marguerat handling the rest.
"I mean, I fucking love him dearly, and I wish we were in a band together again," Liam says of Noel. "I wish we were brothers again."
What did Gallagher learn from a proven pro like Kurstin? Not to be too self-conscious about lyrics, he says. So he felt free to vent on "Greedy Soul." "That's like, 'Fuck you, you cunt! Uhh, whoever you are!' Because there's lots of them, lots of fucking cunts out there who are getting on that tune." He's particularly happy with two numbers he penned alone, album closers "Universal Gleam" and "I've All I Need," the former an ode to both Gwyther and rock 'n' roll itself ("I ain't no half-assed rock and roll star, there just to pick up a paycheck like a lot of these clowns are—I'm there to give it everything," he snaps), the latter reflecting his new less-is-more spiritual attitude toward possessions. "Because I do have everything I need; I've got more than enough," he says, picking up his pricey sunglasses then sliding them back across the table. "I've got thousands of them, I've got millions of shoes, I've got food on the table, I've got money in the bank. I've got far too much, really."
The only thing missing is a relationship with Noel, and Gallagher speaks frankly about this, also—how they're currently not speaking, how an Oasis reunion might one day be possible, but only as a 50/50 deal. "He'll sit there and go, 'But Liam's really hard work,'" he says of his brother's reasoning for the schism. "I ain't fucking hard work, man. But I'll tell you what I'm not—I'm not a fucking 'yes' man, and you don't treat me like a piece of shit or some hired drummer or guitarist. I'm your fucking brother, and I started this band alongside you and the other people. And you ain't gonna talk shit to me and treat me like a cunt."
He pauses, calming down, then murmurs, "I mean, I fucking love him dearly, and I wish we were in a band together again. I wish we were brothers again."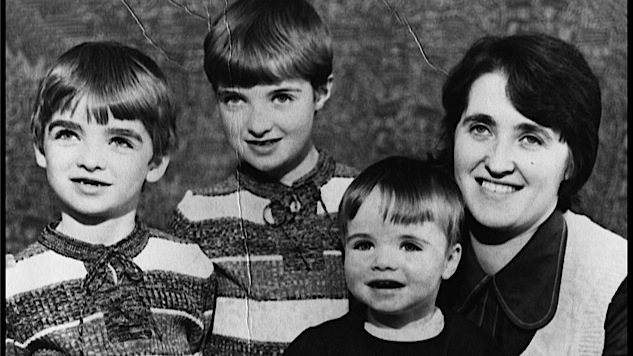 The Gallagher family in the mid 1970s, from left: Noel, Paul, Liam and mother Peggy Gallagher (Dan Callister/Liaison).
Gallagher once lauded Noel's post-Oasis songs with High Flying Birds. "But imagine me singing 'em," he snarkily observes. "Noel's a great songwriter, but he's not a fucking singer, mate, he's not a frontman. He's a backing singer who writes great songs and plays the guitar. It's like [Smiths guitarist] Johnny Marr—he's not a frontman. So get over there and play your guitar and do your thing. That's the problem. Too many of those fucking guys are after the singer's job, and they're getting away with it."
When Gallagher performed with Coldplay's Chris Martin at the One Love benefit concert in Manchester following the terrorist attack, it spurred rumors that Oasis might reunite for the event. Noel was a no-show. "And I'm disappointed that he wasn't there," Liam says. "I mean, it's Manchester, d'ya know what I mean? Our mother still lives there, all our friends…." Nevertheless, he tweeted a mysterious—and hopeful—message that read: "Stay tuned—I'm gonna round up the troops for something BIG next summer."
"Life is very short," he says. "And if me and him get back together, we should get back together for brotherly love and be friends again. And the rest? Whatever happens after that will happen. It's not about the money. But at the moment, we're a million miles apart."
Ultimately, he concludes, he might have lost his way. But never did he lose his confidence. "It'll take more than a divorce for me to ever lose that," he chuckles. "My confidence was always there. I knew that if someone put a good song in front of me, I would rip it up, man. God forbid there should ever come a day when I will look at a microphone in fear. Bring that microphone to me and I will rip it a new asshole!"
Gallagher gets up to slide open the chamber doors, and finds Gwyther waiting on the other side, a fresh pack of their favorite cigarettes in hand. Before they sneak out for a smoke, he offers a parting shot. "For four years, some people thought I was gonna go blow my head off. But now I've got an album and I'm back. And I ain't going nowhere. And they're gonna know about it—this middle-of-the-stage business belongs to me, man!"