The Enduring Magic of Lorde's Pure Heroine and HAIM's Days Are Gone
On this day in 2013, Lorde and HAIM's staggering debut albums changed the game for female-fronted, radio-friendly pop
Photo by Paul R. Giunta/Getty Images
Music
Features
Lorde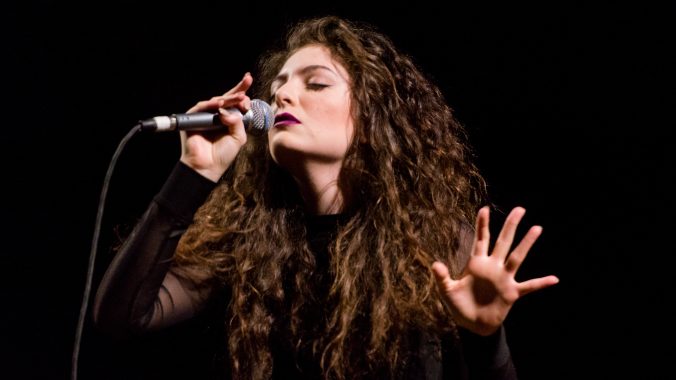 10 years ago today, pop music history was made. On September 27, 2013—the "alt-pop" Barbenheimer, one could say—New Zealand teen Lorde and L.A. sister trio HAIM released their studio debuts Pure Heroine and Days Are Gone. The former was a polished, gothic album detailing the boredom and loneliness of growing up in the age of the Internet, while the latter was a warm, '70s-inspired indie pop-rock record brimming with soulful, incredibly catchy tunes about unrequited love and failed relationships.
Coming off two promising EPs, Pure Heroine and Days Are Gone were immediate game-changers. They boasted two successful lead singles—the moody, capitalism-critiquing "Royals" and the sparkling breakup anthem "The Wire." They gained attention and adoration on Tumblr right at the website's peak. Even their album covers oozed cool, with Pure Heroine's monochromatic simplicity and Days Are Gone's laid-back, retro aesthetic reflecting the alternative fashion trends that dominated the mid-2010s and re-materialized in today's sartorial style.
Lorde and HAIM's first major-label albums not only launched the then-rising artists into superstardom, but marked an exciting inflection point for pop music in general. In addition to the sharp, confident quality of their songwriting and production, Pure Heroine and Days Are Gone expanded what pop could sound like: exploratory, genre-fluid and defiant of categorization and formula. Just as the hyper-positivity that animated recession-era pop music began to decline, these records became massively influential both for their challenging emotional landscapes and ambitious artistic visions.
Lorde especially felt like nothing anyone had heard before, crafting songs about being young while still experiencing her youth in real time at 16 years old. Other fellow emerging artists—like Lana Del Rey, Florence Welch, Grimes and Sky Ferreira—also made angsty pop music that catered to a relatively young audience, but Lorde in particular spoke so exactly to a generation dealing with increasing social isolation, rapidly accelerating technology, and constant messaging about staying optimistic amid all the cultural chaos. "I'm kinda over getting told to put my hands up in the air," Lorde declared on "Team," effectively closing the door on the previous decade of party rocking. Celebrating was out; brooding was in.
Throughout Pure Heroine, Lorde nimbly and impressively drew from a wellspring of themes pertinent to millennials/Gen-Z cuspers. Against a backdrop of elemental yet vivid electronic instrumentation, she cut through the bullshit of materialism on "Royals," chronicled her social anxiety on downtempo opener "Tennis Court" and, most prominently, expressed the whiplash of adolescence on the romantic "400 Lux," the spectral "Buzzcut Season," and the soul-piercing "Ribs."
Were it any other musician, these interpretations of youth culture would read as glib and pandering, but Lorde immediately stood out for her gifted, singular songwriting, texturizing the musical spareness of Pure Heroine with sprawling, poetic imagery. Empty suburban roads, explosions on TV, Cola with the burnt-out taste, several metaphors about teeth—these visuals created a fascinating, immersive portal into Lorde's imagination, so much so that practically any disaffected high schooler could feel like she was pulling directly from their experiences. Her smoky vocals and minimalist aesthetic also coated her music with a certain maturity and allure, a stark contrast to the colorful glitz and glam of her pop progenitors.
But perhaps the biggest reason why Pure Heroine resonated so strongly with teens at the time was because Lorde was talking not just to her audience, but also on their behalf—frequently employing "we" and "our" in her lyrics. The best use of this play with perspective was on "Ribs," where Lorde channeled her fear of aging into a melancholic anecdote about hosting a party while her parents are gone. Over ghostly reverb, droning synths and quiet drum loops, Lorde uses the anecdote to bittersweetly lament the passage of time, addressing the listener via intimate, conversational verses as if they were a close childhood buddy. She repeats these anxieties before building to a thrilling and devastating crescendo, grasping at her memories of sleepovers and hysterical laughing fits with friends before they fade away into a somber echo.
With this stunning sonic and lyrical juxtaposition, "Ribs" perfectly articulated how disorienting coming of age can be, which in a way makes it the definitive Lorde song. It's this sophistication that also led Lorde to become a musical sage of sorts for young adults following Pure Heroine's success. In 2014, she executive-produced the soundtrack for the third installment of the Hunger Games franchise, a series all about the youth leading a movement of political and social change. Pure Heroine and its barn-burning 2017 follow-up Melodrama have gone on to inform the work of other young female pop artists like Clairo, Billie Eilish and Olivia Rodrigo, the latter of whom explicitly credited Pure Heroine as an influence on her breakout single "driver's license."
Though each of them has their own distinctive artistic signature, Clairo's hushed presentation, Eilish's husky, lilting voice and dark-pop undertones, and Rodrigo's deeply personal balladry can all be tied back to Lorde. What unifies them all, too, is what made Lorde so special in the first place: her ability to make people take the feelings and experiences of teenage girls seriously. While Lorde made waves for her staggering originality and relatability, HAIM felt like something familiar made anew, filtering the spiky stylings of female-fronted rock bands like Fleetwood Mac and Pat Benatar through a contemporary lens, made for a contemporary audience. Eldest Este, middle child Danielle and youngest Alana were at a unique advantage in 2013—not just for already being sisters, but for having fine-tuned their sound, image and work ethic over the course of many years.
They had been playing instruments since they were young, famously forming a group as kids with their parents and calling themselves Rockinhaim. After Danielle and Este briefly joined another girl group in 2005 (the aptly titled Valli Girls) and Danielle later finished touring as a guitarist with Jenny Lewis and Julian Casablancas, the Haim sisters came back together, truncated their original name and began what would be a lucrative journey with Days Are Gone.
In contrast to Pure Heroine's steeliness, Days Are Gone offered a lighter substitute for indie pop listeners, still dealing with heavy themes but at a much more amiable register. Their earliest singles "Falling," "Forever" and "Don't Save Me" defined their Californian sound to a T: crisp percussion, lovely vocal harmonies, thick bass licks, the "ha!" yelp. "Honey & I" and the title track conveyed the elasticity of their range—the former a pleasant, relaxed ditty about finding new love and the latter a weightier, sadder (but still very catchy) reflection of a relationship on its last legs. The woozy, hip hop-inflected "My Song 5" flirted with the band's interest in experimentation that they'd later practice in 2017's Something to Tell You and 2020's Women in Music Part III.
Similar to how Lorde was so adept at capturing the highs and lows of teenhood, Haim found their thematic groove in talking about the myriad difficulties of maintaining a relationship and the messiness that comes with ending one. No more is that apparent on "The Wire," which HAIM reportedly recorded seven times before nailing the final version—an interesting factoid, considering the song itself contends with how hard it is to "get it right."
Accompanied by an infectious guitar riff and snappy handclaps, each Haim member got a chance on the mic to justify their romantic rejections while owning up their own shortcomings. Danielle blamed herself for "bad communication," Alana offered a gentle warning to her ex to not rationalize why the relationship ended and Este explained her exhaustion in trying to do what her ex wanted. Ultimately, though, all three of them come to the same note that every guy who's ever been thrown off by a breakup should hear: "You're gonna be okay anyway."
Although the ideas and sounds found in "The Wire" would recur throughout the rest of HAIM's discography, the band has continued to broaden their musical and professional horizons. Since Days Are Gone, they've worked with Rostam Batmanglij, Dev Hynes, Taylor Swift and Paul Thomas Anderson, the latter of whom has helped highlight their talents by directing many of their innovative music videos and casting them in his 2021 film Licorice Pizza. The band has even maintained a sense of humor in promoting themselves online, poking fun at their sisterly dynamic in a Funny or Die clip with Brie Larson as the "fourth HAIM sister" and making endearingly cringey posts on Instagram and Tik Tok. Their exuberant hooks and emotional synchronicity have also gone on to impact other non-male indie pop-rock trios like MUNA and boygenius.
Though seemingly disparate on the surface, Lorde and HAIM have overlapped numerous times since they came onto the music scene. They've covered Alanis Morisette together, collaborated on the incredibly underrated Hunger Games: Mockingjay song "Meltdown" and been parodied on SNL. But most importantly, they each gave us two fantastic, inimitable debut records whose endurance in the zeitgeist can never truly be replicated.
---
Sam Rosenberg is a filmmaker and freelance entertainment writer from Los Angeles with bylines in The Daily Beast, Consequence, AltPress and Metacritic. You can find him on Twitter @samiamrosenberg.