Lucero's Ben Nichols Opens Up about Their New Back-to-Basics Album Should've Learned by Now
Photo courtesy of the band (L-R Brian Venable, John C. Stubblefield, Ben Nichols, Roy Berry and Rick Steff)
Music
Features
Lucero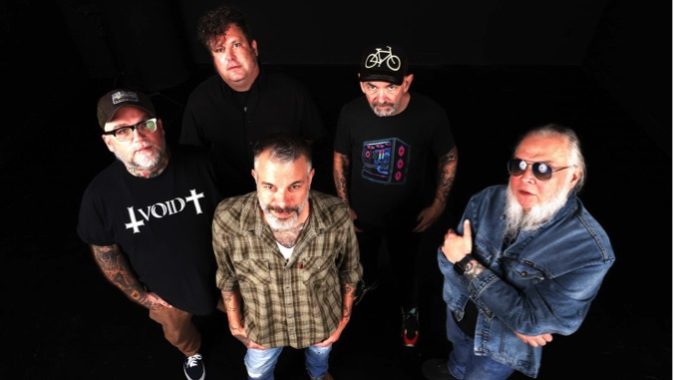 After two albums that delved into the darker corners of America with bleak stories ominously colored by synthesizers and studio effects, the Memphis band Lucero decided it wanted to get back to rock 'n' roll basics on their new album, Should've Learned by Now. Ben Nichols, the group's lead singer and chief songwriter, declared in a press release that "it was time to revisit all that stuff," both "goofy rock 'n' roll" and "upbeat songs."
It didn't quite work out that way. Yes, Lucero keyboardist Rick Steff packed away the synths and returned to the piano, B-3 organ and accordion. Yes, Nichols crafted some ear-grabbing guitar licks. But the lyrics he wound up writing were filled with dissatisfaction and yearning, feelings that cut even deeper when they rubbed up against the sound of five guys bashing out ringing riffs and belting out chorus hooks.
The new album opens with the sound of clanging cowbell and Stonesy guitar chords over a galloping beat. The action takes place in a barroom; the narrator just wants to be left alone, but some guys just won't take a hint. "I ain't gonna be here very long," Nichols snarls over the track. "One last fuck you, that's it, and I'm gone." By the time the album ends, Nichols is singing in a world-weary country ballad that he feels "whittled down to nothing, hanging by a wire." He asks a lover to "carry me home. We both know I can't make it on my own."
"'One Last Fuck You' was left over from the Among the Ghosts sessions, and 'Time To Go Home' was left over from the When You Found Me sessions," says Nichols, referring to Lucero's 2018 and 2021 albums respectively. "I thought 'One Last Fuck You' would make a great opening song, and 'Time To Go Home' would make a great closing song. All I had to do was write eight songs in between, and that's pretty much what happened.
"It was supposed to be a keep-it-simple-stupid rock 'n' roll record, but the lyrics are always a different story. Maybe because I wasn't thinking about it, maybe this is a more personal record than I intended, a more telling record than I was expecting it to be."
There's a thread running through these songs about a guy who's unhappy about where he is right now in life, but he doesn't know how to get back to where he or how to move forward to where he wants to be. He starts out by declaring that "one last fuck you, that's it, and I'm gone." On the next song, "Macon If We Make It," he's caught in a hurricane of both Atlantic winds and anguished feelings, realizing, "I couldn't make it back to you even if I wanted to." If he can't go back, he needs some help to move forward, as he admits on the third song, "She Leads Me."
That opening trilogy sets the template for the album. There's another here-and-now-sucks song, "Nothing's Alright"; another brokenhearted-bad-weather song, "Raining for Weeks"; and another plea-for-help song, "Time To Go Home." And not only is the narrator unhappy with his current situation, time is running out. On the title track, "Should've Learned by Now," he admits he ought to have cleaned up his act by now. But on "Buy a Little Time," he's asking the universe to extend the deadline to give him one more chance.
"There's definitely an attitude on this record that's not the healthiest," Nichols says over the phone from his second home in Wadsworth, Ohio. "The narrator knows what he should have done, could have done, and is deliberately going in the other direction out of sheer contrariness. That leads to a title like 'Should've Learned by Now.' And, yes, 'One Last Fuck' has an attitude that has been in some other Lucero songs. Is that a good way to be? Maybe not. Maybe it's a way of putting it on this record and expunging it from my real life."
Nichols emphasizes that his real life and the life described in his songs are not the same, though they do overlap. He insists on the same freedom that a novelist or a screenwriter (like his brother Jeff) has—the ability to draw from imagination as much as from experience.
"If you're restricting yourself to diary entries," Nichols argues, "you're limiting yourself. Look at David Bowie or Tom Waits, who are very good at putting on these different hats and assuming different characters, and no one would say that they're not authentic. It's more honest, admitting that the character in a song is a partial fabrication. Part of it's my life, and part of it's the life I'd like to have—or the life I don't want to have. Sometimes it's hard to decipher who's who, and part of what makes the songs interesting is just that."
Watch the official video for "Buy a Little Time"
When I last saw Lucero, in pre-pandemic Nashville, Nichols occupied center stage, tall and lean with a guitar strapped on. Tattooed arms and neck poked out of his brown-and-gray, snap-button shirt; from between his baseball cap and salt-and-pepper beard stared determined brown eyes.
The setlist was heavy with songs from the recently released album Among the Ghosts, still Nichols' favorite Lucero album. When he played acoustic guitar on "Everything Has Changed" and sang, "Looking north, headed south, the devil, he don't care which road I take," he was wrestling with the same issues he's still singing about now.
"The dissatisfied narrator, who's lost and doesn't know which way to go, is something I keep going back to," Nichols agrees. "You can hear that in all the Lucero albums. That guy is partially me and partially a character. He's looking for something, maybe it's the girl, maybe it's success, maybe he doesn't know what it is. But he knows he doesn't have it, and he wants it."
Nichols' grade-school and middle-school years were spent in Little Rock, Arkansas, in the 1980s. By the time he joined some wannabe-punk-rock bands in high school, he had rejected the country, R&B and classic-rock music that had surrounded him growing up. By the time he and guitarist Brian Venable co-founded Lucero in Memphis in 1998, he was 24, old enough to embrace the musics he had rejected. But he continued to embrace punk as well.
"They no longer clashed," Nichols remembers. "They could all go into the same box, and I could pick and choose from that. I remembered thinking I wanted a band that I could grow old in, where I wasn't restricted to one thing, where I could play any kind of music I was interested in, a band where I could become a better songwriter. I wanted to play fast and hard, but I also wanted to play sad, slow country songs."
As such, Lucero has a lot in common with bands such as the Drive-By Truckers, the North Mississippi Allstars, the Bottle Rockets, the Dropkick Murphys, Gaslight Anthem and the Hold Steady. Most of these musicians started out as punk-rock kids but grew to absorb the musical roots and literary storytelling of Bruce Springsteen. This evolution not only gave them broader influences and larger ambitions than most garage bands but also gave them a more skeptical, less earnest outlook than Springsteen himself. It was something new under the sun.
Like the Truckers of North Alabama and the North Mississippi Allstars, the Memphis-based Lucero all came from that hilly, rural part of the South that's far from the Gulf of Mexico and Appalachia. The Allstars' Cody Dickinson produced Lucero's second and third albums plus a later EP, and the Allstars took Lucero out on its first real tour. Memphis's Steve Selvidge, briefly a member of Lucero, is now a guitarist for the Hold Steady.
"I feel exactly the same way as those bands," Nichols agrees. "You don't have to fight against all that establishment stuff as much as you once did. But we added something else from being in punk-rock bands, because you always bring where you've been and what you've seen. You want to make your own mark and make your sound. Some bands settle for I-IV-V and a train beat, but if there's a guitar lick that grabs your attention and a melody in the vocal, that makes the songs stand out."
By 2006, however, Lucero had reached a crossroads. Nichols felt they had exhausted the possibilities of the guitar-guitar-bass-drums rock 'n'roll quartet. The four members had formed the band to escape the rules of punk-rock, but now they found themselves with a new set of rules: no keyboards, no horns. So when they learned that Memphis pianist Rick Steff had just left Hank Williams Jr.'s road band, bassist John Stubblefield invited him to a rehearsal.
"I'd never played with that caliber of a musician before," Nichols remembers. "Rick could play a song he'd never heard, and it sounded like he wrote it. I said, 'Yeah, I gotta have this guy in the band. I tell people Rick saved the band. If he hadn't joined, I might have quit. Before I could write a song like Springsteen, but I couldn't make it sound like that. Now I could. I said, 'Oh, this opens up a whole world of possibilities.'"
Listen to Lucero's first Daytrotter session in 2009:
Steff first appeared on the 2006 album, Rebels, Rogues & Sworn Brothers. Because he had played so many sessions in Memphis, Steff knew all the horn players in town, and he invited saxophonist Jim Spake to a rehearsal. It sounded so good that Spake—plus a trumpeter and a steel guitarist—appeared on 2009's 1372 Overton Park (still my favorite Lucero album), 2012's Women & Work and the accompanying tours. Both albums were produced by Ted Hutt, who also worked with the Dropkick Murphys and Gaslight Anthem.
"We were an eight-piece band for a while," Nichols says. "It tested our limitations, but it made us a much better band. And it connected us to Memphis in a way we never had before. Playing quirky country and rock 'n' roll stuff was one thing, but playing R&B, Memphis-style, soul-influenced rock 'n' roll was another thing entirely. We had to let go of old habits and see where this new path took us. I was still writing Lucero songs, but I wanted to give these musicians a chance to let the Memphis side of things flourish."
Watch Lucero perform for the Paste Studio cameras at the Masquerade in Atlanta in 2013:
Lucero has recorded at two of Memphis's five legendary studios: Ardent (where Led Zeppelin, the Staples Singers, R.E.M., Bob Dylan and the White Stripes recorded) and Sam Phillips Recording (where Jerry Lee Lewis, Johnny Cash, John Prine and Alex Chilton recorded). The other three are Phillips' original Sun Studio, the Stax Recording Studio and Hi Records Royal Studio.
"Recording at Ardent in Memphis," Nichols says, "was like winning the rock 'n' roll lottery. And Sam Phillips Recording is the coolest bit of rock 'n' roll history you can see, because they don't do tours there. There's a bar where Elvis and Johnny Cash hung out, and the red carpet is still upstairs in Sam's office."
Lucero reverted to a five-piece to record 2018's Among the Ghosts, 2021's All a Man Should Do and this year's Should've Learned by Now with a new producer, Matt Ross-Spang. The first two albums and the beginning of the third were cut at Sam Phillips Recording. Then Ross-Spang opened his own, new studio in Memphis's old Sears Building, and they finished up there.
Watch Lucero perform at the Paste Studio in New York in 2018:
The producer does a good job of capturing the internal dynamics of the band. Often, when Nichols sings a line, it will be quickly echoed by guitarist Venable or pianist Steff, creating the call-and-response pattern that emerged from Memphis churches to inform both R&B and rock'n'roll artists in town. Something similar happens in the dialogue between Nichols' Keith Richards-like rhythm guitar riffs and Venable's single-note leads.
The new record sounds especially hymn-like on slow songs such as "She Leads Me" and Time To Go Home," which resemble prayers to a woman who might forgive the narrator all his sins and give him a home to call my own. Nichols didn't get married till he was 42, and he admits that the new album's title track, "Should've Learned by Now," may reflect on his years of evading commitment."
"I avoided it for a long time until it really made sense to me," he concedes. "As much as I want to deny it sometimes, getting married and having a kid does change your songwriting. You have to fight off the naysayers who tell you you'll never be the same. I love diving into those emotions brought about a woman I care about and a daughter who's changed my life. If I could only write songs about married life, that would be tough. But I want to write those songs too. I'm definitely thinking of my wife when I sing, 'She Leads Me.'"
Nichols addresses the entanglement of music-making and relationships on the song "At the Show" on the new album. The first verse is a memory of going to a show as a kid, sitting on the street curb outside the arena and thinking of all the lyrics he's about to hear. But on the chorus, he admits that he's also looking forward to running into the woman he's had his eye on. The second verse is about being on the stage at a later show, but still hoping that the woman of his dreams will be hearing his songs. Some things never change. He's "still working on the lyrics I'm needing."
"Sonically," Nichols says, "'At the Show,' combines Archers of Loaf and Bruce Springsteen—the '90s alt-rock I loved at the time and the classic-rock I later rediscovered. Lyrically, yeah, it's about the way romantic desire and musical excitement are inseparable. You always hope your crush is going to show up at the concert. And I hope it's always that way."