How Ludwig Göransson Became Hollywood's Best Composer
The story of how the man who scored Community and has produced every Childish Gambino album became the visceral, musical soul of Christopher Nolan's Oppenheimer
Photo by Magda Wosinska
Music
Features
Ludwig Göransson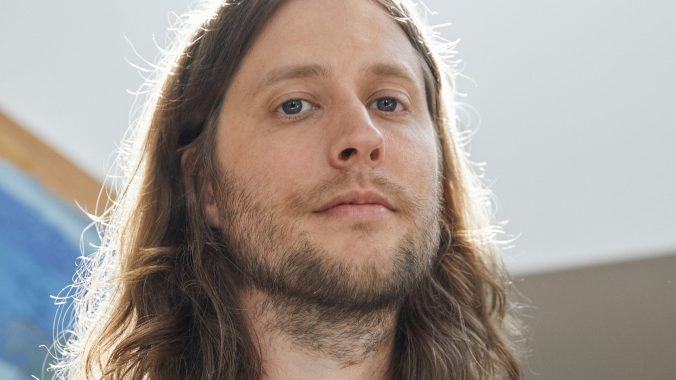 If you don't know Ludwig Göransson by name, then you certainly know his work. In the last 10 years alone, the Swedish-born composer has helmed the scores of some of the most successful films and television shows of the last decade—including the Creed franchise, both Black Panther entries, Community and The Mandalorian. Yet, it's his most recent work that's landed him so deftly in the public eye—as he is the musician responsible for the auspicious, unbelievably masterful score that soundtracks Christopher Nolan's Oppenheimer, the epic, pseudo-biopic period piece about the titular physicist who was the "father of the atomic bomb." When I call the composer up on the morning of Oppenheimer's premiere in American theaters, Göransson isn't somewhere in Hollywood basking in the glow of his latest musical treasure. No, instead, he's on a family vacation in Sweden, thousands of miles from where Nolan's daring new work is fascinating millions.
Göransson—born in Linköping and named after Beethoven—got his start by taking music lessons as a kid before attending the Royal College of Music in Stockholm, the oldest higher-ed musical institution in Sweden. The conservatory was founded in 1771 and has spawned some of the greatest conductors, composers, vocalists and instrumentalists the orchestral world has ever witnessed, like Jussi Björling and Wilhem Peterson-Berger. It's a cutthroat place to get into, as only 16 students are accepted for the bachelor's program every year and only 10 for the master's program. For Göransson, he got to campus and was poised to put his focus into a concentration in jazz guitar, but he could feel the pressure of being in such a prestigious, do-or-die environment immediately. The bar was at an all-time high, and he hadn't even gotten his feet wet.
"In the beginning, the first two years, it was really tough, because, before entering that school, I was used to being the one talked about, the one that was really good at guitar, the star of the class at [my] instrument," he tells me. "But, when I started here in Stockholm, all of a sudden the bolts switched. Everyone was maybe a year or two old than me, and they were also way better on their instruments and way more experienced at improvising. I really had to catch up, so I spent the first two years practicing a lot and trying to write music."
Once his third year arrived, Göransson saw everything come into focus. He had a band that won a jazz competition and got to go out on tour. What he was accomplishing in Sweden feels like a whole separate world than what he's doing now, as his compositions are flooding movie theater spaces. But much of it can be traced back to his time at the Royal College of Music. "My education was very focused on improvisation, and I think that is something that I'm still carrying with me," Göransson notes. "Every time, every day, whenever I'm working on something, I'm just improvising and carrying those tools with me from that school. And, especially, if I'm starting on a new project, I always want to feel like I'm doing something for the first time."
For Göransson, that meant learning how to play the recorder for The Mandalorian, going to Senegal to study sonic history for Black Panther or making sounds from boxing gyms for Creed and adopting train station noise for the score of Fruitvale Station. On the surface, the understanding of "improvisation" always defaults to an image of a musician fashioning sonic elements on the spot without prior rehearsal. For Göransson, it's a much more dynamic practice—as he aims to widen his own palette and break a film or television score out of its box. Whether it's tinkering with new instruments or injecting a rich, thoughtful articulation of lineage and cultural history into a composition, Göransson's ambition and meticulousness knows no bounds.
Though Göransson's focus in college was on jazz, it was mostly in an educational way. Even back then, he knew that he wanted to score films and get invested in pop music production. It was his dream, but he wasn't going to settle for being a small-time indie head. "I wanted to do similar work on the movies that I had loved during my childhood, the big Hollywood films that changed my life and had a big impression on me," Göransson says. "That's why I decided to move to Los Angeles. I found USC online, and I knew that L.A. is where you have to be if you want to work in film, so I applied to USC and I got in there."
While at USC, Göransson was mentored by Theodore Shapiro, the composer responsible for scoring some of the best comedies of the 2000s—including The Devil Wears Prada, Tropic Thunder, Idiocracy and Wet Hot American Summer. Working with Shapiro was, above all else, a catalyst for Göransson, who would soon take on a gig as the composer for the hit American sitcom Community (and, two years later, New Girl). "[Working with Shapiro] was everything," Göransson says. "I was right out of school, that was my first job, just learning how the industry works and how to think about writing for film and how you think about writing for screen on a musical level. But also, on a business level, I learned how to keep track of everything and how important it is to be organized."
The first film he was thrown into was Tropic Thunder, which wound up being a massive, successful project that taught him about how to bring musicians to the studio and create an orchestral ecosystem within a score. Even now, in 2023, he keeps a familiar list of regular musicians who he often calls upon to populate many of his own scores. Göransson calls it an "eye-opening moment," and points to Marley and Me as a particularly foundational project to be a part of. "How you think about where music comes in and when it exits and what it needs to do in the scene, my days were just completely filled with being in that world," he says.
At the same time that he was working on Community and New Girl, Göransson began his other hustle of being a record producer. He's notably credited for his work on every one of Community star Donald Glover's Childish Gambino releases, from Camp in 2011 to 3.15.20 in 2020 (a catalog for which Göransson has been nominated for six Grammy Awards with Glover)—but he's also responsible for producing HAIM's debut EP and helping usher their work into bigger conversations in indie pop.
When I think of film composers, I always would consider folks like Bernard Herrmann and Jerry Goldsmith first. They were geniuses who took the art of scoring and helped it transcend beyond background music. When I watch films they worked on, like Psycho or Chinatown, I can hear how their arrangements work on the screen as if they are supporting actors in the story. I very much feel that way about Göransson's scores now, too, as he's adopted a limitless approach to the craft. Whether he's tackling a superhero movie, an animated feature or a blockbuster television series, he approaches each arc, each line of dialogue and each scene's liminal space with the same spark of curiosity.
"I'm very lucky because, in the last five to 10 years of my career, every project has been completely different from the previous one. And that's because I'm also just so lucky to be having the relationships that I have," Göransson says. "The directors and the artists that I work with, they're not trying to repeat themselves. They're always trying to push themselves further and venture into new fields. And that's why I wanted to do scoring from the beginning, because I was not stuck in just one type of music. I loved every type of music and I knew I wanted to try to write every type of music. That's a trajectory that I've been on so far, and that's the way I want to keep going."
Since 2018 alone, Göransson has worked on a wide variety of films that belong to numerous genres—including Venom, Trolls World Tour, Tenet, Turning Red and Black Panther: Wakanda Forever. It's likely the most diverse arrangement of filmography credits that Hollywood has seen this century, but Göransson doesn't skip a beat at any checkpoint. Had the Best Original Score category at this year's Oscars not been so packed (Volker Bertelmann, Justin Hurwitz and John Williams are just an unreal threesome), he would have likely garnered a greater consideration for his work on Turning Red—which was also his first animated feature credit as a sole composer.
One of the biggest encounters in his career, however, came while he was at USC. Meeting fellow student Ryan Coogler and collaborating with him on Fruitvale Station, Creed, Black Panther and Wakanda Forever, has turned Göransson into a household name. He scored all of Coogler's student films, including 2009's dialogue-less Locks, which only had sound and audio. Göransson cites the work of one of his former professors, the late music editor Kenny Hall, who worked on films like E.T.: The Extra-Terrestrial, Poltergeist, Gremlins and Basic Instinct, as foundational. Hall was the only instructor at USC who led a class that both directors and composers could take together, and that program became instrumental in not just Göransson's bond with Coogler, but with how the two artists came to understand the influence of sound design on a score and vice-versa.
"It led to really interesting conversations and eye-opening moments, for both the composers and the directors, about how it to actually work together," Göransson says. "I remember, on Locks, that Ryan was so focused on the sound [being paired] together with the music. Before I had that class with Kenny Hall, I hadn't really thought about sound design's impact on the score. I thought it was two separate things. But when we scored Locks, we talked about a lot of the sounds and the score and if we could combine it. I was using a police siren, and that's where that seed was planted. So, when we started on Fruitvale Station, we took it even further with recording the BART train and using that as an instrument in the score."
Göransson's work in Fruitvale Station in 2013 makes up one of the best indie film scores in recent memory, especially for the ways in which his sound design greatly helps illustrate the grief and violence happening on screen—as if the noise is a storytelling tool, not just an added, visceral element. When Oscar Grant (Michael B. Jordan) is shot by cops, there isn't a traditional score cue in that scene. The sounds we hear are what's being emitted from the secondary characters or the environment of the train station that surrounds him. You can hear the thoughtfulness that Göransson and Coogler put into that sequence—and the entire movie at-large. It's a kindness that, even today, sets Göransson's work on big-budget, seven-figure pictures feel intimate and personal.
It's something that came back around on Black Panther five years later, when Göransson traveled to Senegal and accompanied Senegalese singer/guitarist Baaba Maal on his tour before spending months in the company of West African musicians—where he learned about how ancestry and culture is embedded into the roots of the country's music. Göransson put a lot of care and energy into making sure he constructed the score of Black Panther (and Wakanda Forever) in a way that both honors and emphasizes the intricacies and beauty of traditional African sonic heritage.
"Most of the audience doesn't know that all of the music, all of the rhythms, has to mean something," Göransson says. "There's meaning behind the rhythms and, in Africa, music is not just performance, it's a way of life. It's language, and a different rhythm can mean something to everyone. You can only play that rhythm when someone's been gone for a long time and is coming back. There's another rhythm for when a younger son of the household is turning a certain age and is about to leave the house or challenge the dad that he's a man. There's a rhythm—a music—for every type of moment and for every type of ritual. And it was very important that we kept that connected to what was going on in the story."
In Black Panther, Göransson zeroed in on the talking drum and tambin flute, along with a horn section, to form the base of the score. "The talking drum was the first type of communication device," he says. "People used it, almost, like a telephone. And you would have a talking drum player in every village that would communicate and relay messages from the king, or other important people, about what was going on." For Wakanda Forever four years later, Göransson went to Mexico City and researched Mayan music to form the bedrock of Namor's (Tenoch Huerta Mejia) presiding over the underwater civilization of Talokan. He also spent time in Lagos, Nigeria, where nearly 400 tribes make their own instruments and use music as a means of language. After spending almost 3,000 hours making the score across three continents and five countries, Göransson had created a rich sonic climate that preserved and embraced histories and cultures that have gone largely undersung in the annals of history.
What makes that choice so revolutionary in Western cinema is how it lands on the other side of the spectrum from what many modern soundtracks are doing in the 21st century, which is building soundscapes through songs that exist in a mainstream place or just beyond it. Göransson's approach to honoring centuries-old traditions also rebels against the inclination to pull tones and patterns out of thin air. Rather than generating something new and shiny that was tailored to the story that's unfolding on screen, Göransson instead advocated, alongside Coogler, for pre-existing voices and instrumentations to sit at the heart of Black Panther's sonic habit—and it was a monumental feat in the history of film scoring that doesn't go unnoticed.
But, what pushed Göransson into his most recent echelon of stardom started when Hans Zimmer turned down scoring Christopher Nolan's 2020 sci-fi thriller Tenet so he could work with Denis Villeneuve on Dune. Prior to Tenet, Göransson had never met Nolan but had shared a Hollywood Reporter roundtable with Zimmer. The story that Göransson tells me is that Nolan came to the premiere of Creed in 2015 and, afterwards, asked Coogler who scored the film, to which the director offered Göransson's name. "When Ryan told me that, I was like, 'Yeah, that's awesome that he liked the music,' but I would never think that we were going to work together," he adds. Much like how Oppenheimer star Cillian Murphy and Oscar winner Gary Oldman have become some of Nolan's most trusted collaborators, Göransson is making a name for himself in the director's rolodex of creative partners—and he's giving Zimmer a strong run for his money.
After traveling the globe in preparation for both Black Panther movies, Göransson found himself at a brand new impasse when it came time to building the score for Tenet. Because of the pandemic, he had to record his crew of musicians from home—something that changed the possibilities of how a score could be constructed beyond the confines of a studio space. "I think what came out of it sounded pretty cool," he says. "Even though it was an unfortunate thing, that we couldn't have the musicians together, it still did something to the way that the orchestra sounds in the movie. Because we had to record everyone separately, it took 20-times longer than what it would have normally." If one element of a particular piece needed revision, the musicians would have to start from scratch again. Göransson couldn't instruct his players to play a certain bar one more time, instead having to wait a week before he could hear the new take. But the final sound of Tenet, which placed an emphasis on retrograde composition and industrial noise, was a masterpiece for Göransson and remains one of the most experimental and interesting scores in all of Nolan's filmography.
Fast-forward to 2023, when Göransson and Nolan team up again. This time, it's the hotly anticipated blockbuster, Oppenheimer. For nearly two years before its release, fans were drumming up hype around the film, as it was teased as being a cinematic experience as moving, monumental and expansive as Interstellar was almost 10 years ago. If you've made your way out to a theater to catch Oppenheimer in the last month, be it on 70mm, IMAX or standard definition, you know that it's a grandiose and human display of how the greatest invention in all of human history was also the most destructive and detrimental. In my opinion, no composer could have scored this movie with the same generous light and curiosity as Göransson, his soundscapes bring an empathetic and leveled soul to an otherwise vicious and complicated piece of art.
In portrayals of film scores, composers are often shown building their scores around already-shot scenes. For Oppenheimer, Göransson began writing the music after reading the script. "That's when [Nolan and I] do the sound world and come up with the themes. Most of the sound of the movie and the tone of the movie comes out after I read the script," he says. "In this case, that was about three months before they shot the film. So, when Chris started shooting the film, he had about two, three hours of my music already. When they start editing the film, the only music they put in the edit is my music."
Much of the foundation of the Oppenheimer score leans on the use of violins. It's the place where Nolan wanted to start, and it required Göransson to experiment with the instrument. "[Nolan] wanted to see how we can pick up the violin and make that instrument couple feelings of something big and beautiful with something neurotic and horrifying within a split-second," he says. "In a lot of movies, the strings are used for a conventional horror sound. But what if you play a horror cluster on violence, but you play it with a beautiful, slow vibrato? That was the experiment that we did in the beginning, in the first few months."
Before Oppenheimer, Göransson had never had such an intimate relationship with the violin—at least not in his own work. His wife, Serena, however, is an accomplished violinist, whom he met while he was Shapiro's assistant and she was in one of his mentor's orchestras recording a score. After recording all of the solo violin parts for Oppenheimer, her work has become, truly, a lifeblood in the film—as many of the score's strongest and most breathtaking moments arrive upon her bowing.
But what endures about the Oppenheimer score, however, is Göransson's impeccable use of synthesizers—which might seem like an odd, out-of-place instrument in the musical context of a movie that largely takes place 20 years before synthesizers were even invented. Nolan and Göransson discussed that implementation early on, and the director was immediately open to whatever vision Göransson had for how the keys could be embellished in the film's sound design. It's a testament to Nolan's malleability, as he uses his connections with all of his crew to widen the liminality of all of his productions. "He has great relationships with collaborators," Göransson says. "And that's really important, to work with people that you really want to build something with and you get better working together. He started off with David Julyan, they did a couple of movies together. And then he started working with Hans. I love all of those scores and, on those films, he builds relationships with everyone, with every arts department and all of the creatives."
Despite the film taking place over a 30-year span—from 1926 through 1954—Nolan's production implements fluid modernity into a time-specific vessel, and it's something that Göransson was able to latch onto in his own construction, as well. "With all of the film—the costume design, cinematography, visual effects—even though it's a period piece, it doesn't feel like it's of the time. It doesn't feel like it's from the '30s or '40s. It feels past, present and futuristic. And that's what I wanted the score to feel like. I wanted to use the orchestra—the violin, which is an instrument you can play in a way you couldn't then—and record them in a way you couldn't do back then, and infuse the sins of modern production, which, I feel, is foreshadowing that impending doom [of the story]. And that's what makes it timeless to me," Göransson adds. That last scene, when Oppenheimer (Murphy) comes to terms with the horrors of what his invention will bring to humanity, the score swells with murderous violins and careening synths while flickers of the bomb detonating begin to engulf a corner of the Earth in flames. It is, in my opinion, one of the finest instrumental codas in a film in a long, long time—a structured grandeur that will live on as one of Göransson's greatest achievements.
I think about that idea of Oppenheimer feeling past, present and futuristic and how it's absolutely a familiar sentiment that can be injected into all of Nolan's work. But it's also something that must be said about Göransson's work, too. From the field recordings he made for Fruitvale Station and Creed to the African history fueling the heart of Black Panther to his use of shuddering, goosebump-inducing violins in Oppenheimer, Göransson understands how to broaden the sonic capabilities of any given story while also preserving the history of each and every component he brings in to focus. It's a fine line to walk, but none of his scores ever flirt with novelty or redundancy. Though his desire to never repeat himself was a challenge he set for himself years ago—while still in school in Stockholm—he's made good on his efforts to stand firm as the brightest and sharpest composer in all of Hollywood. And, when the Academy Awards ceremony unfolds next spring, I'd bet the house on Ludwig Göransson walking home with his second Best Original Score trophy.
---
Matt Mitchell reports as Paste's music editor from his home in Columbus, Ohio.