5 Years Without Mac Miller: Building a Crib On Top of the Promised Land
A half-decade has passed since the Pittsburgh MC left us. For much longer than that, his work has been a beacon of hope and survival for so many—including me.
Music
Features
Mac Miller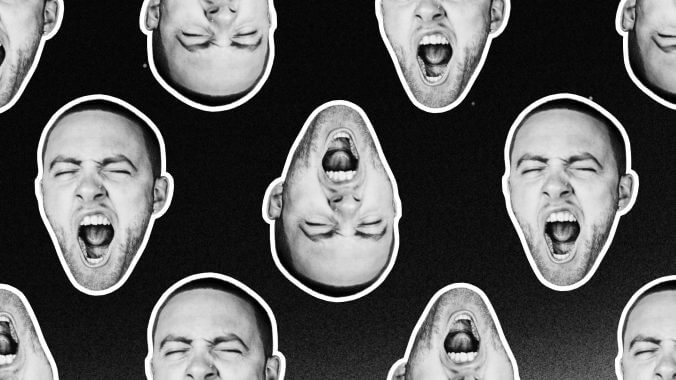 It is sometimes startling how we, as humans, score so much of our lives beneath the current of loss. Death is a funny thing in that regard, both for how we don't know what exists (or doesn't exist) beyond it and for how finite the certainty of it is regardless. You can't outrun it; sometimes it outpaces you. In a post-quarantine world, it's hard to not vault the weight and consequence of death into any conversation. This planet survived two years of body counts; millions watched loved ones die at the hand of a spreading sickness. Much of it was preventable—now we are incapable of considering a future that is not, somehow, living in the shadow of grief and mortality.
I remember where I was when I heard the news that Mac Miller had passed away. I was walking back to my dorm room from an afternoon seminar—it was barely a week into the fall semester of my junior year. An Apple News alert hit my phone: Mac Miller Dead at 26. I often think about how, when I was a senior in high school and Bowie and Prince died within months of one another, I grieved their passing like I'd known them. For days after, I didn't listen to anyone else's music but there's. My best friend even skipped a few days of classes because he loved Bowie so much that he couldn't bring himself to check in for homeroom. But they were definitive figures in my parents' upbringing and their music was passed down to me like a family heirloom. I could never claim their magic as something that was made with me in mind. With Mac, though, I grew up as he grew up; we came from the same part of the country; his loss signaled a piece of Millennial and Zoomer culture taken too soon. Even my partner and roommate—two people who never had much of any stake in Mac Miller's life or his music—felt like a familiar energy had been washed away into a strange, unmerciful ache.
I first discovered Mac's music sometime in 2010, when I was 12 years old and he made K.I.D.S.—and songs like "Nikes on My Feet" and "Senior Skip Day" were on constant rotation. His work was common ground among my peers. Through intervals of fearless bullying and cliques and opaque, rural intolerance, everyone could agree on one thing: Mac Miller's songbook was a gospel. I'm not sure what it was about him that resonated with so many of us; maybe it was because he hailed from Pittsburgh, which was a stone's throw across the Ohio border from our town. For me, I was a hip-hop novice—having only been exposed to the genre through Scary Movie 3, my dad's love for Tone Loc and a relentless obsession with the star-studded music video for the Beastie Boys' "Make Some Noise." Mac's work was accessible, though, at least from my vantage point. His flows weren't complicated, his beats weren't jagged enough to deter my straight-and-narrow, rock 'n' roll-loving parents from letting me listen to him. He had an affectation about him that sounded like the voices of the Rust Belt around us, a bravado that was terminally chill and affectionately kind.
When I got an iPhone for the first time, I was in eighth grade, overweight, in love with my neighbor and hopelessly addicted to Drake's catalog. Yet, when my mom gifted me an iTunes gift card, the first song I bought was "Frick Park Market," the lead single from Mac's debut album Blue Slide Park. I consider myself lucky that I grew up during a time when sitting at a computer desk and scouring the depths of YouTube was still cool—long before we all retreated to our bedrooms with touch-screen phones in hand. That's how I found Mac's work. A buddy of mine—who lived the next street down—biked over and we spent the day drinking Arizonas, drawing ourselves as BMX cyclists and watching lyric videos made on Windows Movie Maker. I remember him queuing up "Knock Knock" and having my whole world cracked open. The video has 29-million views; I'm certain a majority of those are from me and him.
Even now, 13 years after K.I.D.S. came out, I still can't put my finger on what it was about that Pennsylvania kid—who wore snapbacks and inspired every kid in a 1,000-mile radius to employ "most dope" into their vocabularies—that made him one of the biggest and most beloved rappers in the world. I found a magic in him that I couldn't look past, though. I remember when he put out the "Donald Trump" music video and everyone started wearing the same Jordan VI colorways he sported in it. "We gon' take over the world while these haters gettin' mad" became a battle cry my friends would lose their voice from shouting so loud at parties. In many ways, Mac Miller was a godsend for the smalltown kids who wore Nike elite socks and athletic shorts that hugged their shins. When Mac hit the scene, I don't think a flat-brim hat got curved for a decade.
At some point, I would lose touch with Mac's music—for no reason other than, as I got older and fell stupidly in love with rock 'n' roll, my own romances with hip-hop went by the wayside in favor of Nirvana and Bob Dylan and The Beatles. Watching Movies With the Sound Off came out in 2013 and, by then, I'd all but forgotten about the nights I spent hitting replay over and over on "Best Day Ever." Even now, in 2023, I think about what songs I once loved that were, inevitably, left behind as I grew further into myself—like Diamond Rio's "Beautiful Mess," the first song I remember being obsessed with and would play on repeat on my portable CD player. Like childhood toys and first crushes, there are fixtures of us that aren't meant to be in our DNA forever. We don't come out of our mothers with a propensity for jazz music; you get there through accumulating and then shedding pieces of yourself in the name of curiosity. At one point, Mac Miller appeared to be a part of that truth for me.
But then, at 17, when my best friend and I were cruising home from Burger King after school one afternoon, he shuffled haphazardly through his Spotify library and played a mess of tracks only halfway through—only to, eventually, land on this moody, subdued song that began with a raw, unpolished piano part. And then, out of nowhere, a familiar voice poured from the speaker: "Good evening everybody. How's everybody doing? Just wanna ask you a question: Have you, have you, have you been in love before?" I knew that boyish rasp anywhere. Who else could it have been but Mac? He'd sounded different, though—much more reserved and sophisticated, yet still a bit hectic and unpredictable. But a kid wearing snapback hats and Jordans wasn't making a song like "ROS." No, the version of Mac Miller who put out GOOD: AM was an older, wiser one. He was grappling with fame, addiction and how to be lovable. Gone were the plastic sunglasses and beanie caps and boasts about being filthy rich and partying until dawn. Here was a broken, complicated person making broken, complicated music.
When I was 12 years old, I had no concept of what five years in the future would really look like. I didn't imagine that anything I liked in 2010 would be in my orbit, let alone my music library, in 2015—nor did I even think that, for an instant, I would attempt suicide before graduating high school and seeing more of the world that existed beyond the confines of the five-mile-wide town I was born in. But that last part came before I found GOOD: AM, before lyrics like "Don't be afraid, these doors will close and people change. One day you'll go. Right now, you're here. Don't leave just yet, don't disappear" found me. They say music saves. I'm inclined to believe them. Now, at 25, I don't really buy into fate or soulmates or karma or anything, for that matter. But whatever it was—destiny or just pure, algorithmic luck—that made my friend play "ROS" that day, I am thankful for it. Before Mac made GOOD: AM, he was taking copious amounts of drugs daily. In the trenches of his own addiction, he made a mixtape called Faces in 2014 and believed that its closer "Grand Finale" would be his swan song on Earth. We'd have him with us for four more years, but those 1,400 days wouldn't come without an off-and-on drug dependency.
Even when I wasn't listening to Mac's music, he was there somehow—being cool and kind as hell. I think a lot about when he went on The Nightly Show in 2016 and railed against the demigod brain mush of Donald Trump—the guy he wrote his most successful song about. In a world where some rappers are landlords and some rappers are transphobic and some rappers chum it up with conservative zealots, Mac's humility was refreshing. Coming to terms with my own sexuality in the mid-2010s meant finally understanding the gravity of every rapper who would throw the F-slur around like the word's style had an expiration date. But Mac was always in our corner. When Frank Ocean came out in 2012, he was vocally supportive of his peer's courage. When Larry King asked Mac whether or not a gay rapper could survive in the current landscape of hip-hop, he responded with an emphatic "Yes!" There was no hesitation, and that succinctness in his comfortability and grandeur spoke volumes for a kid like me, who couldn't find the courage to come out to my friends back then—in fear that I wouldn't received the same kind of allyship.
By the time Mac Miller released Swimming in August 2018—a month before his passing—I'd fully embraced his work again. His previous album The Divine Feminine, an ode to all of the gifts and knowledge he'd picked up from the women in his life and how those experiences made him into a better man, was a religious experience. From his collaboration with Anderson .Paak on "Dang!" to performing with his then-girlfriend Ariana Grande on "My Favorite Part" to calling upon Kendrick Lamar for "God is Fair, Sexy Nasty," you got the impression that, at his core, Mac was comfortable in his own artistry at an atomic level—as if it was genetically embedded in his own personhood to make compassionate, pronounced music. He was experimenting with jazz more than ever while still channeling the energy of a city kid jumping on a fresh hotel mattress. But Swimming undid all of that innocent wonder; Mac was fully interrogating pain in every form it took deep in his soul.
Swimming is one of the best rap albums of this century—that much is true. It's also one of the most complex outings any MC has had in that same period of time. All at once, it's a destruction and a rebirth—culminating in the arresting ballast of "2009," a mooring, beautiful document of a guy closer to 30 than 18 and uninterested in ruining any more parts of himself. "Yeah, they ask me what I'm smilin' for," he spits, confidently. "Well, because I never been this high before. It's like I never felt alive before." How could any of us have known those lines would become Mac Miller's coda? Five days after "Swimming" dropped, he took to Bob Boilen's office to play a Tiny Desk Concert for NPR—where he performed "2009" with a gentle gesture of hope. He looked clean and happy and fully in love with the masterpiece he'd just given the world. Now, I get TikToks once a week of folks sharing Mac's Tiny Desk with their young children who, in their own way, connect with the music and the performance and the magic.
In the memory I've chosen to hold onto, I remember multiple people trekking across campus on September 7th, 2018 and stopping to read the same news alert I did—the communal pings of our notification bars all singing in unison of an insurmountable loss we'd still be feeling the reverberations of five years later. When Mac Miller passed, many of us assumed it was an overdose—a coroner's report would soon corroborate our inferences. In the years since, we know now that he was sold counterfeit oxycodone pills that were laced with fentanyl. It was the first death I'd experienced—beyond my own familial losses—where it felt like a piece of me had been ripped out. I never felt like I had a parasocial relationship with Mac, mainly because I'd spent more years estranged from his music than I had intimately intertwined with it. No, this grief wasn't from obsession—it was a human response to the maker of art that shaped my own power and autonomy no longer being around to continue guiding me back home into safety. I imagine I will feel this very same way again. I hope to God I don't, though.
When January 8th, 2020 came around, Mac's family announced the impending release of his final album, Circles. The record was nearly finished by the time he'd passed, as he had imagined it as a companion album to Swimming—a concept of "swimming in circles" or "two different styles complementing each other, completing a circle." Jon Brion, who'd produced Swimming, was slated to helm the oversight again on Circles—and he would be tasked with completing the record after Mac's passing. Rather than insert his own musical instinct into the rest of the arrangements, Brion took the conversations he'd had with Mac and distilled them into instrumentation that he believed the MC would have conjured up himself.
Of course, whenever a posthumous album arrives, it's hard to listen to it without the glint of its maker's passing casting a shadow of grief over it. That much is true with Circles. Lead single "Good News" is, despite its sun-soaked, guitar-driven melody, a bummer joint that mines for subtle optimism under the often-insurmountable weight of mental illness and human darkness. "Well, maybe I'll lay down for a little instead of always trying to figure everything out," Mac hums. "And all I do is say sorry. Half the time I don't even know what I'm saying it about." Even on the title track, there's a gloaming, deafening undercurrent of sorrow: "I cannot be changed, no, trust me, I've tried," he sings. "I just end up right at the start of the line, drawing circles."
With the release of Circles came the very last-minute reveal of a gathering in Pittsburgh on the night of the album's release. Without any details to go off of beyond an address, I gathered my partner and best friend at the time and we made the hour-and-a-half trek from campus to the City of Bridges. The event, titled Circles: Til Infinity, took place on, what would have been, Mac's 28th birthday. It was an immersive listening experience that spanned three cities: his hometown, Los Angeles and New York City. At the Listening Room, which looked like nothing more than a residential home, Circles played on loop; a minute down the street, an art gallery dedicated to Mac was holed up in a wellness and beauty space carved out of an auto-parts shop once called E-J's.
In the line at the exhibition, which stretched more than two blocks upwards towards the raised sea level of the Ohio River in negative wind chill, everyone imaginable was in attendance: emo kids, rapheads, skaters, Yinzers who wanted to pay their respects, out-of-towners full of intrigue on their way to Randyland. A community had been personified; a wide spectrum of listeners had come together to say goodbye to their favorite artist and Pittsburgh's favorite son. This is how I choose to remember Mac Miller—in the company of others who, at some point or another, heard one of his songs and, for the first time, remembered what it means to survive across the life we've been given. We were all shivering and huddled in on each other there, waiting for it to be our turn to look at photographs and sculptures and paintings of Mac and the world he built across six albums and a handful of mixtapes. The world had not yet known the mass exodus of loss. No it, against every damning fit of grief, kept moving—even though we were all sure it wouldn't.
---
Matt Mitchell reports as Paste's music editor from their home in Columbus, Ohio.