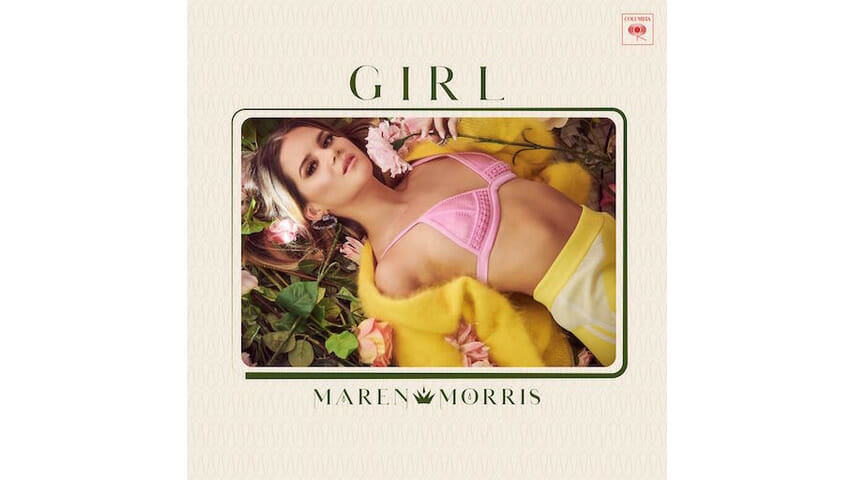 For as long as women have walked Music Row they've been told to sit down, shut up and sing—so long as it's nothin' too controversial. Taylor Swift didn't so much as utter a "Go vote" until she was safely riding the success of her sixth studio album, long after she'd fled Nashville and ascended to pop immunity. Back in 2013, country disc jockeys boycotted Kacey Musgraves' unofficial pride anthem "Follow Your Arrow" for lyrics about gay love and rolling joints, and women artists still fight hard for airplay on the 90% male country radio waves. And I needn't remind you of what happened to the Dixie Chicks.
Maren Morris just won't stand for any of that bullshit. On the delicious country-pop/rock smoothie that is "Flavors"—Morris' own personal "Follow Your Arrow"—the Texas-born singer/songwriter is loud and clear about what we can expect from her: "I speak my peace, don't do what I'm told / Shut up and sing, well hell no I won't." An outlaw in the making, Morris lays down that kind of hard-edged honesty all over her sophomore album, GIRL, a savvy, fiery portrait of an imperfect woman chasing attainable pop glory in a post-Golden Hour world.
GIRL appropriately opens with its uplifting title track, and the first line is enough to convince you of Morris' earnestness—and remove her from the narrative of her behemoth pop hit, the addictive Zedd collab "The Middle," if that's all you know her from. "Man this shit's unflatterin', all up in my head again," she sings, frankly. "I don't feel myself right now, maybe I should just lay down." "Girl" is the sonic equivalent of a shoulder to cry on, an empowering, chin-up anthem made for the masses—but don't do you dare wallow in it. The "girl" in the song could be anyone—a sister, mother, or friend—and Morris, who we know has been through "Hell and Back," is here to tell her it's all going to be okay in the end, if you just keep on wading through the crap. "Baby girl, don't you hang your head low / Don't you lose your halo."
But don't cast GIRL off as fodder for unsure teenage girls (not that there's anything wrong with that—who couldn't use a little confidence boost?). GIRL is also serious and sexy. On the the steamy "Make Out With Me," Morris brings her sexuality to the forefront, following a recent string of country songs (like Amanda Shires' "Parking Lot Pirouette" and Ashley Monroe's "Hands On You") that objectify men, for a change. And on "Common," her stunning duet with Brandi Carlile, Morris throws around some tough talking points rarely approached in country, admitting, "If I'm being honest, I don't know what God is." That's a startling statement from a resident of Nashville, where—believe it or not—disavowing Jesus can still get you kicked to the curb.
Crush-worthy "The Feels" has major song-of-the-summer potential, but "All My Favorite People" may have the most hit power of any song on GIRL. The gritty party anthem seems destined for country chart success—and it will probably achieve it, hopefully for reasons beyond Brothers Osborne's (admittedly likeable) cameo.
"All My Favorite People" is whiskey and denim and Eric Church-esque country-rock, but it stands apart from the rest thanks to that Maren Morris "flavor." "I don't know about them, but I know about us," she sings. "It is what it is and we love who we love." I'm a sucker for both a good pop song and a namedrop, so that song makes me grin when T.J. Osborne sings, "With a little bit of wine, John Prine and Camel Blues." But "A Song For Everything" is smile city as Morris flips through a phonebook's worth of the pop musicians who've soundtracked her life. "What's your time machine?" she asks. "Is it Springsteen or 'Teenage Dream?'" "A Song For Everything" is the rare reminiscence on the intersection of first love and music—for Morris, a time when "Coldplay still played clubs"—that's just the right amount of cheesy.
There's still miles of work to do in closing the country music gender gap—for starters, getting past the "women in country music" tropes—but the tides are changing. Musgraves, the same guitar-toting country queen who was shunned for singing "Kiss lots of girls if that's something you're into" in 2013, won Album of the Year at the 2019 Grammys, for her stunning, genre-busting Golden Hour—and she did it with little-to-no help from radio. GIRL probably won't drum up quite the same level of critical spectacle as Golden Hour, but Morris' endearing and earnest second album is country-pop polished for radio that still feels down-to-earth. And the best part—it's an antithesis to the frat-guy, country-rap tomfoolery dominating the charts. Maren Morris is a savvy artist who knows—without a doubt—who she is and is very clever when it comes to placing herself exactly where she wants to be. Don't act surprised when you see her at the 2020 Grammys.