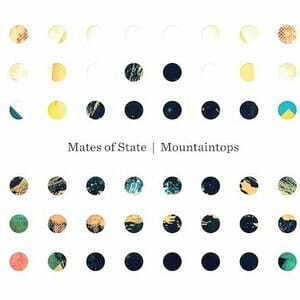 Kori Gardner and Jason Gammel, better known as Mates of State, have spent a good portion of their 14-year career recharging whatever super-strength black market battery powers the married couple's upbeat and complex synth pop. With an extensive catalog, the energetic pace of the duo's albums mirrors a sugar-laced Red Bull/espresso fusion without taking an obnoxious route—a pretty awesome accomplishment considering the sheer amount of cutesy husband/wife pop duos that sprout up on an almost daily basis. By harnessing their caffeine-like qualities for well over a decade, Mates of State has added to its diverse fan base with each new release. Case in point, my introduction to the duo involved high school, wine coolers and repeated listens to their cover of Bowie's "Starman." On Mountaintops, the band's seventh full-length LP, the pair delivers more of their polished pop while tastefully showcasing a handful of warped turns that partner lush synths with minor-key experiments.
Fans looking forward to the duo's burned-in-your-head choruses will find it pretty damn hard to resist repeating Mountaintops' opening track, "Palomino." After multiple rotations, Gardner's "woo"s and "woah"s replace all opportunities for otherwise white noise, relentlessly haunting listeners until they move on to the equally addicting "Total Serendipity" with its handclaps, horns and Motown feel. But even with its surplus of upbeat singles and '80s-reminiscent intros ("Sway"), Gardner and Gammel haven't neglected their ability to manipulate darker numbers into beautiful compliments on the largely positive Mountaintops. "At Least I Have You" toys with minor-keys and a well-placed guitar line to craft one of the record's more complex tracks.
Mates of State has pointed to a new set of keyboards and the pair's recent efforts to polish their home recording abilities as large influences on the follow-up to 2008's Re-Arrange Us. And, after years of working together, it's a relief that the duo has managed to resist becoming stale. On Mountaintops, the band flaunts the dynamics of their past recordings while sneaking in layers of growth.