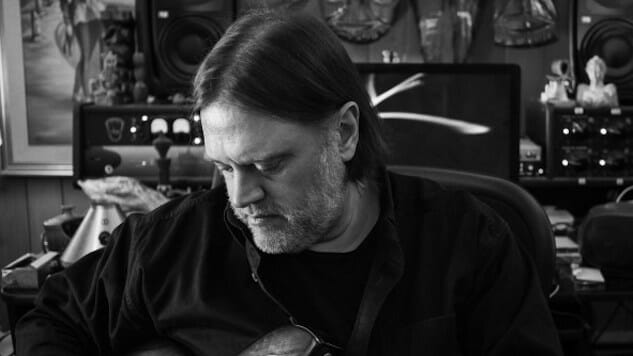 Singer-songwriter, producer and multi-instrumentalist Matthew Sweet has announced his new album Tomorrow's Daughter, out on May 18 via Sweet Honeycomb Hideout label through MRI/Sony.
Sweet's forthcoming record was "spurred on by a move to his native Nebraska and the death of both of his parents in short succession," per a press release. The album features his previously released single "I Belong To You," an enlivening, joyful pop/rock tune with hints of Neil Young's guitar playing and Big Star's harmonious pop vocals and strong melodic sensibilities.
In a complimentary review of Sweet's latest record, 2017's Tomorrow Forever, Paste's Craig Dorfman wrote of the artist's undeniable, lasting legacy:
Matthew Sweet's '90s run is nothing short of miraculous. In just eight years, Sweet churned out five albums—Girlfriend (1991), Altered Beast (1993), 100% Fun (1995), Blue Sky On Mars (1997), and In Reverse (1999)—of perfect pop songs. Those records established Sweet as a gifted scholar and writer, mining rock history to resolve endless contradictions: Hooks and melody dominated his songs in unabashed tribute to his idols, yet he developed an immediately distinctive style of his own. Though he wrote simple, singalong songs, he overlaid them with the frenzied guitar of New York art punks Richard Lloyd (Television) and former Voidoids Robert Quine and Ivan Julian. Above all, he made intelligent, substantive music that was also fun as all hell.
Speaking of his '90s records, Sweet will also release deluxe, double LP vinyl editions of Girlfriend, Altered Beast/Son Of Altered Beast and 100% Fun, each with extensive new liner notes, later this year, as well as a special Record Store Day Black Friday album.
Sweet says of the longevity of his career and what keeps him going, "When I meet young people and they ask for advice about a career in music, I always say, 'Do music because it's what you love to do, and because you'd do it no matter what happens. I've tried to keep that attitude about it, because that's always worked for me. I just try to keep doing my thing and keep believing."
Sweet will also embark on a tour in support of his forthcoming album, kicking off with a show in Atlanta on May 23 at Terminal West. Additional dates will be announced soon.
Listen to "I Belong To You" and watch Sweet's Paste Studio session from last year below. Check out his upcoming tour dates further down. You can preorder Tomorrow's Daughter here.
Matthew Sweet Tour Dates:
May
23 – Atlanta, Ga. @ Terminal West
24 – Chattanooga, Tenn. @ JJ's Bohemia
25 – Charlotte, N.C. @ Visulite The@re
26 – Winston-Salem, N.C. @ Gears & Guitars Fest
June
13 – Alexandria, Va. @ Birchmere
14 – Annapolis, Md. @ Ram's Head
15 – Fairfield, Conn. @ FTC Stage 1
16 – Bay Shore, N.Y. @ YMCA Boulton Center
17 – Boston, Mass. @ Brighton Music Hall
19 – Dewey Beach, Del. @ Bottle & Cork
20 – New York City, N.Y. @ Le Poisson Rouge
21 – Philadelphia, Pa. @ World Cafe Live
22 – Cleveland, Ohio @ Beachland Ballroom
23 – Ann Arbor, Mich. @ The Ark
24 – Indianapolis, Ind. @ Hi-Fi
27 – Des Moines, Iowa @ Wooly's
28 – Milwaukee, Wis. @ Summerfest
29 – Minneapolis, Minn. @ Turf Club
30 – Lincoln, Neb. @ the Bourbon The@er
July
10 – Kansas City, Mo. @ Knuckleheads
11 – Bloomington, Ill. @ Castle The@re
12 – Evanston, Ill. @ SPACE
13 – Chicago, Ill. @ Square Roots Festival
14 – St. Louis, Mo. @ Delmar Hall
15 – Nashville, Tenn. @ City Winery