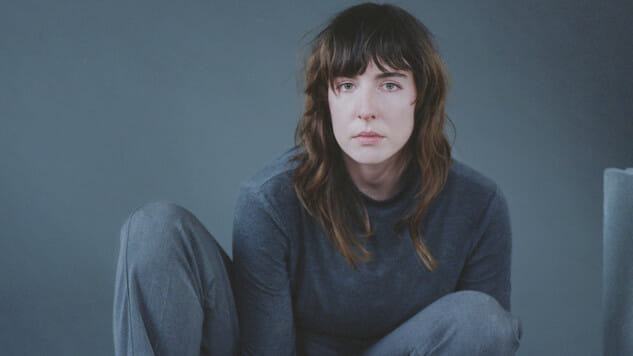 Kristine Leschper is, first and foremost, a maker. She writes poems and lyrics, creates visual art and produces albums, but what she's really doing is making stuff. And it's the art of making something—and the feelings tied to that experience—that inspired her latest work, Render Another Ugly Method, the sophomore LP from Leschper's band Mothers, which is out now.
"I dabble in a lot of different things," she said. "I dabble in music and I dabble in writing poetry and writing prose and visual art. I kind of am scattered between these different outlets and just trying to do my best at each of them when time allows."
On Leschper's timeline of dabblings, poetry came first, followed by visual art and then music. Growing up, she cherished her sister's collection of books by poets like Sylvia Plath and Anne Sexton, whose confessional works no doubt influenced Leschper's own introspective writing. When she moved to Athens, Ga., to attend art school at the University of Georgia, she was plopped into the college town's storied, vibrant community, one that values collaboration and the casual, everyday celebration of music. She started listening to music by bands in Athens' famous Elephant Six Collective, and easily found venues in which to play her first shows. "I found that Athens was, or is, such a casual place for music in this way that makes it really accessible," she says. "It was like more common that you would meet someone who plays music than you would meet someone who doesn't."
It was there where she formed the now Philadelphia-based band Mothers, who've taken a decidedly punk-forward step on their second full-length effort, the follow-up to 2016's critically heralded When You Walk A Long Distance You Are Tired. A record of intense, intentional ponderings and focused post-punk, Render Another Ugly Method isn't just another art project.
"I often write about writing itself, or about the act of making, the process of creating something, because that's something I'm just thinking about a lot and what it means," Leschper said. "So the title of the record, Render Another Ugly Method, it means to create work in this ugly way that sort of seeks validation and seeks validation through itself. Ultimately, it's a criticism of my own practices at times, my own work sometimes seeking validation."
Any maker is familiar with this sensation: the balancing act of creating a work without expectations for positive feedback. The resolution to that concern isn't readily available within Render Another Ugly Method's musings, but, for Leschper, it's more about raising a question, which she does with explicit, well-executed intent.
"I think that's what's fun about making work, is for the listener or the reader to have some kind of active role in understanding it or dissecting it," Leschper says. "I think that's [what's] really fun for me about reading poetry or listening to records. So I wanted to kind of create these layers folks could either spend time dissecting or not. It's up to the listener entirely."
One song's title, "BAPTIST TRAUMA," might remind you of especially horrifying experiences in Sunday School, but it's actually the product of a writing experiment. That's not to say there's no room to reap meaning, but the song's assembly was a happenstance, the result of what Leschper calls "music by mapping," (not to be confused with music mapping, a.k.a the visual representation of sonic qualities). That song also contains the album's title: "Batch all perfect thorns/ Into something thrilling," Leschper sings. "Render another ugly method/ Into something thrilling."
"Ultimately the title 'BAPTIST TRAUMA' is an acronym that I created, and then I wrote the lyrics of the song around it," Leschper says. "So if you stack all of the words just in a row, straight down the page, the first letter of each word will spell out 'Baptist Trauma' a couple of times. And so it was really just this thing I was trying to do. I was trying to create a song out of pure process."
Those layers Leschper mentions are there for the peeling, but they're not crucial to enjoying Render Another Ugly Method. It's an album chock full of wordy treasures and symbolic nuggets, but Render's sonic measures are enough to grab any listener's attention. On "PINK," one of the album's singles, Mothers match a series of methodical, beeping riffs to increasingly chaotic drums and fuzz. The result sounds nothing like the color for which it's named—dark blues and deep grays seem more fitting of this song's thunderstorm. John Congleton, the man behind records like Angel Olsen's Burn Your Fire For No Witness and St. Vincent's self-titled album from 2014, produced Render, and he helped the band achieve their enjoyable genre-fluid sound.
"I saw that he was a person and a producer who is very adaptable and interested in lots of different sonic palates, so that felt particularly valuable to me because as the songs were coming together for this record, they felt difficult to classify as far as what kind of music they were," Leschper says.
As Leschper was writing the record, she expanded her own listening. She dug into krautrock and listened to albums by The Fall and Chris Weisman, resulting in some of Render's more spiky sounds. While the album leans in certain sonic directions, Leschper says she values content over classification, no matter what kind of art she's making.
"I hope to keep things interesting and to kind of be changing all the time, because I'm changing all the time, and art for me is about discovery and trying to better understand myself," she says. "I feel interested in trying to not be classified, or un-classfiable."