This Is Why Is a Highlight Reel for Paramore's Many Eras
On their first album in nearly six years, the Tennessee trio traverses pop-punk, New Wave, and various other stylings with cohesion and flair
Music
Reviews
Paramore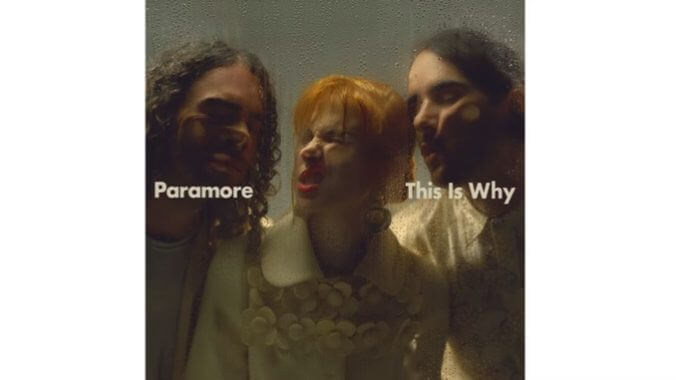 Paramore is one of the few bands of their era that has withstood the test of time. Many of their fellow Warped Tour-adjacent compatriots dealt out heavy doses of misogyny, a defect that frontwoman Hayley Williams herself has acknowledged and expunged from the band's music. Even within their own camp, they endured a homophobic guitarist and antagonistic bassist, the latter of whom departed the band twice and was inexplicably removed from the band's 2013 album artwork last year. This Is Why, the group's sixth album, is the first in their catalog to feature the same lineup as its predecessor. Paramore has been through a veritable shitstorm, and they've emerged with a stronger resolve, steeling against whatever life throws at them with a hardened exterior.
"After 15 to 20 years of fighting like a bunch of brats in front of the world, you eventually learn some coping skills and communication methods," Williams told The Guardian last fall. Now, the pop-punk powerhouse comprises three people: Williams, guitarist Taylor York, and drummer Zac Farro. Despite Paramore's shifting lineups and disparate stylings across their discography, their influence on music writ large is palpable: from the hooky panache of Meet Me @ the Altar to the earnest songwriting of Olivia Rodrigo; from the iconoclastic pop of Billie Eilish to the plaintive belt-a-longs of Julien Baker. The Tennesseeans' blueprint reigns supreme, so much so that Williams and ex-guitarist Josh Farro got a writing credit on Rodrigo's "good 4 u." There's no doubt that Paramore's appeal reaches far and wide; they're playing basketball arenas now, after all. It's that cultural ubiquity that's yielded them stages this big, yet it's also due to their multifarious approach to art. This Is Why captures that interdisciplinary spirit with cohesion and flair.
The title track kicks things off on a stunning note, playing like a blend of Williams's 2020 solo album Petals for Armor and the groovy rhythms of 2017's After Laughter, minus that album's neon sheen. "The News" harnesses the punchy verve that makes for some of the best brand new eyes cuts, albeit Carlos de la Garza's production feels abnormally thin, diluting what could've been acerbic and menacing. But that misstep is compensated for immediately after: "Running out of Time," like the title track, strikes a balance between atmospheric textures and syncopated buoyancy that is, simply put, really fucking fun. This Is Why, as its first three tracks show, accomplishes a feat that connects the band's diverging sonic pathways without succumbing to whiplash. It encapsulates Paramore's voyages into piercing pop-punk, glossy New Wave, heartfelt ballads and anthemic paeans.
Some of the record's best moments encompass an amalgamation of these eras. "C'est Comme Ca" could've been an After Laughter single had that record contained more of a pronounced grittiness and Strokes-esque guitar tones. Hearing Williams try her hand at spoken-word verses is a total delight, too. But the song's most affecting moment comes toward its sung bridge, with Williams' soprano gradually unfolding into a shout: "I hate to admit getting better is boring/But the high cost of chaos, who can afford it?" On the penultimate track, "Crave," York's guitar work summons the twinkling emo of their Twilight songs like "Decode" and "I Caught Myself" while Williams's voice soars above the chorus, howling the song's title and longing for simplicity. She keeps up the momentum on the closer, "Thick Skull," evincing her wide vocal range, shifting from a subdued lower register in the verses until she unfurls into her signature emo burst in the final chorus à la fan favorite "All I Wanted." This concluding one-two punch marks the strongest run on the album.
However, This Is Why sags ever so slightly in the middle, namely due to the mawkish whims of its centerpiece, "Big Man, Little Dignity." Though thematically potent and containing one of the record's best lines ("You keep your head high / Smooth operator in a shit-stained suit"), its lukewarm instrumentation, evoking alt-radio fodder like Young the Giant and Walk the Moon, hinders its potential. There's also the fact that Paramore makes little use of one of its greatest assets as a band: pure intensity. Occasionally, the trio reins themselves in for arrangements that signal hushed tastefulness, whereas catchy catharsis is what this band is known for.
Still, it's not like they haven't shown they can write compelling softer material, as songs like "Misguided Ghosts" and "26" demonstrate. Yet this album's muted breaks leave little impact compared to the immediacy that's been a major draw for revisiting Paramore's work. Albums like After Laughter and brand new eyes were also punctuated with infectious adrenaline rushes, which Paramore does like no one else; This Is Why has fewer instances of drastic sonic contrast, lending it coherence and mild inertia all the same. But the album revives itself with "You First," an instant highlight that merges indie-rock and pop-punk in equal measure. "Turns out I'm living in a horror film where / I'm both the killer and the final girl," Williams sings over Farro's pummeling percussion and York's discordant, post-punk guitar.
Throughout each of its 10 tracks, Williams navigates fatalism and a world where war, disease and climate change run amok. Whether she's hiding from the public eye on "This Is Why," lamenting the pervasiveness of a 24-hour news cycle on "The News," or roasting chauvinists on "Big Man, Little Dignity," Williams once again proves herself a formidable writer, and York and Farro are there to lend their craftsmanship to yet another captivating record. After the seemingly endless volatility this band has weathered, it's a miracle that they exist, still making incredible music. Here, they sound self-assured and steady, like a group that understands what they have and makes the most of it. On This Is Why, Paramore have found land after a years-long trip at sea, grounding their ship and claiming all the accolades they've accrued in their time away. They deserve them all.
---
Grant Sharples is a writer based in Kansas City. He has contributed to MTV News, Pitchfork, Stereogum, The Ringer, SPIN and others. Follow him on Twitter @grantsharpies.