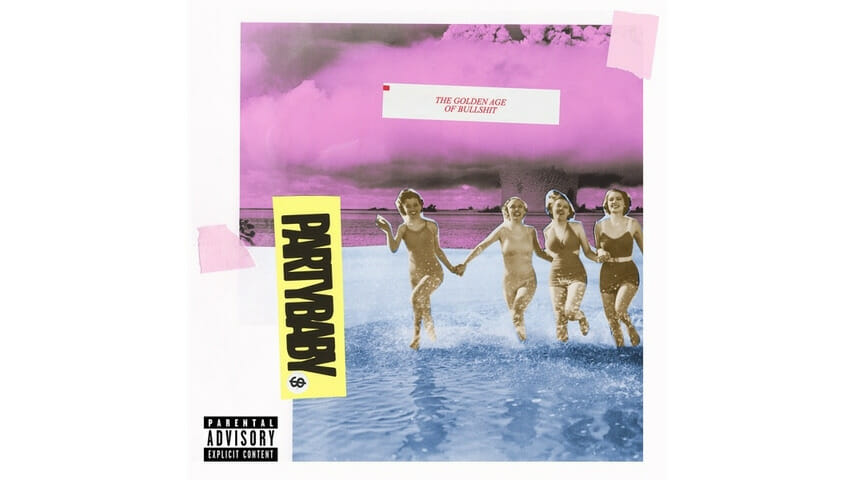 For anyone who has heard the few singles released on Spotify by Partybaby in the last year, it might be easy to dismiss them as just another pop punk band that makes fun/loud music—and while they are partially that, after hearing their new full EP, out September 2, it's apparent that they are so much more.
"Everything's Alright" starts off with scream-type lyrics that may put off some listeners at first listen, but if you hang around, you'll soon hear those '90s-reminiscent melodic notes that guitarist Noah Gersh so carefully weaves throughout each song, making it more than worth sticking around for.
In "Your Old Man," we're able to hear more ska-inspired guitar chords on the verses, pushing us head-first into a joyous chorus with the simple hook of Jamie Reed's sing-along vocals, "Do you ever talk to your old man? Does he understand, what we do, on the weekend?" This tune is so easy to join in with, it could quite possibly be the next great party anthem or title track of the next great cult-classic film. It also lends evidence that Jamie's voice actually may have been hatched in a lab, sounding like a more raw version of Billy Corgan.
What's clear is this: the three previous singles out on Spotify don't seem to do the band justice in terms of showing off their range, but now with their first EP release The Golden Age of Bullshit out today, we'll be given eight full tracks of beautiful '90s alt rock inspired tunes that sound like Green Day and Weezer made love to Mellon Collie and The Infinite Sadness and ended up having a very eccentric, fashionable, punk rock child.
Perhaps the major standout of the EP is "California," in which Reed sings atop more delicious helpings of Gersh's melodic signature guitar notes, "All I have are these California Dreams." "California" mixes just the right amount of romantic summer nostalgia with a dash of real-life boulevard-of-broken-dreams-type-shit, and mashes it up in a way that will engrain itself into your brain.
The closing track, entitled "Overload" will bring your respect for Partybaby's musicianship to a whole other level, as this track serves as this EP-slash-mini-rock-opera's finale, in which we hear a glorious amalgamation of the entire EP in five minutes. Jamie Reed's perfectly defeated sounding vocal adds to the track's vulnerability, singing, "It's the overload of information that's got me so low" which likely many listeners can relate to in this day and age.
With added orchestral waves that give it that hint of Smashing Pumpkins we've all been missing since 1996, the melodic layers overlap and weave into an epic anthem reprisal that lands us amidst an unforgettable sing-a-long that leaves no mistake as to which "part" the fans will sing along with at full volume. It also reminds us that Partybaby aren't just a bar-chord-playing bunch of punks—they are undoubtedly and unabashedly, the real deal.