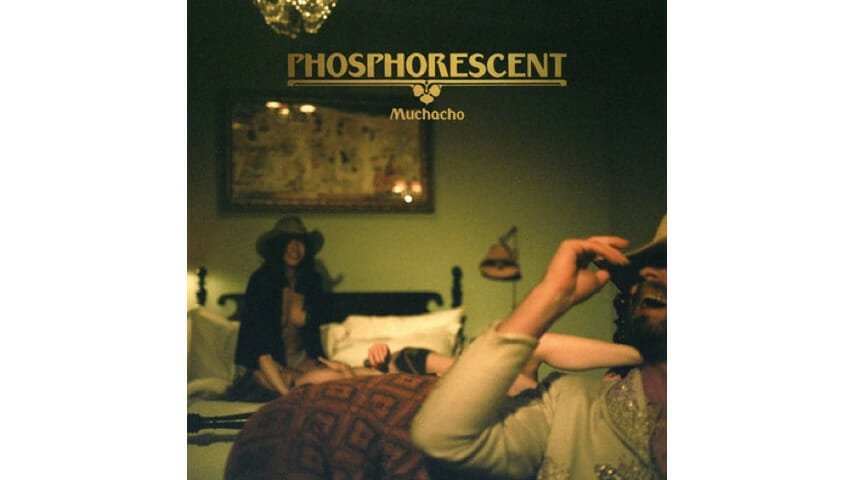 Sitting down to listen to the latest from Phosphorescent, I armed myself with a blank notepad and a stack of CDs: Richard Buckner and Bonnie Prince Billy, American Music Club's California and some early Chris Whitley. By the last reverberations of Muchacho's closing hymn, my scribbled notes were buried beneath books by Malcolm Lowry and Barry Hannah and I'd pulled an entirely different pile of discs off the shelf: Blood On The Tracks, Joshua Tree, Grievous Angel and Robbie Robertson.
Yeah—Muchacho aims that big.
Like the lacerating kiss-offs in Blood On The Tracks, Muchacho's lyrics map continents of separation and wandering to represent the distance between ex-lovers. Like the panoramic scope of Joshua Tree, the album's sonic textures capture wonder and immensity while keeping both bootheels on the ground. Like the benders and busts of Grievous Angel, Muchacho pursues both sin and absolution and offers apology for neither. And like Robbie Robertson in his solo debut, Matthew Houck—Phosphorescent's sole proprietor—adapts contemporary tools and technology to blend troubadour folk, Nashville country and Southern rock into a sound that's fully his own.
Legend has it that Houck honed the material for Muchacho after a "domestic crisis" forced the Alabama-native to flee New York and seek refuge on the coast of Mexico. Authenticity gadflies may hover over the messes where Houck's personal autobiography appears to intersect with the songwriting, but more crucially, relative to Phosphorescent's body of work, Muchacho returns to the desolate peak of his previous album and the site of his most arresting lyrical utterance: "God damn it Amanda, oh, God damn it all."
The pained dismay of Houck's phrasing in "The Mermaid Parade" contained an entire backstory of a live-wire love gone horribly south, the emotional consequences so unfathomable the singer can barely articulate the line's final syllable.
Muchacho recapitulates that moment of love's collapse and catapults out into the companionable lonesome that waits. The contours of the physical and emotional landscape are set by the monumental "Song For Zula"—windswept by the arid atmospherics of solo Daniel Lanois and solidifying around adamantine strings, the track cycles the storm-gathering grandeur of "With Or Without You" through the defiant heart of Dixie. Stepping into the rhetorical ring with no less formidable a pair than Mister and Missus Cash, Houck works with elements of sand and soil and gold and steam to cast love in some comprehensible form of relief. And damn if he doesn't succeed—not simply by arranging loaded words in lyric order, but through the spectacular command of his cracked tenor. Once a fragile and ragged acquired-taste, Houck's voice has shaped into an emphatic and tractile instrument; in "Song For Zula" he sings "I will not open myself up this way again" with a slightly bewildered wince of pain and then—six lines later—repeats the phrase with the subtlest shift in inflection as the revelation has already scarred into resignation.
His heart ricocheting between his mouth and his groin, Houck clenches and moans like one of the raging passionate love-wrecked characters of fellow motorcycle-riding, Southern incorrigible Barry Hannah: men so knotted and charged with ardor they blurt sweet nothings like "I want to rip her arm off. I want to sleep in her uterus with my foot hanging out." At the close of its six minutes, "Song For Zula" narrows on the primal moment where love becomes something so internally nuclear the only outlet is violent expression:
"Oh and all you folks, you come to see
You just stand there in the glass looking at me
But my heart is wild. And my bones are steam
And I could kill you with my bare hands if I was free."
Ornery, insubordinate and proud, Houck isn't the type to lock the front door and wallow in conventional heartbreak. Uncaged, "Ride On/ Right On" throttles into the city at night on Manzarek keys, loose tambourine and crank-oil licks, hopping the curb to slap palms with compañeros and offer a backseat ride to a rebound girl. "A Charm/ A Blade" catalogues the fallout of cohabitation—left with nowhere to call home and finding release in roadhouse piano and white lightning yelps.
Inevitably, there are hangovers and regret. "I've been fucked up/ And I've been a fool," Houck gently concedes on "Muchacho's Tune," promising repentance and a fresh start via Biblical allusions and a sincere steel guitar, though emptiness and temptation linger in barren Zócalo horns and a saloon upright tinkering out one of those melodies that falls somewhere between closing time and the next happy hour. All Houck's howling at the moon hits bottom in the majestic despair of "A New Anhedonia," the joy so completely sapped from hedonistic pursuits that even the safe haven of music sounds "boring" and "foreign." Singing over stately piano and wordless harmonies, brought to bended-knee by too many nights out rambling, Houck offers himself up for some sort of cleansing:
"Out of my shoes I stepped clear of the trees?
Out on the dunes among the towering reeds?
Out in the blue we both bowed in the breeze"
In Malcolm Lowry's Under The Volcano, an ex-pat dipso maroons and marinates himself in Mexico, a personal hell where all pleasure and feeling are lost amid the haunting refrain "no se puede vivir sin amar."* Forsaken down south, Houck turns the act of loveless coupling into a wrestling with ravenous demons—and where Phosphorescent's previous album (Here's To Taking It Easy) struggled to maintain the gravity of "The Mermaid Parade," in Muchacho Houck achieves the near impossible by upstaging "Song For Zula" with the scorching pulpit testimonial "The Quotidian Beasts." Holy shit. Crescendo after crescendo of outlaw fiddle, volcanic guitar and cross-handed Jerry Lee piano fills, everything but live snakes and kerosene as the track erupts with the brimstone fury of Jason Molina's "Farewell Transmission," no lurching Crazy Horse but a Goddamned Whipping Post Gethsemane, dark magic and lighting and nails in the spine while whooping and testifying to battles done and battles lost and battles won purely by virtue of staggering up to chance another blow.
Powerfully, the evolution of the songcraft on Muchacho doesn't arrive as a random left turn but instead progresses directly out of Phosphorescent's own canon. The idiosyncratic clatter and high lonesome of Pride meet the reverent and tuneful C&W of To Willie and Here's To Taking It Easy in a seamless amalgamation, and though a lone individual comprises Phosphorescent, upwards of 20 musicians contributed to Muchacho's capacious sound. Rogue fiddle, saused horns, lap steel, Big Pink piano—at this point it's impossible to assign credit where credit's due, but there's no denying Houck's talent as a studio mastermind, blending the efforts of his cohorts and players to alchemical effect. During the world-weary, self-aware ballad "Down To Go" an ex-lover needles Houck with the contention "Oh, you'll spin this heartache into gold." She seriously underestimates the man.
Unlike Dylan's Blood On The Tracks—which begins "Early one morning the sun was shining…" and ends with "Buckets of Rain"—Muchacho opens and closes in waking light. The sparkling electronics of "Sun, Arise! (An Invocation, An Introduction)" capture the lung-filling beauty and Oceanic sense of dawn rays glimmering off a deep blue enormity, with Houck singing "Sun a-rising. Ease. Easy oh. Dark as I been. Ease. Easy oh." In another nuanced shift in modulation, Houck bookends Muchacho with "Sun's Arising (A Koan, An Exit)" where he repeats those same hopeful words, only changing the tone to suggest he isn't waking to the sun but watching it rise after a dark night of excess. "Sun a-rising. Ease. Easy oh. As dark as I been, well. Ease. Easy oh." This return is offered without self-importance or self-pity: whether waking refreshed or dragging in sore-boned and beat, both ways of coming to a new day are inspiring and essential and human.
*One cannot live without loving.