Josh Homme Apologizes After Kicking Photographer in the Face at Christmas Show
The Queens of the Stone frontman said he was "lost in performance."
Photo: Getty Images
Music
News
Queens of the Stone Age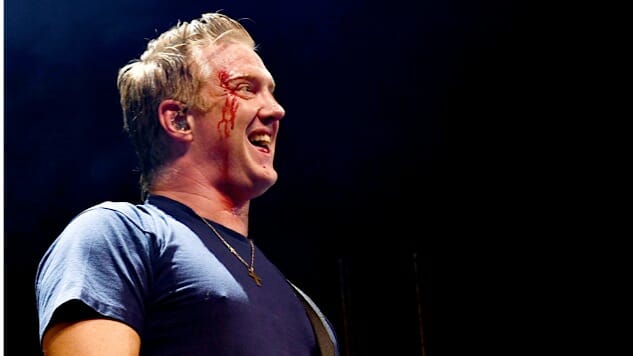 Queens of the Stone Age were among the performers at the KROQ Almost Acoustic Christmas show Saturday night in Los Angeles, and at least one person in the crowd had a decidedly unpleasant time.
Chelsea Lauren, a professional photographer who was up front during QOTSA's set, was busy doing her job when Homme wandered over during the performance and casually kicked her right in the face—or rather, kicked her camera, which smacked her in the face. As Lauren described it later, "I was where I was allowed to be, I was not breaking any rules." The kick sent her to the hospital with a sore neck, a bruised eyebrow and some nausea.
You can watch the incident here:
Homme was reportedly acting erratic in general during the show, at one point cutting his own forehead with a knife and bleeding all over himself. After Lauren went public with her account, Homme offered an apology, saying he was "lost in performance," and that he "would never intentionally cause harm to anyone working at or attending one of our shows."
— QOTSA (@qotsa) December 10, 2017
Lauren told Variety that she was considering filing a police report because "I feel like if I don't do anything, he gets to kick people in the face and not get in trouble because he's a musician."