Renata Zeiguer: The Best of What's Next
After years of playing supporting roles for other artists, the New York singer-songrwriter is stepping out with one of 2018's most promising albums.
Photo: Chris Weiss
Music
Features
Renata Zeiguer
Brooklyn singer Renata Zeiguer is not much for self-congratulation, even though she would be entitled to brag for days about having recorded Old Ghost, a quiet stunner of an album—full of catchy, well-constructed indie-pop songs that are more complex than they seem. Then again, when you're as intuitive a songwriter and musician as Zeiguer is, there's no need to talk yourself up.
"She's not looking for attention, she's just quietly doing amazing stuff in the background," says her friend Juan Pieczanski of the band Small Black, who has known Zeiguer for the better part of a decade. "You almost have to seek it from her."
Zeiguer's songs "embody a time in my life when I was becoming truly self-aware and sorting things out and saying, 'I want to do something about it.' It's not fun to be a sulking child inside."
Zeiguer is certainly sought-after. Old Ghost is her first full-length release, following a 2013 EP, a handful of singles and a lot of contributions to other people's records. She has sung and played violin or keyboards on albums by artists including Ava Luna, Landlady, Quilt, Mr Twin Sister and ex-Beach Fossils member Christopher Burke. Though Zeiguer (rhymes with "tiger") has been playing piano and violin since she was 6, songwriting is a more recent pursuit that began when she was assigned to write and record a tune for a class assignment at New York University. She's been writing ever since.
"I guess I had some stories to tell," Zeiguer says.
The stories on Old Ghost, which comes out Friday via Northern Spy Records, are in many ways autobiographical. Zeiguer, 29, wrote the nine tunes over a two-year stretch as she worked to shed lingering adolescent angst, deal with social anxiety and find ways to express the anger she feels as a woman becoming more conscious of the sexism and hypocrisy all around her. "They all embody a time in my life when I was becoming truly self-aware and sorting things out and saying, 'I want to do something about it,'" she says. "It's not fun to be a sulking child inside."
Though Zeiguer calls Old Ghost a coming-of-age album, her songs sound like the work of an old soul. She has a voice well-suited to classic pop forms, and she sings in bright, understated tones. She surrounds her vocals with airy synths and bursts of guitar on the torchy "Follow Me Down" and winds through subtly distinct sections on "After All," building tension and then releasing it with minor-to-major key changes. She sings with precise, melodic restraint while grainy guitar surges around her voice on "Bug," a song she says was inspired by Franz Kafka's novella The Metamorphosis, in which the protagonist awakens one day to find he has become a giant insect.
"It's an absurd story, but there's still this very factualness to it," Zeiguer says. "That song was me reassuring myself that things aren't as dark and twisted and distorted as they seem, and accepting that there's cycles to everything."
The daughter of immigrants from Argentina and the Philippines, Zeiguer grew up in the Riverdale section of the Bronx, and spent time as a kid visiting her father's family in Buenos Aires. "It was the only place I knew to go on vacation for a while," she says. "Being there is a very different pace of life and culture, speaking Spanish and hearing the classic Argentine tango and bossa nova and folk music."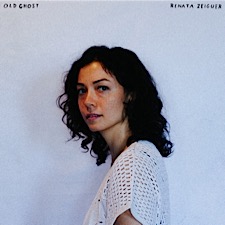 She mixed those sounds with her classical training, and the Beatles, Weezer and Radiohead tunes she listened to in her spare time. After high school, Zeiguer enrolled in the music business program at NYU, where she also played in her first band and became friends with other musicians, including Adam Schatz of Landlady. Zeiguer was part of the original Landlady lineup, and Schatz produced her 2013 EP Horizons and co-produced Old Ghost with Zeiguer. "It's a really intriguing blend of riskiness and vulnerability at the same time," says Schatz, who met Zeiguer in a music theory class. "I'm always on the lookout for songs and sounds that feel really personal from a compositional point of view, not just in terms of what's being said, but the music. And I really feel that way with this album. It just sounds so much like her. And it's kind of a reveal: Here's who I am as an artist, here's what it sounds like when I'm leading a band, here's all the places my voice can go."
That combination proved irresistible to Adam Downey, co-founder of the Brooklyn label Northern Spy, who was smitten from the first song on the rough copy of the album that Schatz sent him. "The hook, it was like, 'Oh, my God,' it just felt big and was something that stuck in my head," Downey says of the tune, "Wayside." His colleagues at the label agreed, and Northern Spy soon signed Zeiguer. "It happened to be exactly what we were looking for, which was an amazing singer-songwriter making accessible music that was still interesting and complex," he says.
Landing a record deal, and preparing for gigs in the U.S. and Europe, is a pretty solid outcome for a musician who, as much as anything, wrote these songs as therapeutic messages to herself. "They were self-reassuring," Zeiguer says. "There's always a positiveness to the negativity. You confront both the negative and the positive, and choose to do the positive route, but not in a naive way."