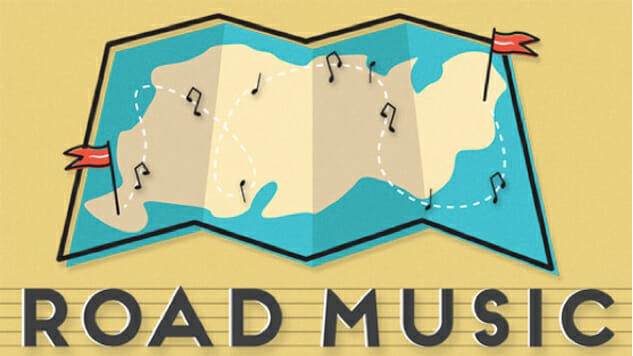 For this series, we'll be following Paste's own Curmudgeon, Geoffrey Himes, as he sets out on a massive road trip across the South, exploring musical landmarks, traditions and history along the way. Twelfth stop: Nashville, TN
On this trip, I've visited five Southern cities—Austin, Houston, New Orleans, Memphis and Nashville—with rich musical histories and lively contemporary scenes. But what separates Nashville from those other four towns is an actual music industry that can turn that art into money. The Tennessee capital has so many record companies, recording studios, TV studios, publishing firms, booking agencies, management companies and radio promoters concentrated in one small area that it's just easier to find work and make deals.
It's true, sometimes that emphasis on making money supplants artistic aims with embarrassing results, but more often, the availability of paying work allows musicians and songwriters to support themselves with day jobs that involve music while working on their own art at night. There's a reason that Texans such as Guy Clark, Rodney Crowell and Steve Earle moved to Nashville. There's a reason that rockers such as Dan Auerbach and Jack White did so, too.
One example of Nashville's ability to foster a music industry is Music City Roots, a long-running radio show that might have bit the dust in a less commercially savvy town. Last Wednesday I attended the show at the Factory in Franklin, an outer suburb a half hour south of Nashville. The Factory is a sprawling campus on the National Register of Historic Places. The low-slung brick buildings housed manufacturing from 1929-1996, when they were renovated for shops, offices and a large theater where the show takes place. Inside the theater, Puckett's Grocery & Restaurant serves Southern cooking.
As he does every week, Jim Lauderdale kicked off the show with one of his own songs. This time it was "If I Were You," a song as solidly constructed as his hits for George Strait and as winningly twangy as his work with Ralph Stanley and Buddy Miller. Wearing a black cowboy suit with his salt-and-pepper hair swept back like a 19th-century Southern senator's, Lauderdale was just as entertaining when he put down his guitar and began cracking corny jokes with the easygoing charm he brings to hosting the Americana Music Awards at the Ryman Auditorium each fall.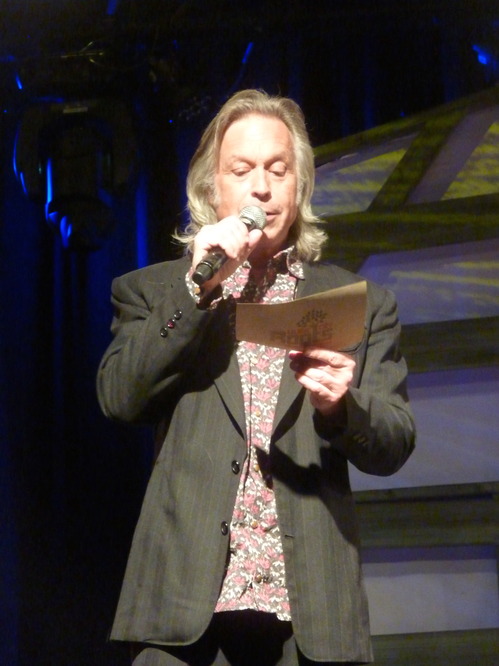 Jim Lauderdale (photo by Geoffrey Himes)
The first two acts—The Silences, a young indie-rock band from Ireland, and Fox & Bones, an Oregon folk duo—were underwhelming due to their weak material. But the evening's third act, Beth Bombara from St. Louis, was quite impressive. The singer-songwriter led a folk-rock quintet that leant a propulsive thump to her catchy choruses about crumbling love on "I Tried (Too Late)" and "When I Woke."
She also delivered the convincing romantic ballad, "Sweet Time," dedicated to her co-writer, bassist and boyfriend Kit Hamon, and a brooding version of Bob Dylan's "Blind Willie McTell." Although Bomara seemed a bit nervous to be singing to a quietly listening audience, these songs from her new album, Map & No Direction deserve the attention.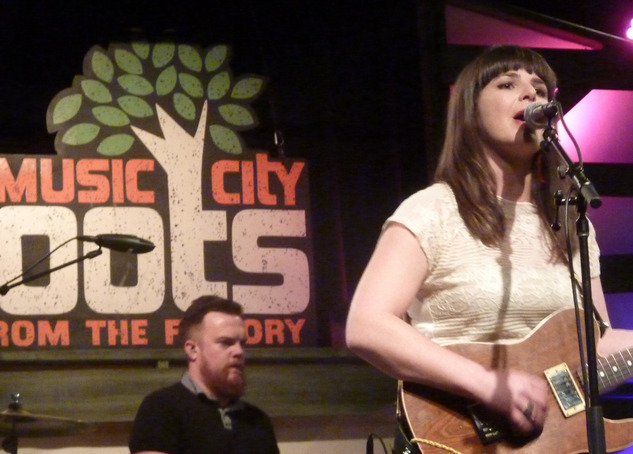 Beth Bombara (photo by Geoffrey Himes)
Many cities have tried to replicate radio-based musical variety shows like The Grand Ole Opry and Prairie Home Companion for other genres or newer times, but most of them go off the air fairly quickly. Music City Roots has thrived because it was planted in the deal-making soil of Nashville.
Craig Havighurst, the former pop-music critic for Nashville's daily newspaper, The Tennessean, co-founded Music City Roots with with businessmen Todd Mayo and John Walker in 2009, and the show is still broadcasting weekly over the radio and digital airwaves, seven-and-a-half years later. Music City Roots has survived the usual ups and downs of a start-up because Havighurst has a knack for making connections in a town where networking is everything.
He recruited Lauderdale as musical host and Keith Bilbrey as emcee. Bilbrey, the
former Grand Ole Opry announcer and WSM DJ, brings an old-school radio voice to the proceedings and a willingness to let his banter with Lauderdale climb out to the very end of the limb. Havighurst conducts the short, on-stage interviews. And the whole thing is broadcast by the region's new 100,000-watt radio station, Roots Radio WMOT-FM, 89.3.
This Americana station is owned and operated by Murfreesboro's Middle Tennessee State University, which is building a music-business curriculum to fit the local industry. The station's new program director is Jessie Scott, a veteran DJ best known for launch Christmas radio's W Country channel and the Music Fog video site. Every show is taped by TV cameras and then edited into hour-long excerpts available on YouTube.
Last Wednesday's headliner was bluesman Guy Davis, a reflection of Havighurst's determination to expand the notion of American roots music beyond alt-country. The only child of famed actors Ossie Davis and Ruby Dee, Guy Davis first learned banjo at a Pete Seeger-run summer camp in Vermont before devoting himself to the guitar and the country blues of his Southern grandparents. He has always celebrated that sub-genre's neglected history while trying to create its future by writing new songs.
His current album and tour celebrate the legacy of the Piedmont blues duo Sonny Terry & Brownie McGhee. Davis takes the role of the singer-guitarist McGhee while Fabrizio Poggi takes the role of the harmonica-blowing and whooping Terry. Davis and Poggi sat side by side on stage of Music City Roots and presented songs from their new album Sonny & Brownie's Last Train not as an academic exercise, but with the loose give and take of a rent party.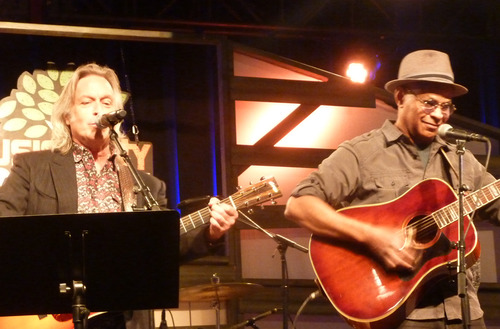 Jim Lauderdale and Guy Davis (photo by Geoffrey Himes)
For the encore, everyone came back out on stage to sing and play "Memphis, Tennessee" as a tribute to the recently departed Chuck Berry. Lauderdale led the way, but Davis and Bombara made the most of their own verses. The evening was a terrific showcase for new and old talent, and it was just one more example of why Nashville keeps pulling talent out of other areas like a magnet.