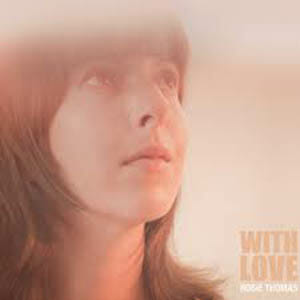 "Somewhere over the rainbow, skies will be blue," sings Rosie Thomas on her sixth full-length, surrounded by canned strings and modest fingerpicking. "Somewhere over the rainbow, dreams will come true."
Yikes. Unless you're onstage with Toto (the dog, not the band) or unless you've spun the sentiment into some sort of ironic truth, you should never sing those lyrics, especially if you wrote the song in the 21st century. For Thomas, it's a chronically corny low point—and With Love is tragically stuffed with them.
Where lyrics are concerned, be prepared for plenty of eye rolling (or eye gouging). On "Like Wildflowers," Thomas reflects on life's grand wonderment with all the cutesy sincerity of a Hallmark card: "I wish I could learn like the flowers and the ferns / How to take things as they come." On the bruised ballad "Two Worlds Collide," she gets more specific: "I cried on my birthday, was broken to pieces / And everyone noticed, so I made up some reasons." As poetry, it's pretty generic stuff, but there's potential for genuine emotion, depending on how the lines are delivered. Unfortunately, Thomas sings these words with all the subtlety of a sledgehammer swing. When she aims for tortured introspection, she layers on the Disney Channel preciousness, delivering the "intense" notes in a forced near-whisper, as if she's repeatedly trying to pass a breathalyzer.
The music doesn't fare much better, though With Love does open with a trio of quietly charming ditties, particularly the coffeehouse jazz-folk of "Where Was I," with its smooth piano and warm bass runs. The album is immaculately recorded, and Thomas' stellar backing band (including David Bazan and Iron & Wine's Sam Beam) do their best to keep the grooves afloat. But for every standout, there are three duds. "Like Wildflowers" is beige musical wallpaper, laced with sterile piano gloss and bland worship song harmonies. It's as if she called her local cable company, got put on hold, and thought, "Now this—this is an idea I can get behind!" There are nuggets of light spirituality sprinkled throughout, and the quietly pretty "Is This Love" seems to tackle these themes more directly, though the opening lyric awkwardly seems to suggest a backseat make-out session: "Is this how it begins? / Spending hours in the car, becoming friends?" Throughout, it's unclear whether Thomas is getting to first base or getting her first communion.
Making this album, one can assume, was therapeutic: In an accompanying press release, Thomas details a personal transformation that followed a debilitating bout with thyroid issues. One morning, Thomas suddenly awoke with an appreciation for the simple things in life, acquiring an acute sensitivity to the feelings of those around her. "I became a pile of mush around those that suffer in any way shape or form," she says of her sudden rejuvenation. But on With Love, she's simply become a pile of mush.