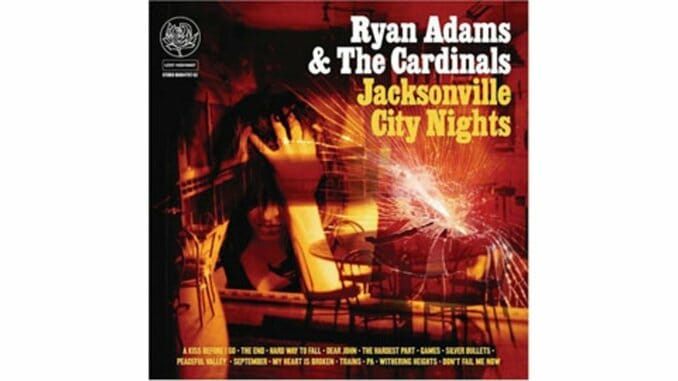 Raising The Barroom: Ryan Adams – Drunk, disorderly, long-winded, contrived and flat-out brilliant
Ryan Adams got his Ph.D in bad behavior from decrepit old Rock 'n' Roll University, where he studied all the greats: Keith Richards, Bob Dylan, Gram Parsons, Jerry Garcia, Paul Westerberg. Adams drinks, gets obliterated onstage and acts out in public; tongue-lashes critics, berates his fans and sends bandmates running for the exit; hooks up with celebrity girlfriends and then writes tender, heartbreaking ballads about them.
What else? Oh yes, Adams is extraordinarily talented, the kind of talented that'll either kill him or send him to a 12-step program. In the meantime, we'll keep watching and listening, because we love train wrecks. Especially when they come with a full-on honky-tonk soundtrack like Jacksonville City Nights, Adams' second musical collision in less than a year.
If Cold Roses, his double-disc gatefold set from earlier this year, was Adams' Exile on Main St. and American Beauty, as some critics posited, Jacksonville City Nights finds the singer back in his tear-stained Gram Parsons duds. As always, Adams does a smashing job recreating Parsons' heartrending lyrical and tonal nuances—the strained crack in the voice, the sobbing plea, the sweet, melancholic sigh.
He kicks off the album with a solid trio of mid-tempo, piano- and pedal-steel-fueled honky-tonk moaners, most notably "The End," which name-checks his hometown of Jacksonville, North Carolina, much like Parsons name-checked South Carolina in "Hickory Wind." In a tearful warble, Adams recalls "the cotton fields out by the house where I was born," where "the leaves burn like effigies of my kin." Overkill? Yes. Dubious? Maybe. But no more so than the Florida-born, Georgia-raised Parsons, who also may have been stretching the truth a tad in remembering the Carolina "oak trees that we used to climb."
What's more remarkable on Jacksonville City Nights is Adams' very real attempt at putting interesting twists on the classic country formula. He adds his thin, off-key vocal nod to Jerry Garcia on "A Kiss Before I Go," and the tune comes off like some long-lost outtake from Workingman's Dead. He borrows the melody of Dylan's Nashville Skyline-era "I Threw it All Away" for the album's best song, "Hard Way to Fall."
As contrived as Adams' best tunes are, he sings them with all the passion in his restless country soul, sliding into a Jeff Buckley falsetto for horn-drenched story-song "The Hardest Part," and spitting out the words to the harrowing, Irish folk-tinged "Peaceful Valley" like Violent Femme Gordon Gano.
A couple tracks fall flat, like Adams' lifeless duet with Norah Jones on the muffled mess of a piano ballad, "Dear John." But for the most part, Jacksonville City Nights is well paced, with enough uptempo songs spread throughout to balance the sluggish, pensive balladry that bogged down the too-long Cold Roses. Now, if the cantankerous Adams would just chill out and let someone help him edit his prodigious output, he might one day release that five-star classic he's gunning for.