Ryan Adams vs. The Strokes Heats Up as Adams Tweets Insults
Photo by Christopher Polk/Getty
Music
News
Ryan Adams
Ryan Adams is one of rock 'n' roll's most notorious assholes nowadays. His latest asshole antic was when he compared alt-J to a mosquito bite at a music festival, right after the band had played their set, which elicited a reaction from artists like Benjamin Booker. Now, for some reason, Adams has decided to fire shots at Albert Hammond, Jr. and Julian Casablancas of The Strokes.
Adams called Hammond a "more horrible songwriter than his dad," who is singer-songwriter Albert Hammond, Sr. His tweet directed at Casablancas is a little more cryptic. See both tweets below, screenshotted in case Adams decides to delete them.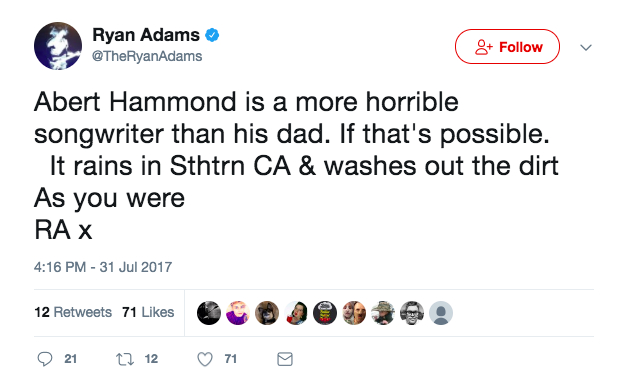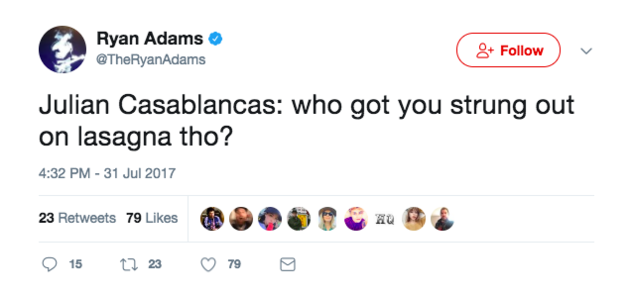 Adams and The Strokes used to be friends—kind of. Adams was at least friends with Hammond and, according to Casablancas, got him on heroine. Apparently, there's still bad blood, as detailed in Lizzy Goodman's Meet Me in the Bathroom, a tell-all book on the post-9/11 New York City rock scene. Still, it's a wonder as to why Adams decided to lash out on Twitter right this moment.
Maybe Hammond or Casablancas will fire back? We'll keep our eyes peeled.