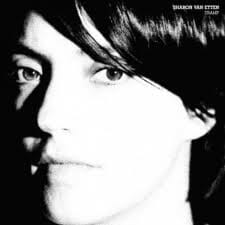 "I am alone in this room with you," sings bruised Brooklyn angel Sharon Van Etten on Tramp, her breakout third album. Her words float in a slow-motion mist above barely-there acoustics and underwater ambience: a representative moment for the album as a whole. For most of these 47 minutes, Van Etten's right there with you—whispering her tortured lullabies into your ear in the most intimate way possible. More than just about any high-profile indie-rock release in recent memory, Tramp feels like an artful exchange, a private conversation between artist and listener.
Which means that Tramp, despite its vivid, winding melodies and transcendent singing, isn't always "easy" listening. Though the title may suggest Van Etten is in an angry head-space, possibly even pointing the derogatory finger at herself, "tramp" here seems to point toward the songwriter's two-year period of relative homelessness, recording the album with The National's Aaron Dessner at his personal studio while off tour, meanwhile crashing on the couches of friends. The protagonists on Tramp do occasionally reflect this state of physical flux ("You're the reason why I'll move to the city / Or why I'll need to leave," she sings on the haunting "Give Out"), but even more, Van Etten zeroes in on emotional angst—on the rocky terrain that lies between broken human beings who either know better or have no idea.
Lead single "Serpents," in many ways the album's sole "rock" track, seems to detail the silent horrors of domestic abuse—and Van Etten's vivid yet painfully direct lyrics totally eclipse cliché on the chorus: "Serpents in my mind / Trying to forgive your crimes / Everyone changes in time / I hope he changes this time." (An even more devastating line comes in the first verse: "But they didn't know / Close in on my black eye / I feel safe at times / Certain emblems tell me it's time."). On the uplifting "Leonard," Van Etten couldn't be more direct, singing in a gorgeous tangled web over banjo plucks and acoustic shuffle: "Well, well, hell / I am bad at loving." It may not sound like much read from a lyrics sheet, but sung in her raw, Jeff Buckley-meets-Neko Case-after-a-couple-packs-of-Marlboros croon, it sounds like a profound confession.
Though Tramp features a who's who of indie-rock guest stars (including Beirut's Zach Condon; The National's other Dessner, Bryce; Wye Oak's Jenn Wasner), it's shocking how minimal, how fragile these songs are. Though there are dense instrumental textures rumbling in the distance, Tramp is built mostly on sparse acoustic guitar. Though it rarely rises above a whisper, Van Etten's captivating vocals and Dessner's subtle production ensure that Tramp is never remotely sleepy. Plus, there's far too much tension at every turn. Still, given that "Serpents," the album's one true "rock" moment, works so wonderfully, it's hard not to wish for a few more visceral moments to differentiate the pace and mood.
Then again, Tramp isn't a party album. It isn't an album made for quick digestion or joyous celebration. Its revelations are fixed in that intimacy, that private conversation Van Etten has designed to share with you, and you alone.